https://www.youtube.com/watch?v=Qt2mbGP6vFI
tumpang sekole...?: Bye-bye 2018...
BERSATU sebagai wadah perjuangan Melayu baru....
Sepuluh jong masuk pelabuhan Melayu bercawat minda lagi. Sudah 61 tahun Melayu berkuasa bawah UMNO akhirnya reput, hilang kuasa akibat kerakusan para penyamun, lanun, koruptor dan munafik menguasai parti itu.




Jangan salah orang lain kerana Melayu terpinggir menjadi pengemis di bumi sendiri. Kalau kamu pilih para pemimpin kelas penyamun, munafik, korup maka hancurlah segala mimpi kamu. Apa yang kamu tanam itulah yang kamu dapat.




BERSATU bertekad memperjuangkan nasib Melayu/Bumiputra yang dihanyutkan oleh maharaja segala lanun di masa lalu. Melayu mesti berani menempuh gelombang cabaran, bukan dengan emosi melulu, tapi dengan ilmu pengetahuan, ide-ide super bernas, berjiwa dinamis dan positif, berpegang pada tali Allah dan patriotis. Kata peribahasa bersatu teguh bercerai runtuh. Kita boleh berbedza pendapat tapi mesti bersatu dalam wadah perjuangan Melayu dan Islam.

Melayu mesti keluar dari kepompong fantasi Mat Jenin, banyak mimpi dari tindakan bererti. Allah tidak akan mengubah nasib bangsa Melayu kalau orang Melayu sendiri tidak mengubahnya. Revolusikan minda Melayu melalui berbagai ilmu pengetahuan. Pegang pada wahyu 'iqraq' (bacalah) sebagai pedoman hidup.Menguasai ilmu bermakna menguasai kuasa.

Melayu mesti membentuk sejarah gemilangnya. Jangan harapkan pihak lain memapah dan membantu kalian dalam perjuangan hidup. BERSATU mesti memperlihatkan kepimpinan yang super dinamis, berpegang pada tali Allah, menghargai ilmu, tidak korup, berjiwa patriotis.


Jangan hanya menjaja slogan kosong, menjadi pahlawan mimpi, menipu rakyat, zalim dan rakus. Ingat kehancuran UMNO yang berkuasa 61 tahun sebagai iktibar. Seluruh umat Melayu dari petani, nelayan, buruh, lebai dan haji, pegawai dan istana mesti insaf dan bersatu tekad memperkasakan perjuangan bangsa dan agama.


Orang Melayu hanya pilih parti Melayu utk melindungi mereka...




Tun Mahathir telah memberi ingatan kepada umat Islam mesti bersatu memperjuangkan hak dan kepentingan Melayu dan Islam. UMNO sudah kulluhum, muka-muka tokak, kudis buta dan puru politik masih berkuasa parti itu.


Berjuta umat Melayu yang menjadi ahli UMNO perlu berhijrah ke BERSATU sebagai wadah perjuangan Melayu Baru dengan semangat waja yang progresif, dinamis, berakartunjangkan Islam dan ilmu sebagai penubrak zaman dan bukan sebagai pengekor angin. Moga-moga Allah berkati perjuangan BERSATU sebagai pemimpin Bangsa, Agama dan Negara. Allah-hu-Akhbar. -

Yahaya

Ismail
Komen Mukhriz tentang resolusi PPBM...
Tun M tadbir Malaysia sehingga habis penggal 5 tahun.
There you go... the fall of Najib's UMNO is because of Bersatu's might?... I thought its due to the rakyats' relentless commitment and solidarity that crippled Najib and smashed BN? I thought it was Dr.M who was conveniently riding on the opposition's popularity to remain relevant that time?...
Lock Them Up – Here's The Best
and Easiest Way To Deal With
UMNO Gangsters, Racists 'n' Bullies...

What do Jamal, Papagomo and Azwanddin have in common? They were all UMNO gangsters who used to make a living by screaming, crying and bitching about Malay and Islam supremacy being threatened by non-Muslims. Of course, the Malay and Islam supremacy have never been threatened because they were protected under the Constitution.
Besides being the majority (61.7%) of the 32 million populations of Malaysia, the ethnic Malays dominate the civil service – 78.8%. The Malaysian army comprises 98% of Malays, while in the Royal Malaysia Police, 80% consists of Malays. In terms of King, Sultans, Malay Rulers and Governors, all of them – 100% – are Malay Muslims. So, how could anyone threaten the Malays and Islam?
However, like sex, yelling Malays and Islam under threats always sells for obvious reason. People like Jamal, Papagomo and Azwanddin knew the Malays, let alone Islam, can never be threatened due to multiple levels of protection. But like hot cakes, playing 3R cards (religion, racial and royalty) always succeeded in rallying the gullible and ignorant Malays.
Most often than not, mercenaries like Jamal, Papagomo and Azwanddin would benefit financially from their sponsored rally or demonstration. For example, when Jamal Yunos boastfully targeted 300,000 participants for his "Red Shirt" rally in 2016, he made millions supplying red shirts to the hired protesters paid by ex-UMNO President Najib Razak.
Emboldened by their political master, the (former) ruling government led by UMNO Malay nationalist party, Jamal and Papagomo were invincible and untouchable. Even the police forces became their bitch – forced to protect the mobsters instead of applying the rule of law on them. But everything crumbles upon the downfall of the mighty racist and corrupt old regime.
The world's biggest crook Najib Razak and his deputy, Zahid Hamidi, being slapped with dozens of charges of criminal breach of trust (CBT), money laundering, corruption and abuse of power, can no longer protect or sponsor their minions. The first casualty was Jamal Yunos. The burger seller turned drug pusher turned UMNO mobster became fugitive almost overnight.
Mr. Jamal fled to Indonesia but was soon arrested, while getting a haircut, and deported back to Malaysia to face justice. The Red Shirt leader, once the blue-eyed boy of ex-premier Najib, is today a toothless tiger. Yes, it would take only 27 days of being locked up in prison to change the racist, bully and thug. The fearsome gangster is today as harmless as a dove.
After his release from detention, Jamal said he felt that prison was the worst place on earth, even though he was housed in the "Tawakal" block which was the "best" block in the Sungai Buloh prison. He described it as entering a grave, where the stench and the confined space caused mental anguish – even to the prison guards. Obviously the time spent in prison has changed him, one way or another.
In fact, Jamal the mobster was so traumatised by his short stay in the prison that he had nothing but praises for premier-in-waiting Anwar Ibrahim. He said – "I have to salute Anwar who spent years in jail. He was mentally and spiritually tough. When I was in there, I understood how Anwar, as a human and leader, was "cukup hebat" (incredible) and should be given recognition."
He even said his experience in jail was an important lesson from God and it had educated him – suggesting that the arrogant man might have finally understood about karma. Has anyone heard about the mighty Jamal Yunos since then? He was too chicken to even join the recently held anti-ICERD rally, a supposedly demonstration to protect the supremacy of Malay and Islam.
Another notorious gangster under UMNO payroll, Papagomo (real name: Wan Muhammad Azri Wan Deris,above), appeared to have suffered the same fate. Belonging to Malay criminal gang groups in the country – the "Tiga Line" and "Double 7" – the former policeman turned blogger turned gangster was a bigger bully than Mr Jamal, until the collapse of UMNO and his recent arrest on Nov 29.
When UMNO was still in power, the "untouchable" Papagomo had no respect for the law whatsoever because he was "above the law" due to the special protection given by ex-PM Najib and his deputy Zahid. The mobster must have had thought he was still invincible when he posted a seditious video with ill-intention to spread racial hatred and touched on religious sensitivities.
So, Papagomo insulted ethnic Indians as "squatters" and urged for ethnic minorities to be stripped of voting rights. The UMNO gangster had also defamed DAP (a component party of the new government) as the mastermind behind the riot at the Sri Maha Mariamman temple in Subang Jaya recently. He even accused DAP Supremo Lim Kit Siang of plotting the bloody May 13 racial riots.
Surprisingly, the supposedly tough guy Wan Muhammad Azri Wan Deris – known as "The War Machine" within UMNO politicians – has turned out to be a bigger coward than Jamal Yunos. What the police needed to tame the UMNO's biggest bully was 4 days of imprisonment. Upon his release on police bail on Dec 3, with a tail behind his legs, the thug has become as timid as a mouse.
Like his UMNO brother Jamal, Papagomo had not dared make fun, let alone mock and insult, the non-Muslims since his release. As dumb as he might look, the thug-for-hired finally realises that the rule of law is real under the new government. Hence, he could spend years behind bars if he continues to make stupid stunt inciting racial hatred and riots.

Papagomo - Wan Muhammad Azri Wan Deris - UMNO - with Najib Razak, Khairy, Hishammuddin, Asyraf
Another fake Malay and Islam champion – Azwanddin Hamzah (above) – has become the third idiot who followed Jamal and Papagomo footstep. Azwanddin is the adviser to Raggie Jessy, a blogger known for his controversial Third Force blog and the head of a new coalition, "Gabungan 3", a supposedly new force comprises extremist and racist Malay groups such as UMNO and PAS.
Mr. Azwanddin obviously hadn't learned any lesson from Jamal and Papagomo when he openly challenged the authorities and the government – "I long for May 13 (bloody racial riot). If we have to sharpen the parang (machete), we have to do it. If we have to sharpen the Keris (Malay dagger), we have to do it. If you record this, show it to DAP. If you are insolent, we Malays can be more insolent."
The defiant racist and extremist, also the president of Jaringan Melayu Ma­lay­sia (JMM), continued his racist antic during a rally on Christmas day when he insulted Minister Waytha Moorthy as a pariah. Challenging the authorities again, he had even threatened to launch an attack on the Klang police station if action was not initiated after the death of fireman Muhammad Adib.
On Friday (Dec 28), he was remanded for four days under Section 506 of the Penal Code for criminal intimidation. Amusingly, when Azwanddin almost fell after alighting from a police truck because he knocked into a flower pot in the court compounds, his followers quickly spread fake news – crying, whining and bitching that the police had used rough tactics on the JMM president.
The police revealed that the incident occurred because the other detainee who was handcuffed with Azwanddin was walking too fast while the latter was waving to his supporters. The fact that his minions make a mountain out of a molehill after Azwanddin tripped himself speaks volumes that the so-called Malay and Islam hero is yet another coward like Jamal and Papagomo.
It will be fun to see if Azwanddin Hamzah will emerge from his short detention a changed man. Like it or not, the UMNO gangsters and racist bullies were more often than not cowards hiding behind special protection. Once the special privilege is removed and the rule of law is applied to them, they would be exposed as fake heroes or cheap opportunists. They dare not go to jail. -
FT
I can work with Sdr.Rafizi....
Sebulan setengah yang lalu, nadanya berbunyi comel dah. Kenyataan semalam sudah tidak kekal tenang lagi.
Azmin-Hishammuddin di Maghribi cetus khabar angin...
Tun M ketuai senarai 500 Individu Islam Paling Berpengaruh 2019.? Hadi Awang ada masuk list tak.? Kalu ikut pasal Islam, rasanya Ayoh Chik lagi berpengaruh dan ramai pengikut tukang kapirkan orang..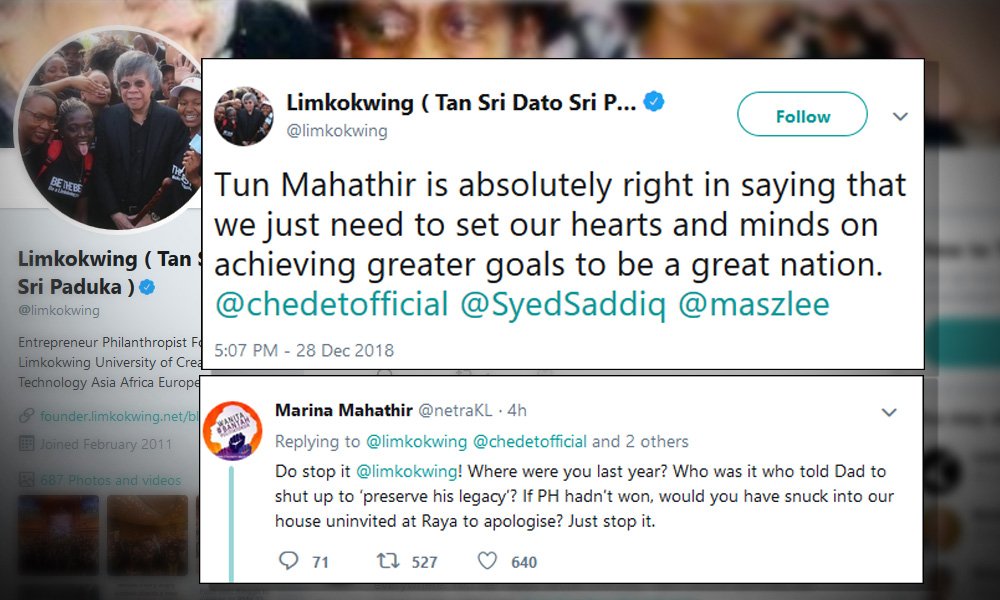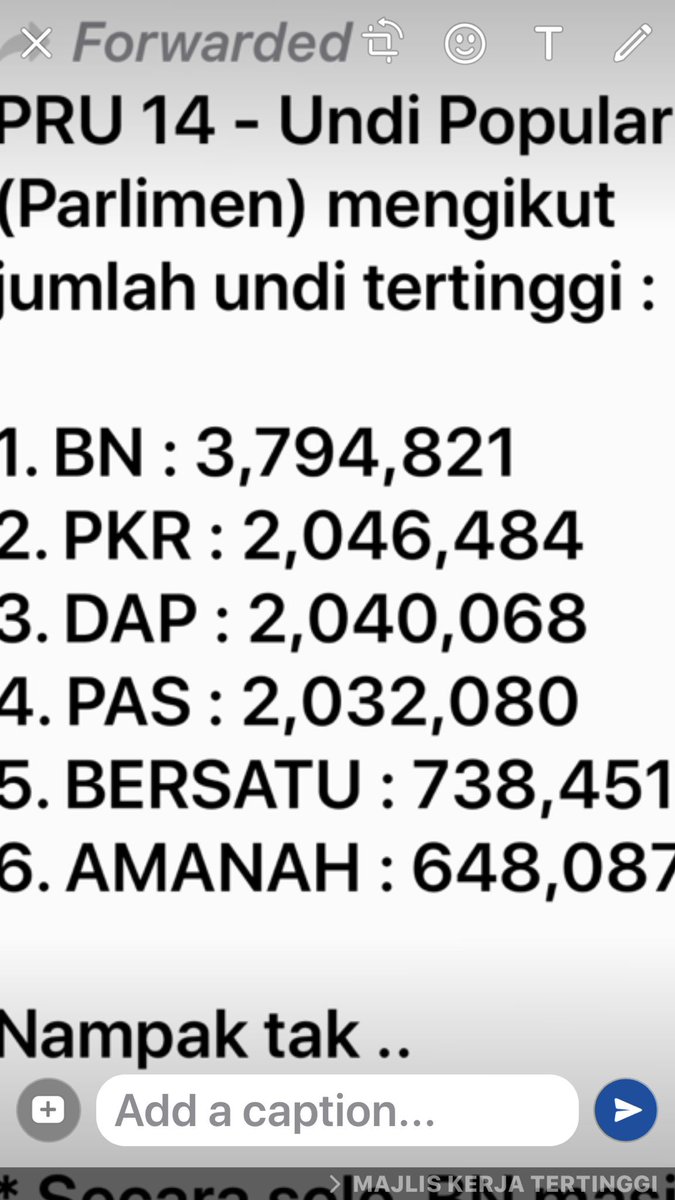 UMNO kata undi popular masih kuat. Cerdikkah UMNO? BN bertanding 222 kerusi tentulah dpt byk undi popular berbanding dgn Amanah, Bersatu, PKR dan Dap. Cuba banding dgn PH dgn BN.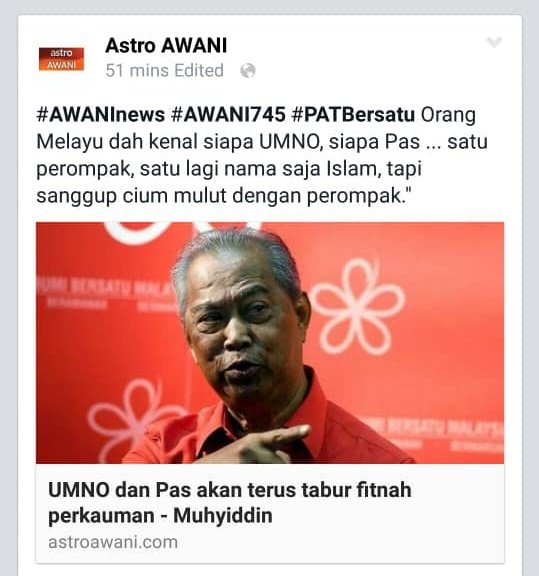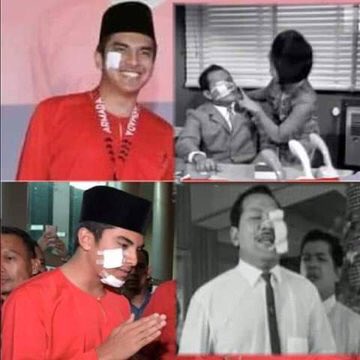 Ehhh..macam P Ramlee pulak?
cheers.
tumpang sekole...?: BERSATU sebagai wadah perjuangan Melayu baru....
Bolehkah Melayu berfikiran kritis...
Setelah menganalisa beberapa berita yang disebar di WhatsApp dalam kumpulan saudara mara dan rakan handai yang berjumlah lebih dari 10 "group", saya membuat kesimpulan orang Melayu tidak boleh berfikiran waras, tidak tahu menilai secara kritis dan tak mahu fikir langsung jika sesuatu berita itu dikaitkan dengan isu Melayu dan Islam.
Boleh dikatakan kalau diceritakan dongeng 1001 malam tetapi ia berkait dengan menegakkan ketuanan Melayu dan melindungi Islam dari tercemar, orang Melayu akan percaya bulat-bulat dan tungang langgang.
Kalau berita atau isu yang dicoretkan itu mempunyai "watak jahatnya" sebagai orang Cina, orang India, DAP, Kristian, Lim Kit Siang dan Lim Guan Eng, maka orang Melayu akan "totally lose it" atau dia hilang akal, tak tahu di mana otak dan fikirannya. Yang dia tahu adalah marah yang membuak-buak dan muka yang merah padam.

Melayu akan jadi tidak waras dan akan percaya bulat-bulat, akan tidak perlu selidik fakta atau sumber berita, akan percaya habis-habis dan tidak perlu tahu hujung pangkal; yang jahat memang Cina, Kristian, DAP, India, Lim Kit Siang dan Lim Guan Eng.

Sekarang pula kita kena tambah senarai hitam musuh ketat orang Melayu yang disarankan seorang mufti seperti P Waytha Moorthy, P Ramasamy, M Kulasegaran dan V Ganavaritsu. Nasib baik Karpal Singh dah meninggal dunia, kalau tidak tsunami terjadi pun boleh dipersalahkan orang tua tu! Itulah lojik Melayu yang saya analisa.

Siapa orang Melayu yang tidak boleh berfikiran waras ini? Adakah mereka orang kampung? Adakah mereka sekolah setakat darjah 6? Adakah mereka ini kaki kedai kopi dan kedai mamak? Kalau itu sajalah golongannya, tuan-tuan, saya tak tulis artikel ini. Kalau orang berpendidikan rendah berfikir macam tu memang kita boleh agak dan fahami dan maafkan. Tetapi sebaliknya, bukan golongan macam ini saja.

Kebanyakan 99% Melayu kenalan saya yang pernah belajar di universiti luar negara, universiti tempatan, dah ada Master dan dah ada PhD, semuanya sama macam orang kampung dan kaki kedai kopi yang tidak berpendidikan tinggi. Saya mempunyai ramai kenalan Melayu dan saya berani katakan yang tidak boleh berfikiran rasional, tidak tahu berfikiran kritis, tidak mahu berfikir panjang-panjang adalah orang-orang yang jawatannya tinggi-tinggi belaka.
Apa jawatan mereka?

Guru sekolah menengah, guru besar, profesor madya, profesor VK7-6-5, arkitek, jurutera, pegawai tinggi GLC, pegawai eksekutif dan doktor. Bukan calang-calang pendidikan, tuan-tuan. Semuanya extra hebat belaka.

Tapi fikiran? Macam tak sekolah tinggi pun. Percaya bulat-bulat, tunggang langgang dan habis-habis. Sebab? Nak menegak ketuanan Melayu dan keagungan Islam. Dosa fitnah? Tak kisahlah. Dosa mencerca? Sikit saja. Dosa menyampai-nyampai? Tak ada hal punya beb. Apa nak jadi dengan orang Melayu macam ini saya pun tak tahu. Negara kita ni bakal hancur dengan Melayu yang tak boleh nak urus emosi dan berfikiran rasional.

Tengoklah kes Kuil Seafield dan kematian Muhammad Adib Mohd Kassim. Waytha dituduh tak semena-mena. Kenapa tuduh dia bertanggungjawab? Dia pukulkah? Polis kata samseng yang pukul. Dia arah kah? Polis kata mungkin One City punya lawyer bagi upah.

Belum tahu lagi sebab penyiasatan tak habis. Tetapi orang Melayu dalam kumpulan WhatsApp mempunyai "karamah" dan ilmu ghaib. Tak payah siasat. Tak payah soal suspek. Tak payah "post mortem". Waytha salah. Dia perlu dipecat serta merta dan dihadapkan ke mahkamah.

Boleh kita gantung dia minggu depan hari Jumaat? Begitu fikiran kaumku, orang Islam seagamaku. Malu saya dengan kawan-kawan bukan sekaumku, bukan seagamaku. Di mana nak sorok batang hidungku?

Dalam kitab Ihya Ulumuddin, Imam al-Ghazali menulis satu bab kegemaran saya. Tajuknya adalah Bencana Lisan. Kitab panjang lebar ini diringkaskan oleh seorang hamba Allah dan dibukukan dalam buku berjudul Bimbingan Mukminin. Dalam lebih 100 buku yang saya baca tentang Islam, ini adalah buku "favourite" saya. Saya khatam "cover-to-cover".

Dalam bab Bencana Lisan, Imam Al-Ghazali menukilkan 20 bencana lidah kita yang bakal mengheret kita ke neraka. Tak kiralah kita dah pergi haji 4 kali, umrah 12 kali, lidah kita yang menginterpretasi maklumat berita dan cerita bakal menjerumus kita ke api neraka jahanam. Saya amat takut dan berhati-hati dalam tulisan dan cakapan saya setelah membaca kitab itu.
Pernahkah orang Melayu yang bukan ustaz atau ustazah menatap kitab ini? Saya berani kata kalau tanya 50 orang Melayu, mereka akan kata mereka tak pernah dengar pun kitab ini. Kalau tanya 100 Melayu ada kemungkinan yang kata pernah dengar tapi tak pernah beli. Kalau tanya 200 orang Melayu kemungkinan ada yang membeli tapi tak tahu simpan di mana. Kalau tanya 400 Melayu mungkin jawapan yang ada adalah pernah beli, ada kat rak buku tapi takut nak baca sebab ustaz kata kalau baca buku sendiri kita jadi sesat.

Minda kritis orang Melayu setakat itu saja. Mereka suka dengar ceramah dan celoteh Ustaz Kazim Elias, Ustaz Zamihan Mat Zin dan Ustaz Mat Don. Buat apa nak baca? Tanya ustaz sajalah.

Kalau ustaz kata Ramasamy salah, maka salah Ramasamy lah tu. Kalau mufti yang ada PhD kata Waytha tu orang jahat maka jahatlah Waytha tu. Tak payah bukti, tak payah hujah panjang. Dua-dua mereka Hindu.

Orang Hindu memang sembah berhala dan pakai sistem kasta. Zakir Naik pun cakap macam tu. Tapi Zakir Naik bukan ustaz. Tak apa, dia pandai cakap orang putih dan pandai ilmu agama Hindu. Kalau dia cakap dia memang betul dan tak ada yang salah.

Dari orang Melayu jual goreng pisang sampai Pak Profesor mendokong Zakir, Azhar Idrus, Zamihan, Datuk Seri Hadi Awang dan siapa-siapa lagi yang pandai cakap Arab, serban besar, jubah panjang, selendang pula "style" Akil Hayy.

Kenapa orang Melayu suka sangat percaya pada fitnah dan dongeng WhatsApp? Tak takutkah pada dosa? Kenapa perlu takut? Tak pernah pun dengar khutbah Jumaat kata percaya kat WhatApp tu berdosa. Tak ada dalam kitab lama pun tentang bencana Instagram, WhatApp, Facebook atau Twitter. Maka itu tak berdosalah. Lagi pula kalau tersilap pun, kita nak jaga kedaulatan Melayu dan Islam. Perjuangan suci kononnya.

Aduhai, kesian orang Melayu, kata Datuk Ismail Kamus selalu. Beliau pernah berpesan, "Kita harus membetulkan yang biasa dan biasakan yang betul". Kata-kata hikmat itu saya pegang sehingga hari ini. Kita umat Islam harus ada integriti. Kita perlu menilai maklumat, cerita dan berita dengan kritis, jika tidak, kita tumpang sekaki di neraka nanti.
Bagaimana berfikiran kritis? Ada 4 perkara perlu ditanya untuk memastikan sesuatu berita, cerita dan maklumat itu kemungkinan besar sahih atau tidak.

Pertama, tahukan sumber berita itu. Tanya di mana berita ini didapati. Siapa penulis? Di mana ia diterbitkan? Perlu ada nama penuh penulis, walaupun penulis itu menggunakan nama samaran. Perlu tahu di mana ia diterbitkan. Sinar Harian kah, Berita Hariankah dan sebagainya. Kalau Facebook, Instagram, Twitter, semua tak boleh pakai. Sebabnya? Tidak ada penyunting berita dan cerita. Tidak ada editor yang bertanggungjawab.

Kedua, tanyakan apakah cerita keseluruhannya? Jangan reaksi apabila dengar India pukul Melayu. Lepas tu pergi demonstrasi di Dataran Merdeka. Mungkin Melayu kacau anak dara India maka dia kena belasah. Itu cerita penuhnya. Kebanyakan orang Melayu suka dengan sekerat cerita, bukan separuh pun, sekerat. Orang Melayu hebat, ada firasat dan ilmu ghaib jin. Maklumat sekerat dia boleh jadikan satu buku ceritanya. Tak boleh macam tu. Tidak kritis namanya. Tahu cerita sepenuhnya sebelum bertindak.

Ketiga, apa niat pembawa cerita, penulis isu dan pembawa bicara? Kalau dia boleh untung dari berita itu kerana dia parti lawan maka itu ada "conflict of interest" atau konflik kepentingan peribadi. Kena cuba teka-teka niat orang yang tulis. Mungkin dia nak bodek supaya dapat jadi menteri atau dapat projek atau menang pilihan raya.

Kempat, rujuk sumber lain tentang isu dan berita yang sama.

Sekali-sekala tu tengok dan baca Roketkini. Ini Roketkini pun tak tahu binatang apa, tahu DAP juga yang salah. Cuba rujuk FMT atau Malaysiakini, jangan asyik baca Kosmo, Sinar Harian atau Utusan Malaysia berkurun-kurun sampai cucu pun dah nak masuk universiti.

Itulah dia empat petua nak tahu cerita sahih ke tak sahih dan petua nak lindung dari kita tersadai di neraka. Tak laku solat kita, puasa kita, haji kita dan sedekah kita. Lidah kita melalui WhatsApp, Instagram, Facebook dan Twiter menjunamkan masa depan kita di dunia dan di akhirat.

Nasib-nasib kena tangkap polis menyebar berita palsu. Dunia pun terbang akhirat entah ke mana. Wahai orang Melayu, tolong betulkan yang biasa dan biasakan yang betul. - Tajudin Rasdi, fmt
Shahidan's formula "A Malay Kingdom" plot to kickout PKR,DAP
allowing Dr.M to stay in power indefinitely...
A Perlis UMNO leader who is being prosecuted in court on charges of molesting an underaged girl, Shahidan Kassim said Tun Mahathir Mohamad could continue to retain his powers as Prime Minister even if PKR and DAP leave Pakatan Harapan.

He said that with the exit of PKR and DAP, Tun Mahathir was still able to maintain power through the support of Malay and Bumiputera MPs.

Taking into account all Umno MPs, PAS and from Sabah and Sarawak to support Tun Mahathir, Shahidan, who is also Arau MP, said the PM's support would still be strong coming from a total of 129 MPs.

His count of 129 seats is based on a total of 221 MPs (not counting Cameron Highland which is due to have a by-election on January 26) excluding the 50 parliamentary seats held by PKR and 42 more by DAP.

In other words, under Shahidan's formula or idea, the new government that will be formed will in really be a Malay and Bumiputera kingdom that has abandoned almost all non-Malay support, except for one MCA Member of Parliament and one MIC Member of Parliament (not including Cameron Highlands).

The question is how realistic is Shahidan's formula or is it born out of personal interest to escape the molest case he's facing?

Are all the Malay and Bumiputera MPs ready to support Tun Mahathir? In UMNO itself, would MPs like Najib Razak, Zahid Hamidi, Nazri Aziz and others be ready to give support?

The crux of Shahidan's proposal to create a Malay and Bumiputera government and leave out the Chinese and Indians, is very dangerous for a multi-racial country like Malaysia.

His proposal reeks not only of intrigue tainted by personal interests, but is racist and opens the door to great danger towards disunity and disharmony in the country's society.

Unless Tun Mahathir is no longer the Tun Mahathir we know who has contributed to Malaysia, it seems that it is impossible for Shahidan's suggestion to be accepted positively by him.

During his 22 years in power and in his latest success in overthrowing UMNO-BN at the recent elections, it was because he never abandoned the support of the non-Malays.

For Tun Mahathir, it does not matter if Malays are split, he is still able to retain power or overthrow the government if the majority of non-Malay supporters are still in favor of him.

Therefore, besides having to go back to the drawing board for more fruitful suggestions to bring UMNO back into power or to save himself, it is also good idea that Shahidan readies himself to face his trial scheduled early next year. - mk
"In other words, under Shahidan's formula or idea, the new government that will be formed will in really be a Malay and Bumiputera kingdom that has abandoned almost all non-Malay support, except for one MCA Member of Parliament and one MIC Member of Parliament (not including Cameron Highlands).
The question is how realistic is Shahidan's formula or is it born out of personal interest to escape the molest case he's facing?
Are all the Malay and Bumiputera MPs ready to support Tun Mahathir?
In UMNO itself, would MPs like Najib Razak, Zahid Hamidi, Nazri Aziz and others be ready to give support?
The crux of Shahidan's proposal to create a Malay and Bumiputera government and leave out the Chinese and Indians, is very dangerous for a multi-racial country like Malaysia.
His proposal reeks not only of intrigue tainted by personal interests, but is racist and opens the door to great danger towards disunity and disharmony in the country's society." - f/bk
I thought he more interested on baby formula?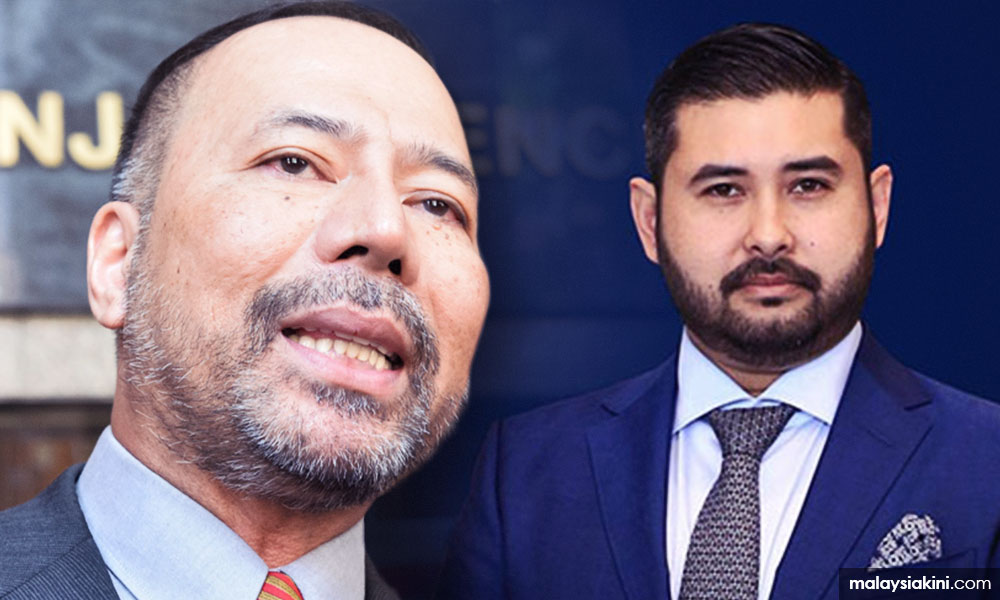 Khairuddin challenges TMJ to
abdicate and join politics...

Amanah member Khairuddin Abu Hassan has challenged Johor crown prince Tunku Ismail Sultan Ibrahim to relinquish his claim to the throne and take part in politics.

"Your Highness, if you feel that you are great at politics and like to make political statements, I humbly advise that you relinquish your crown and enter the political arena full time.

"Your Highness should follow the praiseworthy footsteps of Tengku Razaleigh Hamzah and Tengku Azlan Sultan Abu Bakar who are involved as full-time politicians," Khairuddin said in a statement today.

He said Tunku Ismail should not hide behind royal immunity to protect himself for criticism from the public.
Only birthday wishes. Just say thanks. But to say this?

The Johor crown prince often makes politically flavoured remarks on social media.

Prior to voting in the 14th general election, he had made veiled swipes at Bersatu chairperson Dr Mahathir Mohamad, who is now prime minister.

He also often takes jabs at Youth and Sports Minister Syed Saddiq Syed Abdul Rahman.

Khairuddin said Tunku Ismail making political remarks can reflect badly on the royal institution.

"I am worried the people will no longer respect the palace," he said. - mk
Ampun Tuanku,
Sekiranya tuanku rasa tuanku hebat berpolitik dan gemar buat kenyataan-kenyataan berbaur politik; patik dengan rendah hati serta penuh tawadduk ingin sarankan kepada tuanku untuk turun takhta seterusnya libatkan diri dalam arena politik secara penuh masa!!
Tuanku harus ikut jejak langkah mulia dan terpuji ybm tengku razaleigh hamzah dan ym tengku azlan sir abu bakar yang mencemar duli melibatkan diri sebagai tokoh politik sepenuh masa!!
Tuanku jangan berada di atas takhta serta berselindung di belakang perlembagaan yang mana rakyat marhein akan dikenakan tindakan undang-undang sekiranya menjawab tohmahan tuanku secara kritis!!
Perlembagaan dan undang-undang melindungi tuanku dari menerima kenyataan-kenyataan kritis dari rakyat jelata di peringkat akar umbi!!
Bagi patik ianya amat kurang enak kerana tuanku boleh kritik rakyat marhein tetapi rakyat marhein tidak boleh mengkritik tuanku kerana keistimewaan perlembagaan untuk memagari tuanku!!
Sekiranya tuanku masih terus mengeluarkan kenyataan-kenyataan berbaur politik; patik amat risau nanti kalangan rakyat marhein tidak lagi menghormati istana!!
Sesungguhnya, tuanku amat bijak pandai dan kemungkinannya berpendidikan tinggi!!
Lupakah tuanku bahawa negara kita mengamalkan sistem 'Raja Berperlembagaan" yang melarang raja-raja melayu terbabit dengan politik?!
Janganlah tuanku senantiasa serta secara berterusan mengungkapkan kenyataan-kenyataan politik yang amat tidak manis didengari oleh rakyat jelata kerana kita mengamalkan sistem 'Raja Berperlembagaan!!'
Tetapi seandainya tuanku rasa hebat berpolitik; turunlah dari takhta secara terhormat agar tuanku boleh terus mengkritik tokoh-tokoh pemimpin kerajaan seterusnya pula rakyat pun boleh mengkritik tuanku secara terbuka!!
Teladani lah jejak langkah ybm tengku razaleigh hamzah dan ym tengku azlan shah sir abu bakar!!
Jejak langkah ini barulah tuanku akan lebih dihormati dan dipandang mulia oleh sekalian rakyat marhein!!
RAJA DAN RAKYAT BERPISAH TIADA!!
Ikhlas dari;
KHAIRUDDIN ABU HASSAN
28 Disember 2018
cheers.
tumpang sekole...?: Bolehkah Melayu berfikiran kritis...
Beruk kalu pakai baju kot pun tetap dipanggil beruk...
Maaf Lebai, Tun tak ada dedak...



Kenyataan terbaru dari Setiausaha Agung Pas yang menyatakan Pas sedia bekerjasama dengan PH, tidak seharusnya dipandang dengan jiwa terbuka, kerana sifat spesis golongan pelacur politik ini terkadang lebih teruk dari anjing yang kembali menggigit orang yang melepaskannya dari tersepit.

Kita imbas kembali sikap Pas terhadap PH dan BN sebelum ini terutama menjelang PRU 14 yang lalu.

Kepada PH, seolah-olah Pas telah isytihar perang sabil dan jihad qital kepada kita, digambarkan bahawa PH ini musuh Islam, puak musyrikin dan kafirin yang halal darah dan boleh dibunuh oleh sang pejuang Islam berpanji bulan hijau ini.

Kemuncak kebencian Pas kepada PH ini terserlah apabila YAB Tun dihalang dari menziarahi pusara Almarhum Tuan Guru Nik Abdul Aziz, bahkan kompleks perkuburan Pulau Melaka itu dikepung dan dikunci pagar dan diletak lori pula di pintu masuknya.
Bagaimana pula sikap Pas terhadap BN?

Aduh, sungguh kita selaku rakan lama dalam Pakatan Rakyat suatu ketika dahulu amat berasa kecil hati dan sedih, Pas amat mesra dan berlembut dengan BN, dari baju sedondon ke pentas ceramah dan meja makan di hotel mewah mereka bergembira gelak ketawa bersama.

Selepas PH memerintah Malaysia pada PRU 14, kita jangkakan Pas akan kembali sedar bahawa mereka tidak sepatutnya bersama BN, rupanya jangkaan ini meleset.

Ternyata, Pas amat teringin untuk bekerjasama dengan BN, Umno terutamanya, dengan membakar sentimen keagamaan dan perkauman, kedua pelacur politik ini saling menyimbah minyak gas ke api yang membara, ditambah dan persepsi dan tuduhan bahawa Kerajaan Persekutuan yang dikuasai oleh PH kini anti Islam, mahu hapuskan Raja2, mahu hapuskan hak bumiputera, mahu hapuskan Islam sebagai agama persekutuan.
Begitu jahat tuduhan Pas dan Umno terhadap PH, seolah-olah sudah kafir harbi kita semua dibuatnya.

Kini, setelah mereka sedar bahawa pelampung perkauman Umno yang diharapkan rupanya semakin hanyut dan bocor, maka Pas terus menunjukkan sikap pelacur mereka, berpaling tadah sambil menghina rakan yang pernah mereka selingkuh bersama, dan tanpa segan silu membuka paha menjual diri kepada kita PH.

Bukan kita tidak tahu, Pas sedang menggunakan saluran diplomatik mereka, menggunakan pimpinan yang masih ada hubungan peribadi dengan pimpinan utama PH, untuk menjalin kerjasama atas nama ukhuwwah dan persaudaraan sesama Islam, dan untuk kemajuan negeri Kelantan dan Terengganu kononnya.

Ingatlah, anjing yang berkeliaran di kaki sewaktu kita makan, bukan bermakna mereka jinak dan mahu bersama kita, sebaliknya hanyalah mengharapkan tulang dan sisa makanan yang kita lemparkan.
Sebaik kita lemparkan sedikit tulang, sudah pasti gerombolan anjing ini akan berkekah berebut sesama sendiri, dan seperti biasa, selepas kenyang, kemungkinan besar gerombolan anjing inilah yang akan menyalak dan mengejar kita, dan akan menggigit kita dengan rakusnya, setelah kenyang dijamu makan oleh kita sebentar tadi.

Usah jadi bagaikan melepaskan anjing tersepit, jika boleh, cukuplah sekadar kita melempar makanan dari luar sangkar, sebagaimana kita lakukan kita berjalan melihat-lihat haiwan di zoo.

Kita tutupi tulisan ini dengan kata-kata keramat Dato Mohd Amar Naib Presiden Pas, "Takdok Kiro-Kiro (rundingan) dengan Pey (PH)". "Beruk Kalau Pakai Baju Kot Pun Tetap Dipanggil Beruk". - f/bk
And the Malaysian of the Year 2018 is…

To say 2018 has been a momentous year would be an understatement. As we come to the closing days of the year, we know that we have lived in, and experienced, one of the seminal, defining years in Malaysian history.

It was the year of many firsts, especially in politics: A former prime minister became prime minister for the second time; at 93, Dr Mahathir Mohamad also became the oldest prime minister in the world; another former prime minister faced criminal charges; and a woman became deputy prime minister.

Also, the unstoppable Barisan Nasional (BN) was thrown out by an electorate seeking changes; Umno, MCA and MIC which had formed the government since the first general election in 1955, found themselves on the opposition bench; the DAP, which had been in the opposition since its founding in 1965, suddenly found itself in government; several top civil servants – including the attorney-general, the Malaysian Anti-Corruption Commission chief, the chief justice and the Treasury secretary-general, were eased out or resigned; and while the Pakatan Harapan (PH) won control of the Dewan Rakyat the BN retained control of the Dewan Negara.

Who among the main players in this dramatic change has had the biggest impact on the nation's direction in 2018? Is it Dr Mahathir, former prime minister Najib Razak, or PKR supremo and former deputy prime minister Anwar Ibrahim?

Is it Lim Guan Eng who became the first Chinese finance minister in 44 years? Is it his father Lim Kit Siang – a man who has gone through hellish situations, survived the turbulence of politics, and when his party, as a PH partner, finally formed the government, decided not to be a minister? Or is it P Waytha Moorthy, a rebel who led Hindraf to fight the Indian cause and who briefly fled the country to avoid possible arrest but is now a minister shouldering responsibility for the improvement of the Indian community?
What about Attorney-General Tommy Thomas who has unflinchingly gone after suspected wrongdoers and is working to improve the legal system? What about Bersih 2.0 which has played a pivotal role in waking Malaysians to their rights, galvanising them into action and taking on the might of the previous government to ensure free and fair elections?

Is it the Malaysian Anti-Corruption Commission that is relentlessly pursuing the corrupt after May 9? Or is it the 1Malaysia Development Bhd (1MDB) scandal that rocked the nation and led to probes in several countries, bringing in its wake unwanted and ugly attention to Malaysia?

Let's take a look at Najib. Like his father Razak Hussein, Najib served as prime minister and Umno president. In 2009 he became prime minister and was going strong until the winds of change swept him out of office and into the court of law. He is the first former prime minister to be charged for criminal offences – in this case graft and money-laundering linked to 1MDB, which he set up.

In 1973, the father persuaded several opposition parties to join the Alliance and form the BN; in 2018, the son watched as the BN splintered and returned to the Alliance position with the three original partners – Umno, MCA and MIC – largely due to his failures.

There is no gainsaying the fact that 1MDB was a major reason for the fall of the BN. Although the 1MDB saga had been around since DAP leader Tony Pua raised it in 2010, it did not gain attention until 2014. However, Najib's government managed to keep it under control by several clever moves, including replacing attorney-general Gani Patail with Mohamed Apandi Ali. The mainstream media buried news of 1MDB and only some news portals and The Edge Weekly carried criticism of the finance ministry-owned investment fund. But when Dr Mahathir entered the fray to openly oppose Najib and formed PPBM, 1MDB became a potent weapon.
What about Anwar, the prime minister-in-waiting, for Malaysian of the Year? The charismatic politician is back in action, holding the attention of his audience with his oratorical skills which he massages to suit the audience. He was jailed, a second time, on a charge of sodomy by the Najib administration but received a full pardon from the King after PH won the election. Even while in prison twice and even when he did not have power or money to offer his followers, his charisma, and a band of loyalists, kept his party, PKR, going. Today, PKR is the party with the largest number of parliamentarians. What a victory. It speaks well of his political canniness.

The DAP deserves to be considered for the title, too, because from a rank outsider, from a party whose leaders and members never really thought it would be able to form the government, it is today in a position to influence national policy. Despite all the years of suffering under a BN regime that was out to paint it as chauvinistic and anti-Malay, despite all the years of harassment by government agencies, it not only survived, it triumphed in 2018. Its perseverance, one-pointedness and organisational ability has seen it rise above the odds.

And what can I say about Dr Mahathir that hasn't already been said? He is the comeback kid par excellence. At an age when most people would prefer to stay at home and spend time with great-grandchildren, he is directing the course of the nation.

He could have retired as prime minister and enjoyed the pensions and perks that come with it. But he didn't. He felt the country was going in the wrong direction and that he was needed. When he formed PPBM and joined the PH alliance of PKR, DAP and Amanah, the voting public felt the nation needed him.

By leading the PH to victory he has changed the course of the nation. His motley coalition of parties unseated the Barisan Nasional behemoth which had been in power since Independence in 1957, first as the Alliance and later as the BN.
He has shown that bitter enemies can work together for a common goal. Three years ago, who would have believed that Dr Mahathir would work hand in hand with Anwar, the former deputy prime minister whom his administration jailed? Who would have believed that he could work with the DAP, which he had excoriated all his political life until 2017, especially its leader Lim Kit Siang, whom his administration also jailed at one time?

In the aftermath of the May 9 general election victory, he successfully manoeuvred the splintering of the BN coalition. Not only did he remove the threat of the BN's fixed vote deposits of Sarawak and Sabah but also turned them around into supporting his administration. And he brought to heel the once mighty Umno, the party he helmed for more than 20 years.

There is generally greater confidence among people of a better future, although lately this has been waning. There is greater democratic space and a concerted effort to root out corruption.

While some older Malaysian's are still skeptical about him, given the slide in democratic practices during his first stint as prime minister, many younger people see him as the only leader capable of bringing about a New Malaysia which practices greater democracy.

I find the pace at which he is going simply amazing. The oldest prime minister in the world has become an example not just for Malaysians to emulate but the world to follow. His sheer willpower and determination is unbelievable, and puts to shame many people decades younger.

As a look back, I can see that all the above are worthy of being named Malaysian of the Year, with Dr Mahathir topping the list by a long chalk.
However, there is someone else who has to be considered too. I am talking about you. Yes, you, the voter.
Malaysian voters struggled against impediments stacked by the machinations of the BN. Many NGOs and individuals called out the Election Commission for favouring the BN, especially in its electoral boundary redelineation exercise and imposition of certain rules to frustrate the opposition, which it denied. The services of several top civil servants and agencies were used by the BN to deny an opposition victory. Also employed was the usual scare tactic of racial riots if the BN were to lose.

Voters wanted change: a more democratic society where they could express themselves without fear of being detained or harassed; a more Malaysian government that would address the needs of all citizens; a proper separation of powers between the Executive, Parliament and the Judiciary; and a nation where racial and religious issues would not be used by the elite to stay in power. They also wanted better living standards and better control on the cost of living.

A substantial number of voters decided that enough was enough. Aghast at the direction the nation was taking, they decided to put a brake on it; they decided to be agents of change. Picking up courage, they threw caution to the wind as they trooped to the polling booths and marked the most important X in their lives. And in the process altered the fate of the nation – and theirs too.

For the courage shown in overcoming complacency and fear, for becoming agents of change and giving notice to politicians that they are asserting their right for a say in the nation's direction, and for showing that change is possible if people act in unison, the Malaysian Voter is the Malaysian of the Year for 2018. - A Kathirasen,fmt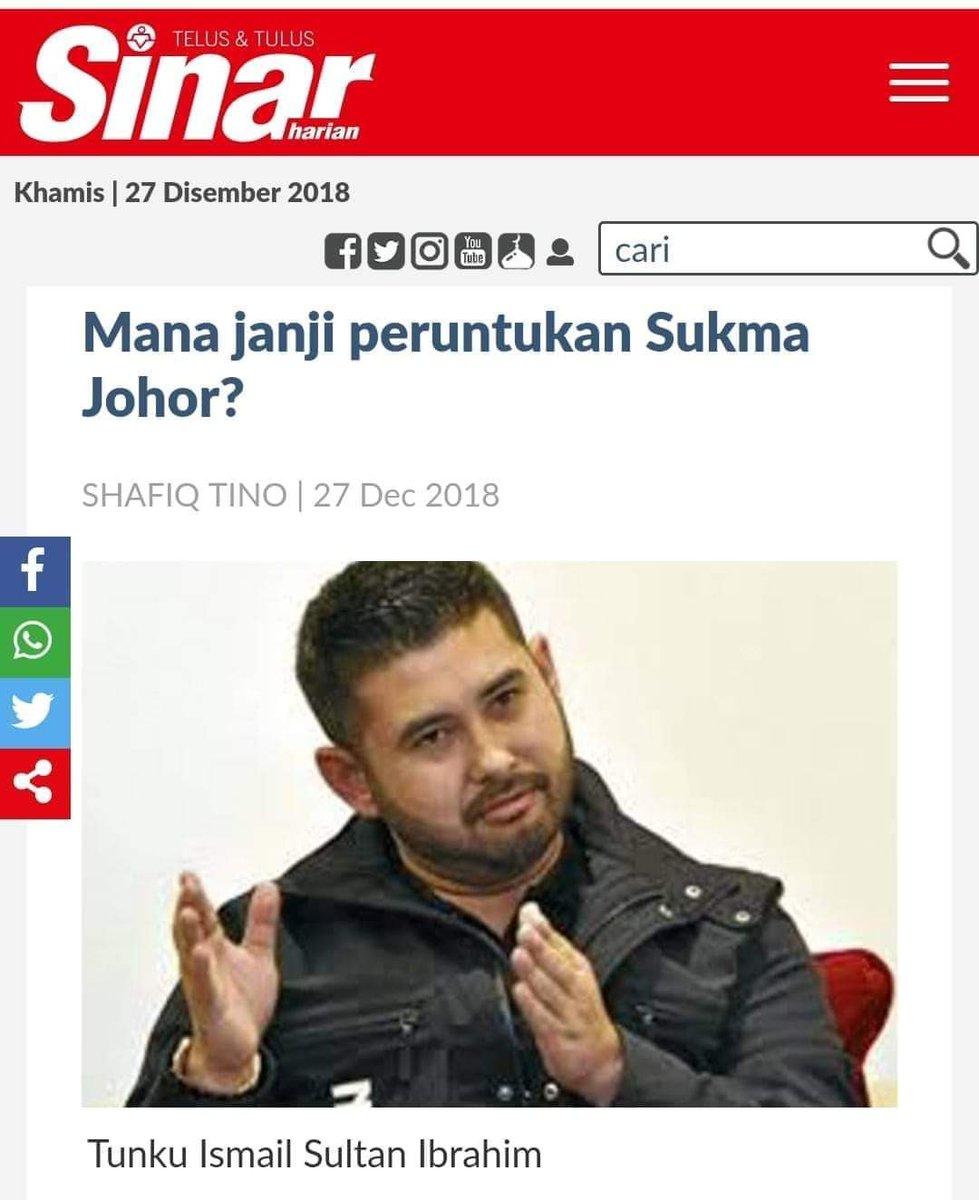 Aku konfius ni... Pasai apa Menteri kena bincang dengan pihak istana pula
dalam isu penganjuran sukan Sukma Johor...?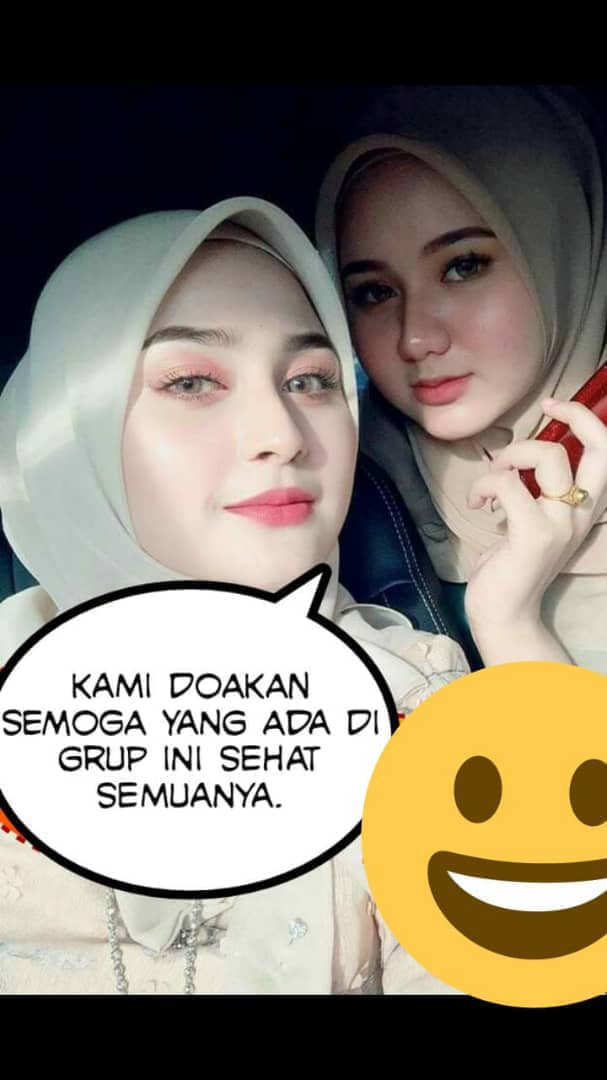 cheers.
tumpang sekole...?: Beruk kalu pakai baju kot pun tetap dipanggil beruk...
Lebai PAS - Minda di luar kotak vs dalam kotak...
Adakah peringatan yang dikeluarkan oleh Ketua Pemuda PAS merangkap anak Presiden PAS, Muhammad Khalil Abdul Hadi, supaya orang Islam tidak membuat ucapan Krismas di Facebook kerana sambutan penganut agama Kristian itu bertentangan dengan akidah Islam merupakan pendirian rasmi PAS atau sekadar pandangan peribadi anak presiden parti itu semata-mata?

Soalan ini timbul selepas Setiausaha Agung PAS Datuk Takiyuddin Hassan membuat ucapan Krismas, meskipun Khalil mengeluarkan peringatan tersebut.

Siapakah yang mempunyai kuasa lebih besar dalam PAS – Setiausaha Agung PAS atau Ketua Pemuda PAS yang juga anak Presiden PAS?

Apakah pendirian Presiden PAS, Datuk Seri Hadi Awang, Mursyidul Am PAS Datuk Hashim Jasin dan Dewan Syura PAS berhubung isu ini?

Semalam, saya menarik perhatian tentang ucapan Krismas yang ditujukan oleh Sultan Johor, Sultan Ibrahim Sultan Iskandar, Permaisuri Johor Raja Zarith Sultan Idris Shah; Perdana Menteri, Tun Dr Mahathir Mohamad; Timbalan Perdana Menteri, Datuk Seri Dr Wan Azizah Wan Ismail; Presiden PKR, Datuk Seri Anwar Ibrahim dan di luar Malaysia, antaranya Presiden Turki, Recep Tayyip Erdogan, Raja Jordan Abdullah II dan Presiden Palestin Mahmoud Abbas.

Adakah mereka bukan orang Islam sejati kerana membuat ucapan Krismas?

Sekutu Muhamad Khalil Hadi, dalam cubaannya untuk mengalihkan perhatian daripada kontroversi tersebut, mendakwa kononnya "Amanat Kit Siang" lebih bahaya daripada Amanat Hadi.

Saya berbangga dengan kenyataan itu atas dua alasan, pertama, saya sendiri tidak tahu akan kewujudan "Amanat Kit Siang"; dan kedua, kira-kira 15 tahun selepas Hadi menyifatkan saya sebagai "ubat habis tempoh", saya masih berdiri di sini dan dikatakan membawa "Amanat Kit Siang".

Adakah Pemimpin PAS tersebut ada terlebih dahulu meminta nasihat daripada Hadi sebelum mengeluarkan kenyataan sedemikian, yang mana boleh membuatkan Presiden PAS berkenaan dilihat dungu kerana pernah mengatakan yang saya tidak lagi relevan pada 15 tahun lalu!

Namun, muslihat sedemikian tidak boleh menutup hakikat bahawa kepimpinan PAS gagal menjawab banyak persoalan penting yang berbangkit.
Kenapa lain2.. dari lebai parti yang sama... Antara soalannya adalah:

Presiden PAS Hadi berkata semua orang Islam harus menentang ratifikasi Konvensyen Antarabangsa Mengenai Penghapusan Segala Bentuk Diskriminasi Kaum (ICERD) kerana mendakwa ia adalah agenda Freemason dengan niat untuk memusnahkan agama, negara dan masyarakat Islam.

Pun begitu, kira-kira 99 peratus daripada 1.3 bilion orang Islam di dunia tinggal di 179 negara yang telah meratifikasi ICERD, termasuk 55 daripada 57 negara ahli Pertubuhan Persidangan Islam (OIC), seperti Arab Saudi, Indonesia, Turki, Qatar, Emiriah Arab Bersatu, Mesir, Iran, Iraq, Jordan, Kuwait, Palestin, Algeria, Maghribi, Afghanistan, Bangladesh dan Pakistan.

Adakah PAS mahu menjadi penyelamat orang Islam di dunia, termasuk orang Islam di negara Arab Saudi, dan melancarkan kempen antarabangsa bagi mendesak 1.3 bilion orang Islam menentang ICERD?

Adalah mengecewakan apabila begitu ramai pemimpian PAS menunjukkan set minda primitif – seperti Ulama PAS Selangor yang berkongsi video kugiran pop Indonesia sejurus sebelum bencana tsunami membadai negara itu.

Pemimpin PAS sepatutnya belajar daripada Timbalan Perdana Menteri, Datuk Seri Wan Azizah Wan Ismail, yang berucap pada resepsi minum petang sempena sambutan Krismas semalam dan berkongsi pengalamannya menuntut di sekolah convent, sambil berterima kasih kepada guru biarawati beliau kerana mengajarkannya nilai-nilai murni yang membentuk jati dirinya atau daripada artikel yang ditulis oleh Fa Abdul dan disiarkan di Malaysiakini bertajuk "My first Sunday mass before Christmas", kerana jelas apa yang kurang dalam kalangan pemimpin PAS adalah kasih sayang.

Sebelas tahun lalu, pada Disember 2007 di Amman, 129 intelektual Islam terkemuka dari serata dunia mengucapkan Krismas kepada seluruh warga dunia, sebagai seruan perpaduan antara kedua-dua agama tersebut melalui dialog yang diadakan pada Oktober tahun itu.

Kenyataan ucapan tersebut, turut menyelitkan ucapan terima kasih kepada penganut Kristian yang menyambut baik seruan Oktober tersebut yang diberikan tajuk "A Common Word". Inisiatif "Common Word" itu disokong oleh Aal al-Bayt Institute for Islamic Thought, yang diketuai oleh Putera Jordan Ghazi bin Muhammad bin Talal.

Pemimpin "Common Word" memahami prinsip moral yang dikongsi oleh "agama Ibrahim", termasuk tekad untuk mengangkat kesucian kehidupan manusia. Ucapan Krismas itu juga turut merayu agar penganut Kristian dan Islam bersatu untuk "menyelamatkan, mengangkat dan menghargai setiap kehidupan manusia, terutamanya kehidupan setiap kanak-kanak".

Adakah wujud Amanat Kit Siang?

Jika ada, ia akan membawa seruan ini: Seruan supaya seluruh rakyat Malaysia, tidak kira yang beragama Islam, Kristian, Buddha, Hindu atau agama lain, bertekad dengan satu objektif Malaysia Baharu iaitu untuk menjadikan Malaysia sebuah negara yang mempunyai persefahaman agama dan toleransi yang kukuh.

Adakah PAS akan menyokong objektif ini? – Lim Kit Siang, Roketkini
Kutuk mangsa tsunami sebagai mati dalam maksiat pastu letak
akaun bank derma pusat tahfiz sendiri...Ustaz jenis apa ini???
MPs, stop bickering – you have
a country to rebuild...

As we celebrate the birth of Christ in a spirit of giving and loving, we know that some Malaysians will have travelled long distances to be with their families.

If you recall, last May, thousands of Malaysians made a similar journey home. The occasion was not a festival, but a general election.

Malaysians, including those working overseas, returned to their hometowns to vote and make their stand in the May 9 general election. They wanted an end to corruption, bigotry, injustice and extremism so that they could continue to work and live in peaceful harmony.

It was a milestone in history, a show of solidarity, when the rakyat came together to fight off a corrupt and oppressive regime.

There is nothing unusual about this. Sixty-one years ago, Malayans of all races and faiths set aside their differences to work together to become an independent sovereign nation. It was a landmark occasion.

Today, we look on in frustration and hopelessness as we see the politicians whom we elected into office doing their best to break up the fragile harmony that we have woven.
Who could have imagined this outcome?

Seven months after the historic ousting of Umno-Baru, what does the administration's report card show? Could do better! The MPs have probably set an extremely low standard and sadly, failed to achieve it.

The rakyat are not stupid. Malaysians were prepared to give the new administration time to adjust to their new roles and responsibilities. They are in for the long haul, and realise that it will not take 100 days, 100 weeks, or even 100 months to undo all the brainwashing and bigotry that has divided the rakyat.

Should we blame inexperience for the frictions in Putrajaya? Did power get to the heads of some? Are they unable to cope with the responsibility of healing a nation?

Whilst the MPs wage a war of words, their actions are being watched, not only by citizens but also by those in the previous administration, who are aiming to return to power. Elsewhere, investors and other interested parties, such as foreign powers, whose intentions may not always be noble, keep a watch on the developments in Malaysia.

The rakyat are furious that the ministers are act like children in a playground brawl.
A fireman died a few weeks after being injured whilst he was attempting to discharge his duties. The investigation into his death is not complete, but some senior politicians and ministers have taken sides, and escalated this into a racial and religious incident, which it was not. But worse was to follow, with a war of words between coalition party leaders.

As a result of this death, a minister has called for the resignation of a fellow minister. He failed to provide any justification for his ill-timed request. Should we dismiss his action and blame it on inexperience and youth? He could have called for calm, but instead he has stoked more ill-feeling amongst the general public.
A minister whose limited depth and understanding of the issues plaguing his portfolio has upset many parents, who had hoped that with the new regime, their children's future would be assured. Religion has divided the nation, and yet this minister wants to play politics with our children's education. How different is this from the previous regime?

Malaysians could only watch in horror as the bullies in our society dictated their demands for the rejection of the International Convention on the Elimination of All Forms of Racial Discrimination, or ICERD, and threatened violence. They were able to make the new government yield to their threats. Why was no effort made to pacify the public, and educate them about ICERD, and allay their fears, which were founded on the belief that ratifying ICERD would sideline the Malays?

Some MPs are secretly wheeling and dealing with members of the previous regime. This has prompted a retaliatory move amongst other coalition party members. How can this internal politicking help the rakyat?
When will MPs force the police to locate Prasana Diksa, the daughter of kindergarten teacher Indira Gandhi? Prasana was kidnapped by Indira's convert husband Riduan Abdullah.

When will the police renew their efforts to locate Pastor Raymond Koh and the three other people, Pastor Joshua Hilmy and his wife, Ruth, as well as Amri Che Mat? They have also been missing for over a year.

Many activists thought that the time for critical comments had ended; today, they have been forced to sharpen their pencils, once again.

Is the best yet to come? Should activists and political and social pundits slink away now, and let the nation tear itself apart? Who will have the last word?

Will our MPs and ministers rekindle the solidarity and spirit of GE14? Our shared purpose brought people together.

Jesus Christ experienced rejection, hardship and persecution. The same feelings are also experienced by many members of our community; but Christ's generous love and example has successfully inspired others through the good and bad times. Are we capable of reaching out as He did? Merry Christmas to everyone. - Mariam Mokhtar,fmt
Inilah 3 Calon Negara Bangkrap di 2018...
cheers.
tumpang sekole...?: Lebai PAS - Minda di luar kotak vs dalam kotak...
PAS, hangpa beli pulau dan duduk di situ...

Gesaan seorang pemimpin PAS supaya orang Islam tidak meraikan Hari Krismas mendapat tempelakan keras daripada pengkritik lantang Islam konservatif, yang berkata, parti Islam itu menderitai sindrom gagal menghargai ajaran Islam dan realiti kepelbagaian budaya.

"Barangkali telah tiba masanya PAS berfikir sama ada mereka perlu membeli sebuah pulau dan mengisytiharkannya sebagai Negara Islam serta tinggal di situ sesama mereka yang berkongsi pemikiran yang sama," kata Dr Ahmad Farouk Musa kepada FMT.

Beliau memberi respons terhadap Ketua Pemuda PAS, Muhammad Khalil Abdul Hadi, yang berkata, Hari Krismas, yang merayakan kelahiran Nabi Isa, tokoh utama dalam ajaran Kristian yang turut dipandang tinggi oleh orang Islam, bercanggah dengan ajaran Islam.

Khalil, yang merupakan anak Presiden PAS, Datuk Seri Abd Hadi Awang, berkata, ini kerana penganut Kristian mempercayai Isa merupakan anak Tuhan dan kerana itu terjumlah sebagai perbuatan syirik, atau menyekutukan sesuatu dengan Tuhan.
Beliau berkata, walaupun orang Islam dibenarkan mengucap selamat kepada jiran tetangga beragama Kristian atas dasar hormat-menghormati, mereka tidak boleh secara "suka-suka" berbuat demikian di media sosial.

"Ia seolah-olah menunjukkan keredhaan kepada agama mereka," kata Khalil.

Beliau juga berkata, hari kebesaran bukan Islam tidak boleh diraikan oleh orang Islam kerana melibatkan pegangan dan kepercayaan agama yang salah, tetapi diizinkan jika hanya melibatkan perbezaan budaya.
Farouk, yang mengetuai Islamic Renaissance Front berkata, Khalil mempamerkan "jenis pemikiran yang tidak sesuai untuk hidup dalam sebuah masyarakat pelbagai kaum dan agama."

"Sejak bila orang Islam yang mengucap selamat sempena Hari Krismas mempercayai konsep tritunggal Tuhan?", soal beliau.

"Apa-apa ucapan selamat untuk apa-apa juga perayaan sama ada yang berkaitan budaya atau kepercayaan, adalah tanda persahabatan dan rasa muhibbah.

"Bukankah Imam Ali berkata bahawa 'seseorang itu sama ada merupakan saudaramu dalam agama, atau saudaramu dalam kemanusiaan?," tambah Farouk. - fmt
Why display such abrasiveness
against Christmas?...

I cannot comprehend why a Muslim leader would want to express such an abrasive view about Christmas even if it is for political reasons. I am referring to PAS Youth chief Muhammad Khalil Hadi's characterisation of Jesus, Christmas and Christianity in general, as published in news portals.

He may target Christianity for some reasons. But I wonder what he would say when Buddhists celebrate Wesak, Hindus celebrate Deepavali, Chinese celebrate Chinese New Year and the Jews observe Yom Kippur. Would he say the same things he said about Christianity?

No one is asking Khalil to believe anything about Christianity. But he must acknowledge that Christianity, Christmas and Christians exist in Malaysia and in this world.

I am not a Muslim, but I acknowledge Islam and Muslims exist here in Malaysia and in the world. That acknowledgement of mine includes respecting the beliefs, practices and festivities associated with Islam.

It is disrespectful to describe Christmas as idolatry and Jesus as not being the Son of God. We are not asking him to believe. We are asking him to respect the beliefs of others.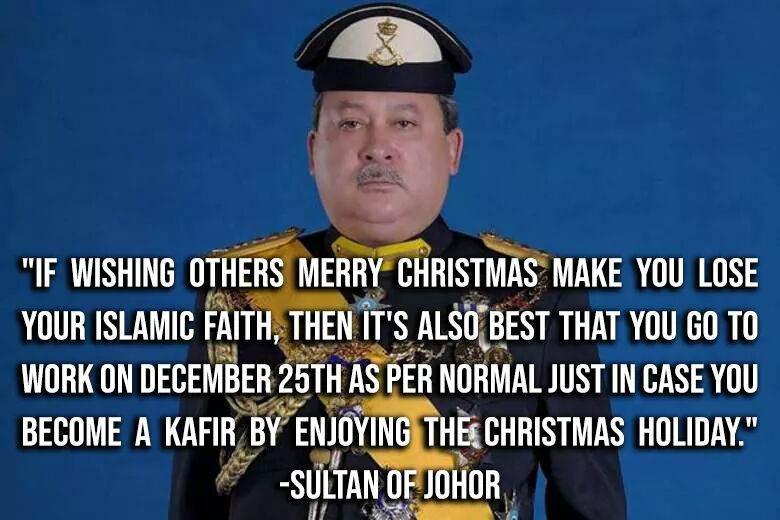 I can't imagine what would happen if a non-Muslim were to describe an Islamic festivity in a negative way. I am sure there will be demands made and demonstrations staged to condemn such a characterisation. In this regard, I am expecting some response from Muslim leaders in Pakatan Harapan.

The greatness of any religion is its magnanimity, not its power.

Perhaps Khalid is seeing the "commercial" and "jolly" aspects of Christmas. But then, the true spirit of Christmas celebrated by Christians is about humanity, love, giving, forgiveness and eternality.

We compel no one to believe the true spirit of Christmas. We only ask that we be allowed to celebrate what we believe in, and we welcome those who wish to extend greetings to us.

I feel sad that I have to write this piece on the eve of Christmas.

Blessed Christmas to all who choose not to be offended. - fmt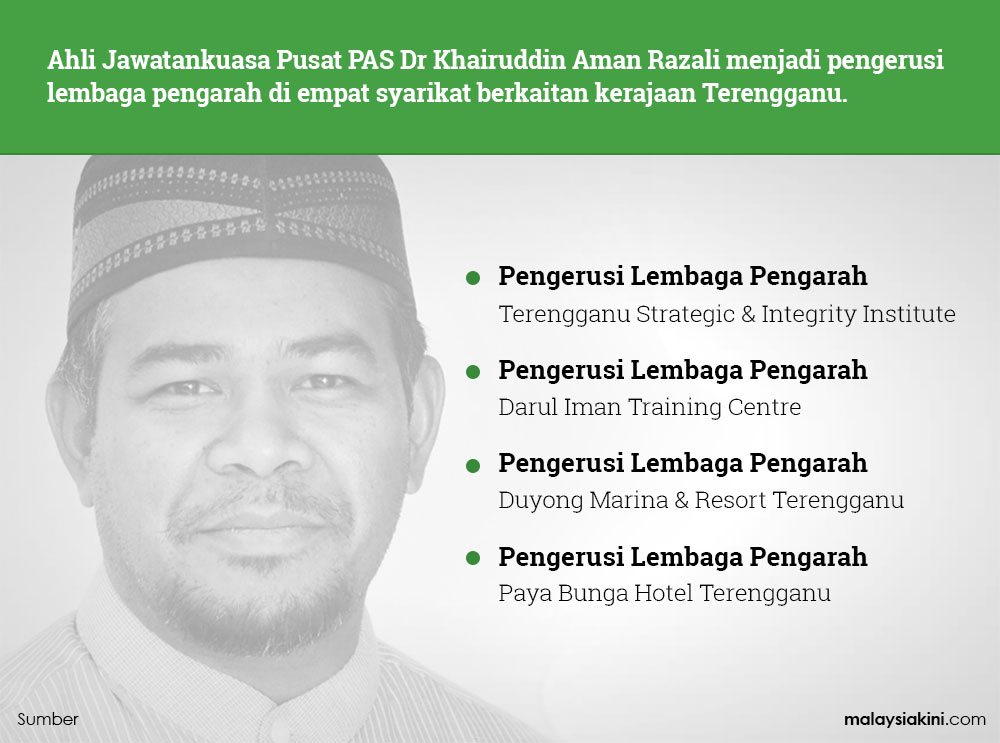 Aku dok ingat.. Cerita Ahli Majlis Syura PAS si Takiri pegang dan dilantik pengerusi 4 GLC di Terengganu ni fitnah.. tu sebab aku tak share berita ni..Rupanya betul.. Baca Malaysia kini tadi ia disahkan benar..

Sebelum Pilhanraya PAS kata..Kami nak wujudkan Kerajaan Teknokrat.. Yang pimpin Negara, yang uruskan Negara dikalangan Pakar dan Profesional.. Last2 yang jaga GLC lebai, Hotel ngan resort pun dia jaga..aku dok ingat Teknokrat ni org mcm Ts Khalid..
Apa hebatnya Takiri ni ? Bisnes apa dia berjaya sangat.. Yang aku tahu dia cuma jual air zam zam dan Kismis Jampi.. Bini dia bisnes Kosmetik dan krim untuk kecil dan besarkan payu dara dan perapat.. takkan ini gambaran Teknokrat.. ini peniaga Kampung.. Scammer..

Di Terengganu dan Kelantan, Exco sains dan Pertanian Lebai.. Sampaikan hat jaga Sukan dan Bola Sepak pun lebai.. tang mana Teknokratnya ?
Dalam Laporan Malaysiakini kataa d 2 Syarikat bukan berasaskan keuntungan..ye lah..Ak dok teringat yayasan tabung Haji Azeez Rahim, dan yayasan Akal budi Zahid hamidi, tu pun bukan berasaskan keuntungan.. betul tak ?

Tapi aku faham lah.. aku dok syak la.. ini ada agenda lain.. Sebab Takiri ni dok jaga projek buat pasaraya wakaf PAS.. Duit Derma masih tak cukup.. Cara mudah nak gerakkan dana Politik.. nantilah dan GLC yg wakafkan.. Mcm Tauke Balak infaqkan demi perjuangan PAS di Kelantan.. siap Taja haji VVIP.. esok esok senang nak tampung dan tutup duit lebuh mcm Kohilal.. Maka jadilah Pengerusi GLC Terengganu.. - Ipohmali
cheers.
tumpang sekole...?: Merry Xmas u'all...
Fitnah Macai vs Fitnah Pak Lebai...
Semua masih kekal. Barisan BOD BIMB sehingga kini. Setakat hari ini, TIADA sebarang PERTUKARAN atau LANTIKAN baru Barisan BOD BIMB.

Jawapan atas fitnah MOF lantik 4 director dari DAP dalam Bank Islam Malaysia Berhad (BIMB). Nama 4 director tu dia tak berani sebut pasai dia tak tau sapa dan kalu sebut nama secara ikut suka nanti kena saman...
Dulu semua Syarikat2 GLC Melayu ini di pimpin oleh kroni2 macai dan lihatlah apa berlaku habis GLC Melayu jadi lintang pukang... Sekoq-sekoq SPRM dok heret ke mahkamah. Apakah anda mahu Parti penyanggak dengan 40 penyamunnya memerintah semula? Pikiaq2lah habis2..

Kegilaan menabur fitnah drp barua2 belaan umngok,dah melampau2 dan biadap..Fitnah semata2 utk wujudkan satu persepsi kononnya kjaan ph tunduk dan utamakan cina2 dap..Fitnah yg jelas menghasut dgn sentimen perkauman dan rasis yg melampau..Fitnah yg hnya mampu dilakukan oleh makluk yg tahap kegilaan otaknya dah tak mampu utk dirawat..Jika fitnah seburuk dan sejahat inipun,masih dibiar oleh pemimpin kjaan Ph,maka tunggulah akn tercetusnya perbalahan kaum dlm negara..Beruk pun tak mampu nk berfikir bgaimana barua2 belaan umngok boleh fitnah kjaan Ph dan Bank Islam sebegini rupa..Fitnah yg busuk dan jijik mengalahkan segala bau busuk mangkuk jamban di sluruh ngara.. - f/bk
Sendiri reka cerita.. Sendiri fitnah..
Sendiri siar.. Sendiri Percaya..



Depa reka cerita..Depa Fitnah.. Siar dalam akhbar Fitnah depa.. Lepas tu depa beriman dan percaya degan Fitnah yang mereka lakukan sendiri..Pelik depa terbitkan fitnah..Depa cetak, lepas tu pengikut semua Percaya..

Kalau tauliah dibawah Gobind, Wanji dah boleh mengajar di Masjid di Selangor.. Dr Maza dah boleh mengajar di Johor..dan Dr Rozaimi dah boleh mengajar di Perak.. hari ini yg bebas buat kerja jahat , berpolitik di Masjid cuma lebai2 PAS..

Si Nazmi Karim ni memang rajin buat cerita Hoax dari zaman cerita dongeng Syria untuk minta Derma lagi..Kalau ada cerita datangd ari Ustaz2 Sampul macam ni.. ustaz2 kaki minta derma..hati hati ah..

Ini yang Nabi kata, Lebih aku takutkan melebihi Dajjal..datangnya fitnah atas nama Agama.. inilah yg berlaku di Syria.. huru hara..Peperangan, Pembunuhan, Kematian, kelaparan puncanya adalah diatas fitnah Ulama Ulama Jahat yang menyebarkan Kebencian agama dan Kaum.. Kelompok Ashabiyah..

Jadi berhati hatilah ummat Islam.. Kesesatan, ketaksuban pengikut Ayah Chik Lebih teruk dari pengikut Ayah Pin.. kalau Ayah pin yang rosak hanya nama ayah pin..kita Bimbangi kerosakan ini akan merosakkan nama baik Islam.. - Ahmad Muslim Badawi aka ipohmali
Harga Minyak...
Harga minyak mentah jatuh mendadak minggu ini. Saya telah menyuarakan minggu lepas bahawa keadaan harga minyak mentah yang jatuh mendadak memerlukan formula harga siling yang ditetapkan disemak.
Saya dimaklumkan perbezaan (kiraan Kerajaan Persekutuan berbanding kiraan saya) berlaku akibat semakan yang berbeza: Kerajaan Persekutuan menyemak mengikut bulan, sementara saya mengikuti semakan mingguan.
Saya telah menulis kepada YB Saudara Lim Guan Eng, Menteri Kewangan agar semakan harga mengikut formula wajar dibuat mengikut minggu, agar harga yang dibayar rakyat cepat diselaraskan dengan harga semasa minyak mentah dunia.
Surat saya kepada YB Saudara Lim Guan Eng boleh dibaca di sini:

Even though Ahmad Zahid has "handed over his duties", he is still the Umno president. Everyone knows that once the handover is complete, making a comeback is never as easy as it looks.

A president without the powers and duties is like a king in exile, a toothless tiger that can't do anything. He has delegated his presidential duties to his deputy Mohamad Hasan without setting a time frame or conditions. All the powers in his hand are like a bird set free. Gone forever!

Unless he can relieve himself of all the charges within a short time, has his name cleared and wins the trust of his party again, such possibility may still exist. But again this possibility is extremely slim.

He is now facing a total of 46 corruption charges, more on the way, including vote-buying in party elections. These court cases have already made him a lame duck president. When he was charged in the court, Umno Youth wanted him to go on leave. VP Khaled Nordin was on the same side as the Youth.

Nevertheless, Zahid has the support of the other two VPs -- Ismail Sabri Yaakob and Mahadzir Khalid -- as well as most supreme council members. Mohamad Hasan initially wanted him to go on leave, but later changed his attitude as he held back his next move.
The situation today is much worse. From the near collapse of Sabah Umno to more exits from Umno MPs on the peninsula, the party's elected reps in the Parliament has plummeted from 54 to only 37.
After this, Ahmad Zahid's attitude hardened, arguing that there was no reason for him to step down. And even anyone wanted him to leave, a general assembly had to be called, and an enormous impeachment mechanism had to be initiated.

The fact is, if the president stays put, more reps will leave, and Umno is poised to fall. Up till this point the party leadership can no longer sit on the fence and do nothing From what we understand, one of the VPs wrote to Ahmad Zahid, tabulating the reasons he must leave. From Mohamad Hasan down, almost everyone agrees he has to go.

But, will the Umno crisis be defused following the handover of duties? No way. The crisis will stay after Mohamad Hasan takes over. Hasan's influences and authority are mostly confined to Negeri Sembilan, hardly beyond the state. He has not performed particularly well since becoming the party's Number Two.

Unless the appeal is won, he still has a by-election war to fight in Rantau That said, the handover of duties by Ahmad Zahid has at least relieved part of the pressure, so that Umno can take a breather now.
As a matter of fact, Umno's exodus comes from both within and without the party. The external pull factor comes mainly from Mahathir and Daim Zainuddin.

The Mahathir-Zahid relationship has gone beyond repair, especially after Zahid shows an inclination to work with Anwar Ibrahim. That makes him an uncompromising enemy of Mahathir.

If he continues to lead Umno, Mahathir is not going to give Umno a chance. Internally, Zahid faces the pressure from Hishammuddin and Khairy.

Umno can momentarily breathe a sigh of relief after Mahathir has achieved his stage one objective of taking down Zahid, while Hisham and Khairy will apply the brake and observe how things go from here.

As for those prepared to leave the party, most of them will put their plans on hold instead of acting on the spur of the moment. - mysinchew
Indonesian soldiers encroach into Sarawak, kidnap 5 Malaysians...
Five Sarawakians were held at gunpoint, bundled into a pickup, roughed up and kidnapped for ransom, allegedly by members of the Indonesian army who had encroached on Malaysian territory last week.

The five, aged between 15 and 64, were harvesting wood at the Wong Rangkai forest near Kampung Danau Melikin, 400m from the Serian-Kalimantan border, around noon on Dec 11 when they were approached by two men in battle fatigues.

The two were armed with 5.56mm Pindad SS-1 assault rifles, the standard primary weapon of Tentera Nasional Indonesia (TNI).

The New Sunday Times has learnt that the five were allegedly ambushed at the site, located near the WFM Melikin oil palm estate in Balai Ringin.

After securing them, the Indonesians forced them into their Toyota Hilux, which was parked nearby, and ordered them to drive across the Kalimantan border to the Indonesian command post in Sg Enteli.

The soldiers accused them of stealing wood from the Indonesian side.

But my 1 million ringgit question is WHERE IS OUR ARMY..??
😅
😅
😅
😅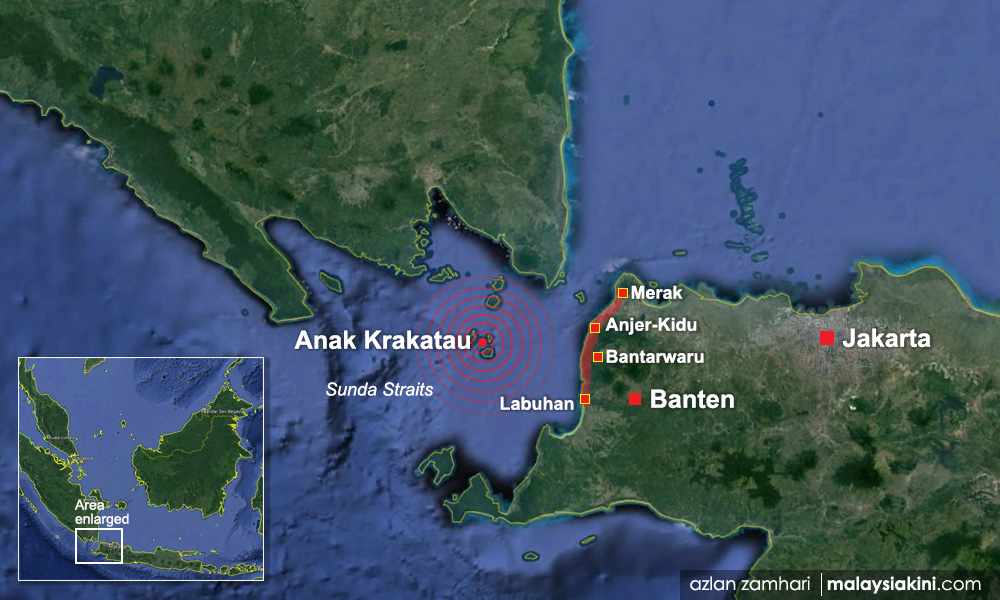 This time I have to agree with you Tun Daim...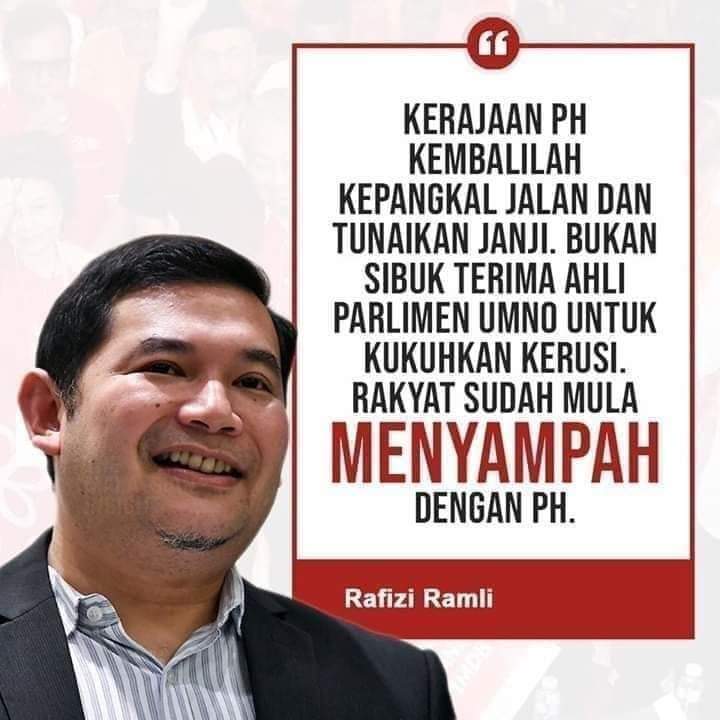 Something you probably
didn't already know!
cheers.
tumpang sekole...?: Fitnah Macai vs Fitnah Pak Lebai...
Nasihat Raja Bomoh kat Anwar dan Dr.M...
Soalan Mengenai Menyokong Pemimpin Yang Isterinya Tidak Bertudung
Denda RM2,000, penjara enam bulan jika guna lampu HID...
Penggunaan lampu High Intensity Discharged (HID) digunakan secara berleluasa ehingga menimbulkan rasa kurang senang dalam kalangan pengguna jalan raya lain kerana kecerahan lampu itu disifatkan menyilaukan pandangan mereka.
Perkara itu mendapat perhatian Menteri Pengangkutan, Anthony Loke yang baru-baru ini mengumumkan pengharaman penggunaan lampu HID.
Meskipun ada yang berpendapat bahawa lampu HID memberikan pandangan yang lebih baik dan jelas di jalan raya, tetapi ia juga boleh menyilaukan pengguna jalan raya lain dari arah bertentangan, yang juga berisiko tinggi menyebabkan kemalangan jalan raya.
Begitu juga jika kenderaan yang menggunakan lampu HID ini datang dari arah belakang membuatkan pemandu di hadapan silau dan tidak dapat memandang cermin pandang belakang.
Untuk itu, Menteri Pengangkutan kini mengharamkan penggunaan lampu HID pada semua jenis kenderaan tanpa sebarang pengecualian.
Menurut beliau, mana-mana pemilik kenderaan yang didapati bersalah dan melanggar undang-undang itu akan didenda RM2,000 atau penjara selama enam bulan.
Bagi pemilik kenderaan yang masih menggunakan lampu HID, anda dinasihatkan untuk menukarnya dalam kadar segera atau berdepan dengan tindakan undang-undang jika ditahan dalam sekatan jalan raya.
Wan Azizah wants to be PM,
to create history...



I don't know what happens in the household of PKR president Anwar Ibrahim, but it does not harm some men to be told, "You get dinner ready for the family tonight, darling. I have to attend to important matters of state."

In a completely hypothetical situation, if hubby refuses, Dr Wan Azizah Wan Ismail could easily say, "I am the deputy prime minister. Time waits for no man, neither does a good woman."

It would be good for some Malay men to realise that women are not shrinking violets or door mats.

If I were Wan Azizah, why should I relinquish my position, as deputy prime minister? Any woman worth her salt would stand her ground and not allow her husband, or the prime minister-in-waiting, or anyone else, to oust her from her perch.

Having made history as the first female deputy prime minister, she might become the first woman Malaysian prime minister. (Sorry Nurul Izzah! Mothers always have the first pick and are always right.)

Naturally, Wan Azizah could only become prime minister if Dr Mahathir Mohamad were to become indisposed.

As a Muslim woman prime minister, her appointment would elevate Malaysia to the ranks of the progressive countries, which have women prime ministers or presidents. Britain, Israel, Germany, India, Australia, South Korea and Indonesia.

As deputy prime minister, Wan Azizah is the "number one woman" in the nation. She wields much power, or as much power as Mahathir, will allow.
Pundits claim that since Pakatan Harapan's formation, Mahathir's guiding hand has caused a sea change in Wan Azizah.

She exudes more confidence, and is more self-assured. Gone are the shrill voice and hesitation, which hampered her when the responsibility of leading an opposition coalition, in her husband's absence, was thrust upon her.

On the other hand, some political observers claim that she has also developed a lust for power.

Malaysia is a patriarchal society and becoming prime minister is an opportunity for a woman to make her presence felt.

In Malaysia, Malay Muslim men make the rules; but they also bend them to their advantage. Women cannot show themselves to be better than the men, without incurring their wrath.

Recall how PAS president Abdul Hadi Awang humiliated Wan Azizah when she was nominated to be the Selangor MB in 2014.

Perhaps, as prime minister, she can wield her magic wand and say, child marriages will be a thing of the past. Sex education must be introduced in schools. Single women will not be whipped for adultery. Syariah law will be standardised throughout Malaysia. Obedient wives' clubs will be disbanded because they demean women. Men cannot marry more than one wife.

She could inform Malay Muslim women that the world can be their oyster, and tell many of the Malay men that it is alright to venture from their tempurung (shells).

Change will not come overnight and hundreds of thousands of Malay men will resist. This problem was created because Malay men (and women) were indoctrinated by many generations of Umno Baru leaders who know only one thing. Cash. With cash, they bought power, influence and transformed themselves into Adonises.
Time to speak out

Nurul Izzah, the daughter of Wan Azizah and Anwar, is described as the "Reformasi princess". Most people consider that her work is done. Her mission was to free her father, when many Malaysians were swept up in the Reformasi movement.

Deprived of a childhood, with her formative years spent criss-crossing the globe, garnering support to free her father from the clutches of the then prime minister (who is the current prime minister), she has followed the path of many career politicians, like former disgraced prime minister, Najib Abdul Razak, and has, since her graduation, known only, the life of a politician.

Malaysians expressed regret and anger when Nurul resigned as PKR vice-president and relinquished her appointment as the chairperson of Penang PKR. She has done the right thing and now, she should enter the real world, and see how the ordinary, downtrodden Malaysians live.

It destroys a nation and discourages integration when non-Malays are considered second-class citizens. It is frustrating to find that the Malays, who are spoon-fed and pampered with benefits, have grown lazy, and are saddled with a strong sense of entitlement.

Nurul should observe how the mock rituals of Umno-Baru's Islam have divided Malaysia and acknowledge her father's role in the Islamisation, division and dumbing down of education in Malaysia.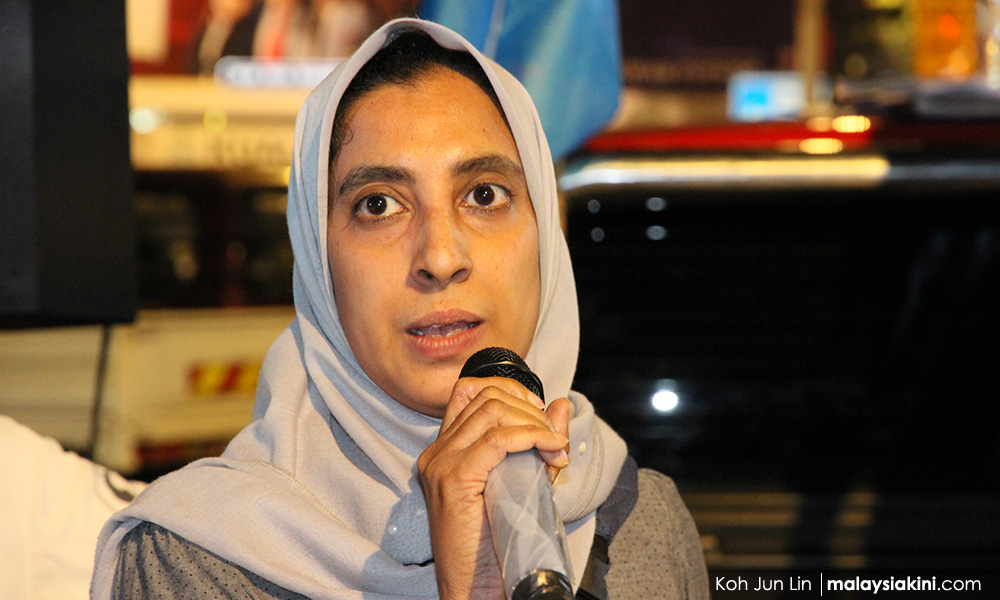 In the course of her travels overseas, she will have met thousands of successful Malays, who in their adoptive country, did not live off handouts. In contrast, the Malays in Malaysia are condemned to a life on crutches. Her father announced that Malays need time to accept a shift from race-based to needs-based affirmative action policies. So, when will be the right time? After another 61 years?

More importantly, when PKR politician Latheefa Koya (above) criticised the PKR party for nepotism and cronyism, Nurul's silence on the defence of freedom of expression was worrying.

The PKR members who want Latheefa's scalp are daft. Why shoot Latheefa for saying what had to be said?

After all, the silence of the party members and the rakyat allowed Umno-Baru/BN to become so morally and financially corrupt that Malaysia was brought to its knees. Speak out! Do not let this happen again.

By right, the post of prime minister could be filled by any capable Malaysian, and it does not have to be a Malay. Despite the Umno-Baru rhetoric, Malaysia has never had a real Malay prime minister. - Mariam Mokhtar,mk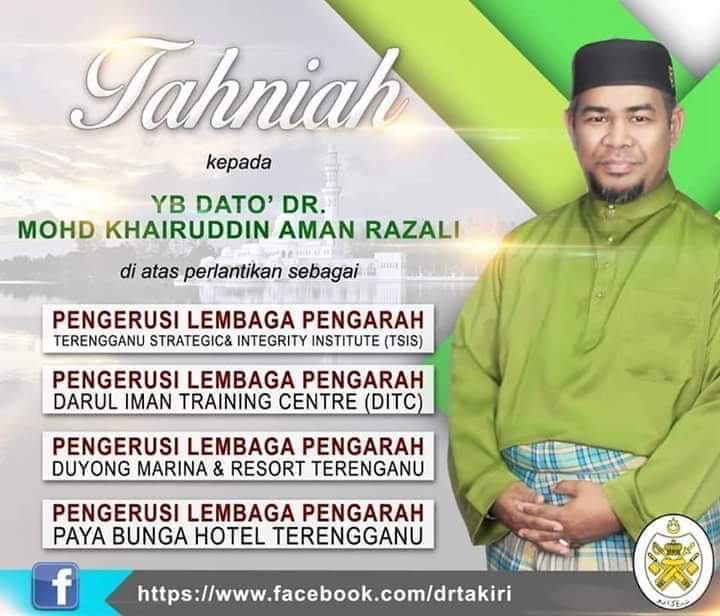 Kalu DAP buat macam ni
walaun/macai demo sakan...
KJ being the opportunist he is, I won't be surprised to see him file for divorce with Noni
and hitch himself to Nurul, a divorcee.That makes him closer to future PM.
Relax hari Ahad...
cheers.
tumpang sekole...?: Nasihat Raja Bomoh kat Anwar dan Dr.M...
Hubungan 'rumit' Anwar-Dr M...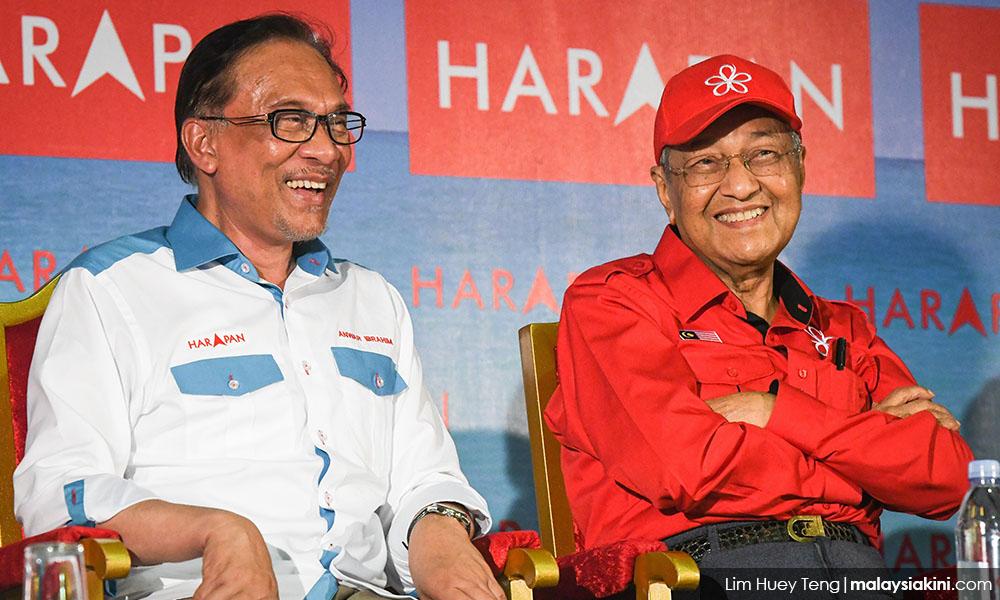 Timbalan Menteri Pertahanan Liew Chin Tong membangkitkan lima cabaran yang didepani kerajaan Pakatan Harapan (PH) untuk mengukuhkan demokrasi di Malaysia.

Ahli strategi DAP itu berkata, antaranya adalah hubungan "rumit" antara Perdana Menteri Dr Mahathir Mohamad dan Presiden PKR Anwar Ibrahim yang bakal menggantikannya.

"Bayangkan jika Anwar terpaksa bekerjasama dengan Umno bawah Ahmad Zahid Hamidi sementara Mahathir dengan Umno bawah Hishammuddin Hussein. Kedua-duanya adalah non-starter (tiada peluang untuk berjaya) dan tidak baik untuk demokrasi Malaysia.

"Sedar akan risiko mimpi ngeri ini, saya yakin kedua-dua pemimpin PH ini akan mencapai persetujuan demi Malaysia," katanya.

Liew bagaimanapun tidak menghuraikan lebih lanjut perkara itu.

Cabaran lain yang disebutnya ialah selepas tumbangnya pemerintahan Umno dan BN pada 9 Mei lalu, kerajaan baru perlu memperbaiki model ekonomi lama, iaitu kronisme atas nama golongan Melayu miskin.

"Kita perlu membina model ekonomi baru untuk semua termasuk mengangkat kedudukan orang Melayu miskin, tetapi tanpa kronisme dan rasuah Umno."

Katanya lagi, demokrasi sepenuhnya dan kebebasan media dalam masyarakat berbilang kaum hanya boleh bertahan jika naratif kebangsaan Malaysia menjadi asas bersama semua golongan.

"Kita mesti menolak tanggapan rakyat Malaysia tidak bersedia atau tidak cukup matang untuk memiliki hak dan kebebasan demokrasi yang penuh.

"Setiap pemain politik dan media tidak boleh lagi menjadi juara kaum. Perkauman boleh mencetuskan pertembungan etnik yang boleh meruntuhkan negara, merosakkan demokrasi yang baru bermula," katanya lagi.
'Ia tidak pernah mudah'

Mengulas lanjut, beliau yang juga pengerusi DAP Johor menyifatkan PH sebagai gabungan besar yang memerlukan banyak usaha agar tidak runtuh.

"Kita perlu menerima hakikat bahawa kita sedikit berbeza dalam pendekatan.

"Mengalahkan kleptokrasi Najib Razak adalah sukar, tetapi membina Malaysia lebih sukar. Ia adalah usaha yang berbaloi. Kita perlu berusaha untuk menjayakannya," katanya lagi.

Untuk menjayakan demokrasi, katanya, kerajaan perlu menerima bahawa pentadbiran bukan sahaja berkenaan keputusan menteri dan pegawai atasan birokrat.

"Untuk melaksanakan agenda pembaharuan, kita perlu banyak institusi seperti jawatankuasa parlimen dan kebebasan media untuk mewujudkan platform dan peluang kepada orang awam menyertai proses sukar mentadbir.

"Perubahan tidak pernah mudah. Mengubah cara sebuah negara diuruskan dan ditadbir memang tugas yang penuh cabaran.

"PRU 2018 merupakan penamat kepada regim Umno-BN yang berusia 61 tahun. Ia permulaan era baru dalam konteks sebuah demokrasi yang masih muda dan perlu dipupuk. Ia tanggungjawab bersama kita untuk menjayakannya," katanya lagi. - mk
UMNO divided over Pakatan PM...

The spate of resignations that has almost crippled Umno is a result of a proxy "Mahathir-Anwar war" between groups in the party – one in support of Tun Dr Mahathir Mohamad as Prime Minister and the other that wants to see Datuk Seri Anwar Ibrahim move up.

Umno supreme council member Datuk Alwi Che Ahmad said the disagreement between the Umno sides came to a head when the pro-Anwar group began openly canvassing support for him to become the 8th prime minister.

Alwi, who is also Kelantan opposition leader, said the pro-Mahathir group is led by Larut MP Datuk Seri Hamzah Zainuddin while the pro-Anwar group is headed by Umno president Datuk Seri Dr Ahmad Zahid Hamidi.

Hamzah is staunchly opposed to Anwar becoming prime minister.

As such, the Hamzah group is not so much about supporting Dr Mahathir as it is about stopping Anwar in his tracks.

With the help of Datuk Seri Hishammuddin Tun Hussein, who is also opposed to Anwar, Hamzah managed to persuade 38 Umno MPs to sign statutory declarations in support of Dr Mahathir if anyone brings about a vote of no-confidence against the Prime Minister in Parliament.

"There was no intention among them to resign from Umno or to join Bersatu. None are interested," said Alwi.
Datuk Seri Hamzah Zainuddin

However, Alwi said that sometime last month, Padang Rengas MP Datuk Nazri Aziz began meeting division leaders in the Klang Valley to persuade them to support Anwar.

Nazri had reportedly said to them that if Anwar were to become the prime minister, there will be no witch hunt against Umno leaders.

He said the MACC would not be used to suppress the opposition as it seems to be happening now.

He also assured his listeners that Anwar would not deregister Umno and there would be equal allocations for government and opposition wakil rakyat.

Many in Umno believe that Nazri's latest move is linked to whispers and rumours that something big would take place at the March meeting of Parliament to propel Anwar forward.

Nazri met eight Umno divisions. His latest with the Ampang Umno division ended in a fierce commotion.

The Umno Youth leaders criticised him for asking them to support Anwar, which they said were nothing short of cooperating with DAP.

They said even though DAP was prepared to accept ex-Umno leaders, they would never accept that party.

Nazri's open campaign for Anwar infuriated Hamzah, who then decided to take things to another level.
Hishammuddin Tun Hussein

It is understood that a secret meeting was convened at Hishammuddin's house in Ampang last weekend. Among the attendees were Hamzah and PKR deputy president Datuk Seri Mohamed Azmin Ali.

How and why Azmin is involved in this made-in-Umno drama is unclear but he has emerged as a trusted figure in Mahathir's circle.

A few days after the meeting, the resignations in Sabah began, followed by more in the peninsular.

"I see it as Hamzah's way of warning the Umno leadership to stop the alliance with Anwar," said Alwi.

Hamzah has not only threatened to spark off more resignations from Umno, he is also demanding that Dr Ahmad Zahid steps down as Umno president.

Dr Ahmad Zahid has shown no sign of caving in to the demands. He is, after all, a democratically-elected president.

A supreme council meeting, scheduled for this evening, has also been called off. The cancellation is widely seen as an attempt by Dr Ahmad Zahid to buy time to seek an amicable solution.

But the pressure is not easing. Former Umno Youth chief and Rembau MP Khairy Jamaluddin is crying out loudly for Dr Ahmad zahid's ouster.

Yesterday, Khairy tweeted again: "Step aside sir. It's time."

Khairy, once labelled as kambing hitam or black sheep by Dr Mahathir, has also lashed out at Hishammuddin as geng bangsawan (aristocratic gang)
Zahid Hamidi

Political commentator Dr Azmi Omar described the debacle that Umno was going through as a "perfect storm".

"It is ironic that Umno is facing so much trouble because of another round of Anwar versus Mahathir," said Dr Azmi.

It is obvious that Anwar is closely following the proxy war in Umno. He tweeted yesterday: "Lots of political intrigue discussed in #Twitterjaya this week".

Alwi said he was also approached by Hishammuddin a few months ago over the same issue.

"I was invited to his Ampang office for lunch. I arrived late. There were already more than 30 Umno leaders there. Then, he met us one at a time – no phones allowed.

"He wanted to know if we were to choose between Anwar and Mahathir, who did we prefer," said Alwi.

Incidentally, Alwi told Hishammuddin that he trusted Dr Mahathir more than Anwar.

"But that doesn't mean that we want to join Bersatu. Why should we? Umno is a big party with a long history. We can recover if we are united and focused."

Umno's political tug-of-war has left the Youth wing fed-up.

Its deputy Youth chief Shahril Hamdan said the wing was not interested in taking sides between Anwar or Dr Mahathir.

"Right now, it seems the best political minds in Umno are invested in trying to capitalise from any alleged split in the government rather than focus on good old politics – policy, inspiration, sentiment and charisma," he said.

Shahril warned against falling into the trap of "my opponent's weakness is my strength".

"Even if the rakyat is falling out of love with Pakatan, we are not even in their consideration, especially when we seem more interested in convenient mergers and backdoor dealings." - Joceline Tan
Jangan bersekongkol dengan KJ kleptokrat UMNO untuk apa2 urusan politik!
cheers.
tumpang sekole...?: Hubungan 'rumit' Anwar-Dr M...
Nurul oh Nurul kenapa...
Berita mengenai peletakan jawatan Nurul Izzah Anwar sebagai naib presiden PKR dengan serta-merta mengejutkan negara, menyebabkan ramai tertanya2 mengapa dia berbuat demikian.
Antara spekulasi2nya:
1. Dia sangat kecewa dengan prestasi kerajaan Pakatan Harapan(PH) yang memerintah, terutamanya mereka yang bersedia menerima ahli2 parlimen Umno atau bekerjasama dengan parti itu, kerana ini boleh menganggu agenda reformasi PH dan juga menyebabkan perpecahan dalam gabungan pemerintah.

Beberapa hari sebelum itu dia telah membantah dengan keras terhadap penyerapan wakil2 rakyat Umno, dengan alasan bahawa ini mengkhianati mandat rakyat dan menjadikan demokrasi tidak bererti.

2. Perbalahan dalam PKR masih belum berakhir. Azmin Ali terus mengetepikan orang2 Rafizi. Sebagai sekutu Rafizi, Nurul letak jawatan sebagai tanda protes.

Dalam tweetnya selepas peletakan jawatan dia berkata menyokong Rafizi sebagai calon Timbalan Presiden adalah perkara terbaik yang telah dilakukannya.

3. Dia tidak bersetuju dengan ayahnya tentang beberapa perkara. Anwar sebelum ini menguatkuasakan ideologinya sendiri ke dalam parti melalui isteri dan anak perempuannya, yang mana Nurul sendiri tidak setjui.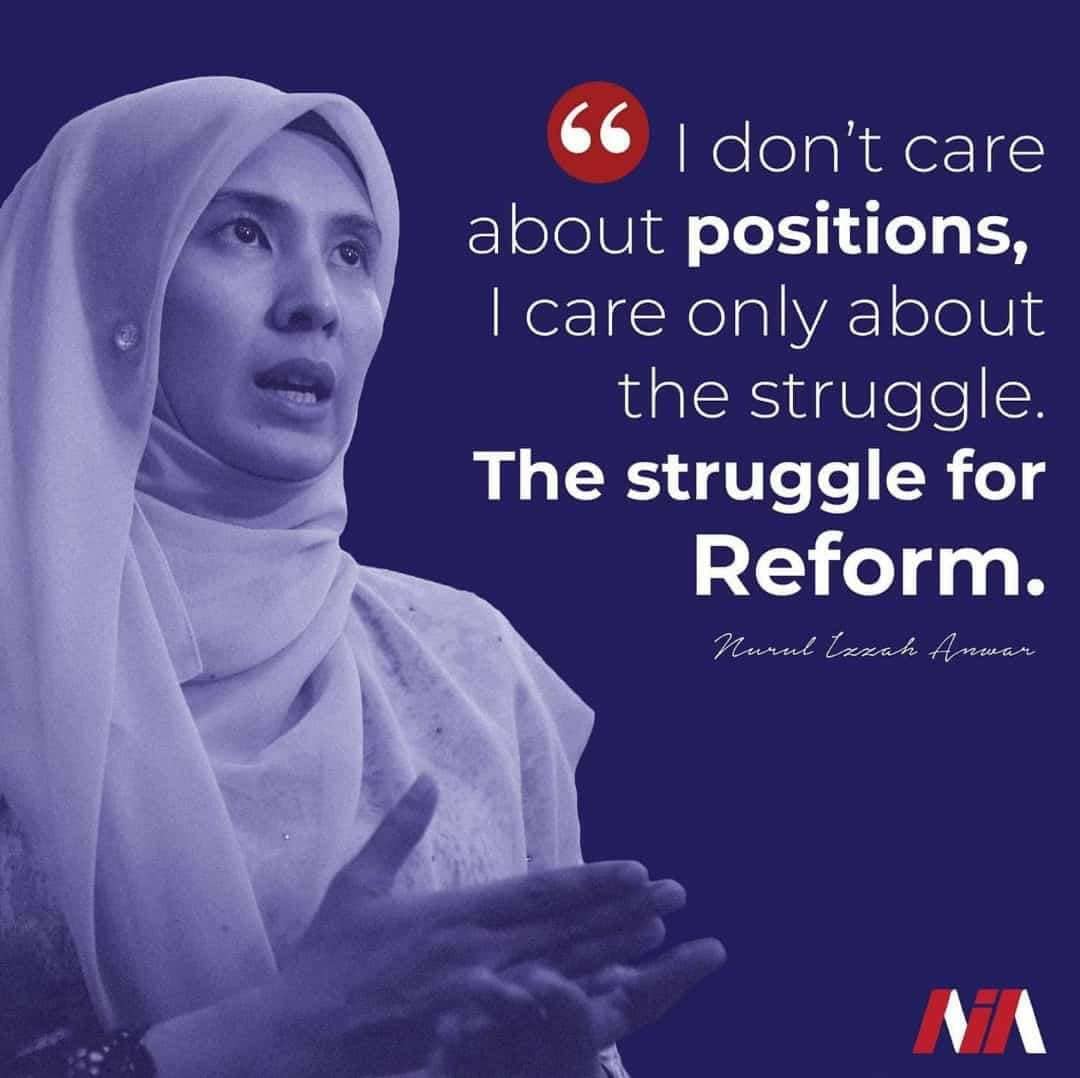 Ketika pertarungan antara Mahathir dan Anwar semakin sengit, kedua-dua mereka telah berusaha keras untuk menyokong wakil Umno untuk mengukuhkan diri mereka. Nurul mahu peralihan yang damai, bukan dicapai melalui perjuangan yang pahit.

Selain daripada itu, ada yang berpendapat bahawa Nurul harus berhenti dari memegang apa2 jawatan dalam partinya untuk menghindari tuduhan politik kekeluargaan, setelah Anwar kembali ke arus perdana politik.

Yang lain berpendapat bahawa Nurul tahu prospek politiknya masa depannya terhad kerana tidak mungkin dia akan masuk ke kabinet jika Anwar menjadi Perdana Menteri. Jadi dia telah membuat keputusan untuk berundur diri dari politik secara serious.

Di antara banyak ramalan, saya sendiri tidak fikir mana-mana daripada perkara2 yang tersebut di atas itu merupakan faktor penentu tetapi mungkin kombinasi antara beberapa.
Nurul adalah salah seorang ahli politik Malaysia yang begitu komited sangat dengan prinsip perjuangan dan masa depan.

"Reformasi" malangnya telah dieksploitasi oleh ramai orang untuk memajukan kerjaya politik mereka atau sebagai slogan murahan pilihan raya. Hanya segelintir orang yang masih bersama dengan aura reformasi, Nurul adalah salah seorang daripada mereka.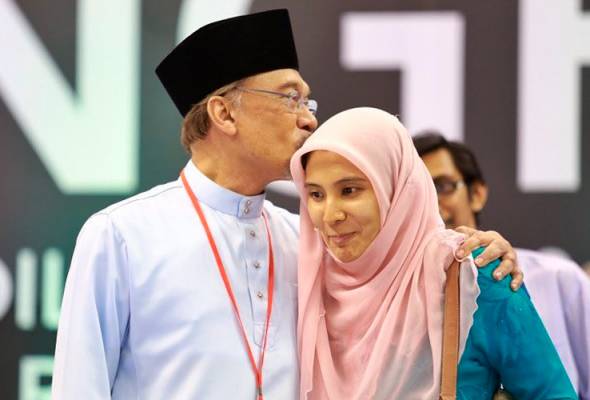 Sejak bertahun2 sebagai ahli politik Nurul tidak menunjukkan dirinya sebagai seorang ahli politik yang nakal. Dia tetap berpegang kepada kepercayaannya, yang mana ramai rakan dan lawannya bersetuju.

Dan kerana komitmen itulah, dia semakin kecewa dengan kekacauan dan pergaduhan yang kini sedang berlaku dalam politik Malaysia hari ini.

Ia memerlukan sikap keberanian untuk seorang ahli politik membuat keputusan sedemikian. Dan Nurul telah melakukannya.

Tetapi, keberanian sebenarnya bukanlah untuk lari daripada masalah2 ini, tetapi hendaklah bersungguh-sungguh untuk terus tingkatkan keberanian dengan agenda2 pembaharuan tidak kira betapa suramnya prospek itu.

Untuk berundur diri dari medan perang adalah mudah, tetapi untuk terus berjuang adalah sukar, apatah lagi dengan cara2nya dengan lebih bernilai.

Sudah tentu, jika politik terlalu mencemarkan bagi diri sendiri, memulakan usaha yang baru mungkin idea yang terbaik sekali.

Ramai yang sedang memerhati kepada Nurul dan orang-orang lain yang mahu membentuk entiti politik baru yang melampaui sempadan bangsa dan agama untuk memenuhi aspirasi mulia Malaysia Baru.
- my sinchew
(Rencana ini adalah terjemahan dan adaptasi dari artikal berjodul "Nurul" - MySinchew) -TS
Sementara itu Dr Mahathir Mohamad kata Bersatu tidak akan mengambil bekas ahli Umno menyertai parti itu untuk menjadi pemimpin. Dalam pada itu kemasukan wakil rakyat Umno akan ditapis dengan terperinci.

Apakah kenyataan dan jaminan PM itu menandakan beliau sudah menerima dan faham mesej yang dihantar Nurul Izzah Anwar menerusi tindakan ahli parlimen Permatang Pauh itu yang meletak jawatan dipegangnya dalam PKR dan juga jawatan-jawatan lain dalam kerajaan? - mso
8 syarat kalu nak join PPBM...
Start observing Anwar's statements...
Datuk Seri Anwar Ibrahim is said to be the successor to Tun Dr Mahathir Mohamad. I also know that many Malaysians are very excited and optimistic about this. But some close friends asked me, how do I know if many other Malaysians do not think positively about it?

From then on, I started observing Anwar, particularly about his statements in the context of today's Malaysian politics. The following are among the interesting ones.

One: At the time Dr Mahathir said about the possibility of several UMNO MPs migrating to PBBM, Anwar said PKR would close its door on such leaders.

Two: When the Prime Minister was making a great effort to reject ICERD, Anwar put himself on record, saying that the ratification on ICERD could be postponed to a later date.

I believed Anwar is aware of the implications of these statements. Could Anwar blame anyone if these statements motivated some people to read in between the line of what is going on in Malaysia?

Otherwise, why was Dr Mahathir, while in Bangkok last Sunday, made to say that "he is aware of a supposed plot to topple him [but] I do not take heed of it".

Why was Anwar quoted on the same day, as saying "I am aware of the assumptions and impressions being made by certain quarters given the recent exodus of UMNO MPs".

How and why was Dr Mahathir being posed with the above question; what motivated the Press to pose the above question to Dr Mahathir; and how and why did Anwar gave his reaction to the above question on the very same night?

What is happening? Why suddenly emerged some kind of an agenda setting exercise by some invisible group, aimed at driving a wedge between Dr Mahathir and Anwar, for what motives, and how would PH deter its escalation?

I am not going to analyse the above puzzles. I leave them to Anwar's inner circle to study and answer them (on condition such an inner circle exists in his current position). Otherwise, just leave them to the conspiracy theorists whoever they are! - Ruhaine Ahmad
Zahid Finally Quit –After UMNO
Splits Into 5 Factions In 6 Months...

Less than 24 hours after UMNO President Ahmad Zahid Hamidi declared he would not resign, lecturing critics instead on the party's constitution and his legitimacy, the disgraced former deputy prime minister made a U-turn and quit. The pressure was simply too much for the Java-immigrant who had dreamt of becoming the president of UMNO, and the Prime Minister of Malaysia.
While his dream to become UMNO president has materialised, the ambitious man's desire to walk the corridors of power as the most powerful man in the country hit the roadblock after the party lost the May 9th general election. Yesterday (Dec 18), Mr. Zahid, known for his thuggish behaviour, announced he would hand over his duties as UMNO president to Deputy Mohamad Hassan.
Yet, to save face, he insisted that he has not quit as party president. He said his deputy will have full powers and authority as president for a certain period of time. But every Tom, Dick and their hamsters know Mr. Zahid is game over. With a record 46 charges hanging around his neck for CBT and money laundering involving a whopping RM114 million, it's hard to see how he could come back unscathed.
Even the legitimacy of his UMNO presidency is in jeopardy as MACC (Malaysian Anti-Corruption Commission) is investigating reports lodged accusing him of bribing delegates to vote for him as president during the party election in June. Essentially, Zahid is going down the history as the shortest serving UMNO president, an embarrassing milestone indeed.
It was quite hilarious that moments prior to Zahid giving up his power, he lectured party members not to behave like "crabs in a basket" – pulling each other down and stepping over one another in their efforts to escape, but ending up getting cooked instead. Heck, he even warned his enemy – PM Mahathir – about UMNO frogs jumping over to take over his party, PPBM.
Clearly, Zahid is a short-sighted and a vengeful leader. He is not a smart strategist, let alone a clever tactician. He would rather burn the bridge and severe relationship with whoever that has betrayed him, than to leave some room for a possible reconciliation at a later stage. That makes him an easy meat for the cunning grand old man Mahathir Mohamad.

Ahmad Zahid Hamidi also admitted that UMNO has split into eye-popping five factions after it lost power for the first time in its history after ruling the country for 61 years. He revealed that the first faction consists of those who want to maintain the status quo and not ally with any other parties. This disillusioned group obviously is still in denial mode about the reasons why they had been rejected.
The second group, according to Zahid, wants to join forces with only Mahathir's PPBM party, thinking it would be the shortest way to come back to power. Has the UMNO president forgotten that he was the one who had fantasized about this route when he shamelessly bent down close to 45 degrees and met Mahathir in June to talk about a PPBM-UMNO merger?
A month after the humiliating election defeat, still licking his wound and with his tail between legs, UMNO acting president Zahid met the 93-year-old premier whom he had insulted and mocked with regards to his Indian ancestry – calling him the son of Iskandar "Kutty". Despite kowtowing, begging and crawling to the old man to be included in the new government, Mahathir told him to fly kite.

PM Mahathir told the Indonesia-migrant to dissolve UMNO before any cooperation can take place. Zahid might be as bright as the next carrot you can find at Carrefour hypermarket, but he knew closing down UMNO before any deal is made means he will be as good as game over. There was no way Mahathir would include him in the ruling government cabinet.
The next month (July), PM Mahathir congratulated Zahid for being elected as the new UMNO president, but declared – again – that the Government will not work with the defeated and badly bruised party. The premier said – "Congratulations, this means he is loved by UMNO, and I congratulate him, but we will not work with them."
By August, the new UMNO president – Zahid Hamidi – was fabulously devastated and demoralised. UMNO's account was still frozen. Mahathir's insistence on not working with UMNO practically closes any door of joining forces with PPBM party. So, Zahid tried his luck on the next best option – to join forces with PKR, another component party of the Pakatan Harapan ruling coalition.

So, the third faction of UMNO members who wanted to join forces with PKR, was also part of Zahid's plan after he was rejected by Mahathir. But like an idiot, he counted the chickens before they hatch, telling all and sundry that UMNO was actually the government-in-waiting. Nazri Aziz, another thug in the same league as Zahid, was sent on his behalf to negotiate with PKR President Anwar Ibrahim.
Recently, it was revealed that in exchange for UMNO support for Mr. Anwar to become the next prime minister, the PKR must ensure UMNO does not get de-registered. UMNO also demanded the same funding allocation as the ruling government MPs to opposition UMNO lawmakers. This faction, however, no longer asked to be part of the government, but merely "government-friendly."
However, the greedy scumbag Zahid Hamidi also has his hands in another cookie jar – the fourth faction – which wanted UMNO to join forces with PAS Islamist party. Together with PAS, this UMNO faction that Zahid was involved openly, wanted to create a grand coalition consisting of only ethnic Malays and Muslims. What this faction needs to do is to play 3R cards (religion, racial and royalty).

So, their first game was to play the anti-ICERD to the hilt. Taking to the street, Zahid Hamidi and Hadi Awang led their respective UMNO and PAS Malay-Muslims to rhetorically protest against what they claimed to be threats to Malay privileges and special rights and whatnot. Unfortunately, Zahid and his minions had forgotten there were over 100,000 non-Muslim members in Sabah UMNO.
Disgusted and angered by UMNO Peninsular's excessive racism and extremism, Sabah UMNO quit the party just four days after the anti-ICERD demonstration. The mass exodus saw 21 of the 25 division heads, nine of 10 of its assemblymen, five of six MPs and two senators leaving the party in the state of Sabah, diluting UMNO's 54 MPs to just 43.
Subsequently, 6 UMNO MPs have had enough of their president's idiocy and quit the party to become independent lawmakers, joining three high-profile names who earlier left to join Mahathir Mohamad's Parti Pribumi Bersatu Malaysia (PPBM). Thanks to Zahid brilliant leadership, UMNO currently has only 37 MPs, down from the 54 after the May 9 poll.

The fifth faction, claimed Zahid, wants to form a new grouping altogether. Regardless how many factions are there in UMNO, the fact remains that the man behind the split is none other than Zahid himself. It was already an uphill task to lead a party that cannot survive without cash and power. It was DOA (dead on arrival) when the arrogant but intellectually-challenged man won his UMNO presidency.
Actually, there's another faction – the sixth faction – which comprises ex-PM Najib Razak hardcore supporters. UMNO supreme council member Lokman Noor Adam has proposed for Najib to be made de-facto party leader and head of the federal Opposition. If this ridiculous idea materialises, it would be fun to see how the crook usurps the power of the UMNO (acting) president.
Amusingly, the UMNO president also unveiled that there is one party in the Pakatan Harapan coalition that they would never work with, saying – "UMNO rejects 100% any cooperation with DAP." What makes Zahid think DAP wants to work with the UMNO in the first place. Again, this shows why Mahathir could easily slaughter UMNO under Zahid leadership.

DAP Supremo Lim Kit Siang and PPBM Mahathir Mohamad

If even Mahathir willingly works with once-rival DAP, who the hell is arrogant UMNO to say they would never work with the Chinese-majority party which commanded up to 95% of ethnic Chinese support? Does Zahid, or the next UMNO president for that matter, think a beggar can be chooser? Every dog has its day, but for Zahid, his luck lasts only for 6 months. - FT
cheers.
tumpang sekole...?: Nurul oh Nurul kenapa...
Kesan gempa politik UMNO...
Saya amat tersentuh apabila mengetahui ahli-ahli DAP dari Triang sanggup menempuhi perjalanan jauh dan berjam-jam ke Ayer Hitam, Johor pada 18 Mac 2018 untuk menyaksikan pengumuman diri saya sebagai calon Pakatan Harapan untuk kawasan Ayer Hitam oleh Setiausaha Agung DAP, Lim Guang Eng, yang disertai Pengerusi Pakatan Harapan, Tun Dr Mahathir Mohamad dan pemimpin tertinggi lain.

Walaupun saya tidak menang kerusi tersebut, persaingan di Ayer Hitam telah membantu kami memberi satu pesanan kepada penyokong iaitu: Tidak mustahil untuk mengalahkan kerajaan Barisan Nasional.

Apa yang kita belajar? Jika kita hanya mengikut "pandangan awam" yang dihasilkan oleh media arus perdana Bahasa Melayu dan Cina secara membuta tuli, kita mungkin akan hilang harapan, kemas barang, dan menggantung kasut kita.

Sebaiknya, kita pemimpin Pakatan Harapan di peringkat nasional dan akar umbi, perlu memimpin pandangan awam dan bersedia untuk membuat keputusan sukar, berpandukan kepercayaan dan prinsip kita.

Kini, media hanya berfokuskan kepada isu pemimpin UMNO yang melompat parti. Perhatian dan perspektif sedemikian rupa terhadap isu initelah menimbulkan sentimen negatif dalam penyokong Pakatan.
Salah satu contoh ialah ahli politik yang tidak beretika seperti Rahim Thamby Chik memohon untuk menyertai Parti Pribumi Bersatu Malaysia. Beliau merupakan liabiliti dan tidak memberi nilai tambah kepada perjuangan Pakatan.

Persoalan utama kita sekarang ialah bagaimana kita, sebagai Pakatan, masyarakat dan sebuah negara akan menangani keretakan UMNO. Kita perlu menerima hakikat bahawa 9 Mei 2018 ialah gempa dan tsunami politik yang begitu besar, dan sudah tentu implikasi besar yang lain akan menyusul.

Selagi Najib Razak dan orang kanannya Zahid Hamidi mengetuai UMNO, maka orang Melayu akar umbi dan pertengahan serta pengundi Malaysia yang lain tidak akan kembali untuk menyokongnya. Reputasi kleptokrasi mereka telah mencemarkan kepemimpinan mereka. Jika Zahid terus mengetuai UMNO, perpecahan akan berlaku, dan pemimpin akan melompat keluar parti sebelum kapal tenggelam.

Gempa politik terkini iaitu perhimpunan anti-ICERD pada 8 Disember 2018 merupakan satu alamat berakhirnya UMNO di Sabah. Bagi rakyat Sabah termasuk ahli UMNO Sabah, kerjasama di antara UMNO dan PAS ialah satuidea yang kurang bijak. Pengundi Sabah terdiri daripada pelbagai etnik darisegi luaran berbanding kebanyakan pengundi di Semenanjung.

Zahid dan Najib hanya tahu politik kotor bangsa dan agama, dan mereka sememangnya tidak mewakili masa depan. Ramai orang percaya bahawa kepimpinan UMNO hanya menjadi sebuah sayap Dewan PAS di bawah kepimpinan Zahid.
Terdapat sekurang-kurangannya dua kumpulan dalam UMNO yang tidak serasi, satu menyokong Hishamuddin Hussein dan satu lagi menyokong Khairy Jamaluddin. Kedua-dua kumpulan ini tidak bertembung antara satu samalain, tetapi kedua-duanya menolak kepimpinan Najib dan Zahid.

Mungkinkah wujudnya kumpulan pemimpin UMNO yang meninggalkan parti dan menubuhkan parti pelbagai kaum yang baru? Jika ia berlaku, apakah langkah yang perlu diambali Pakatan? Jika berlaku sebaliknya, bagaimanakah Pakatan dapat menangani situasi tersebut?

Kita berada di pengalaman peralihan yang pertama – politik, ekonomi dan sosial – dalam sejarah negara kita. Kejatuhan bekas rejim autokratik bukanlah satu kerja yang mudah.

Saya memohon penyokong DAP dan Pakatan Harapan untuk bersabar dalam fasa gempa politik hari ini.

Benar, kita harus bersuara tanparasa takut dan berpihak, tetapi kita perlu bekerjasama dengan rakan kongsi Pakatan dalam meneliti fasa peralihan ini.

Daripada melemparkan tuduhan, sebaliknya kita harus komited dengan matlamat untuk membangunkan Malaysia Baharu di manarakyat sama-sama berkongsi manfaat keamanan, kesaksamaan dan negara yang lebih makmur.

Perpecahan UMNO hari ini sebenarnya satu pencapaian hebat bagi demokrasi di Malaysia. Memandangkan UMNO tidak lagi meneruskan perjuangan asal seperti tahun 1946, lebih baik sebuah platform baru diwujudkan demi manfaat untuk semua rakyat Malaysia, termasuk orang Melayu. - Liew Chin Tong
Now, who's breaking up PH?...

The mass exodus in Umno has spawned the conspiracy theory of an imminent ouster of PM Mahathir.

I have tried to figure out why Umno has been divided into three different sects and why Mahathir's ouster to pave the way for Anwar Ibrahim to take over when the parliament sitting resumes next March has been implicated.

A group of Umno leaders have been meeting over their court cases and possible dissolution of Umno. Those against Mahathir argue that the PM is not someone you can negotiate and they are therefore more inclined to support Anwar's early ascension to power because they believe Anwar will keep Umno and help them with their cases.

As for those without court cases or are unhappy with Anwar, they are more likely to continue supporting Mahathir as PM because they don't trust Anwar.

The meeting of these Umno leaders ended with no conclusion, and soon afterward we have all kinds of rumors.

It has been reported that Umno president Ahmad Zahid is more towards supporting Anwar, and may have instructed Padang Rengas MP Mohamed Nazri to talk divisional leaders into supporting the PKR president. and to form a coalition government with PKR and DAP.

The move has nevertheless backfired among the grassroots.

Larut MP Hamzah Zainudin is strongly against Anwar. He claims that 36 BN reps have signed a letter in support of Mahathir.

It is also said that Hishammuddin called a secret meeting last week that included among others Hamzah and PKR's deputy president Azmin Ali, who was accused of trying to stop Anwar from becoming PM during the recent party elections.
If Pakatan Harapan remains disunited, it will not be able to focus on dealing with Umno, allowing the latter to take advantage of the chaos to gain a backdoor access to federal administration.

PH will become BN 2.0 if these people were to be allowed to join the coalition and have their court cases forgiven. This will deal a lethal blow to the country's judiciary.

Why are PH component parties still willing to accept worthless Umno politicians? Very simple: they want to strengthen themselves by absorbing Umno MPs and Malay votes will go to them if Umno is eventually dissolved.

Doing so will also ensure that PH secures a two-thirds majority advantage in Dewan Rakyat so that the Constitution can be amended and their political agendas fulfilled.

Also, bills tabled by the PH government will no longer risk rejection in Dewan Negara following the side-changing of Umno senators.

If these Umno reps are not allowed to join PH, they may eventually defect to PAS, making the Islamic party all the harder to fight in future.

That said, ship-jumping will have very severe impact on the country, as the acceptance of political frogs will invariably trigger renewed political tug-of-war within PH in addition to betraying the public mandate.

Can Lim Kit Siang sit alongside Abdul Rahim Thamby Chik, who has applied to join PPBM and who he said was the culprit for his son Guan Eng's imprisonment for helping an underage Malay girl? Will Anwar pardon someone who in 2011 wickedly distributed his fake sex video clip?

We can judge from their recent public comments that indeed some PH leaders' stand has already softened. They are more willing now to accept these frogs on the grounds of political interest.
As a matter of fact, the PH leadership's position has swung away from that of ordinary citizens who are frustrated that corrupt Umno leaders can be whitewashed and allowed to join PH. This has contravened the coalition's pledge of battling corruption and upholding clean governance.

Unfortunately, the PH leadership appears to have turned a deaf ear to the rakyat's views dutifully reflected by the elected reps from DAP and PKR.

If Umno eventually goes bust and the opposition is significantly weakened, who are there to oversee the government?

Lest we forget, BN was so powerful in the past and could deliberately amend the Constitution because we had a weak opposition.

PH leaders are humans and are thus susceptible to temptation. The country's reforms will never materialize in the absence of a healthy checks and balances mechanism.

New Malaysia must reject immoral political deals. The new government must draw a line between itself and treacherous politicians.

Some PH leaders seem to have lost their directions as they are engrossed with the game of engaging Umno reps, putting behind their priority of revitalizing the country's economy.

PH will have nowhere to go but down if it steers off course and forgoes its principles. - mysinchew
cheers.
tumpang sekole...?: Kesan gempa politik UMNO...
Jangan mai rogol Bersatu pulak...
Saya merujuk kepada pengumuman Rahim Thamby Chik dan pengikut-pengikutnya untuk keluar dari parti UMNO.

Keputusan untuk keluar parti adalah hak mereka, tetapi saya menolak sebarang cadangan untuk menerima Rahim Thamby Chik dan pengikut-pengikutnya ke dalam mana-mana parti Pakatan Harapan (PH) Melaka.

Jelas bahawa baru-baru ini, UMNO sedang mengalami krisis dalaman di mana pemimpin demi pemimpin berpusu-pusu untuk keluar parti. Perkara ini dilakukan bukan untuk agenda reformasi tetapi untuk kepentingan diri mereka.

Untuk peringatan, Rahim Thamby Chik merupakan bekas Ketua Menteri Melaka yang terlibat dalam pelbagai skandal. Pada tahun 1994, beliau terlibat dalam kejadian rogol statutory terhadap seorang pelajar sekolah, yang kemudiannya kes ini ditutup oleh Peguam Negara.

Sebaliknya, Lim Guan Eng, yang merupakan Ahli Parlimen Kota Melaka ketika itu, dipenjarakan di bawah Akta Hasutan dan Akta Mesin Cetak dan Penerbitan apabila beliau tampil membela nasib dan menuntut keadilan untuk mangsa.

Pada tahun 1994, menurut sebuah laporan polis yang dibuat oleh Datuk Seri Anwar pada tahun 1999, Peguam Negara dan Badan Pencegah Rasuah mendapati terdapat bukti prima facie bahawa Rahim Ramby Chik terlibat dalam penyalahgunaan kuasa dan rasuah dalam kes Syarikat Dayamik. Peguam Negara sekali lagi menutup kes tersebut dan tiada tindakan diambil.
Pada tahun 2011 juga, Rahim Thamby Chik merupakan dalang yang menyiarkan video seks palsu untuk menganiayai Datuk Seri Anwar Ibrahim. Oleh itu, Rahim Thamby Chik bukanlah "Bapa Pembangunan Melaka" sepertimana yang diuar-uarkan, tetapi merupakan "Bapa Segala Skandal Melaka".

Saya menyeru agar Parti Pribumi Bersatu Malaysia (PPBM) menolak sekeras-kerasnya sebarang permohonan keahlian oleh Rahim Thamby Chik dan pengikut-pengikutnya. Jika tidak, kemasukan Rahim Thamby Chik akan merosakkan integriti Kerajaan Negeri dan melemahkan keyakinan rakyat terhadap PH Melaka.

Di peringkat nasional, saya menyeru agar Majlis Presiden PH membicarakan isu lompat parti ini secara menyeluruh dan membuat keputusan tegas untuk menolak dan menghentikan perkara ini daripada terus merebak. Penerima bekas pemimpin-pemimpin UMNO ke dalam PH juga merupakan suatu pengkhianatan kepada rakyat dan ahli-ahli PH yang telah bertungkus-lumus melawan rejim Barisan Nasional untuk bertahun-tahun.

Parlimen dan Kabinet juga harus membincangkan isu ini untuk mengambil langkah mereformasikan undang-undang supaya kelakuan lompat parti yang tidak beretika dapat dielakkan, kerana perkara ini telah banyak kali menggugat integriti sistem demokrasi negara. – Khoo Poay Tiong,Roketkini.com
How to work with Rahim Thamby Chik when he threatens PH reps?
Keadilan jangan di tuntut secara berpilih....

Ketika MUHAMMAD Adib terbunuh angkara insiden KUIL, semua kecoh. Menteri....malah PM sendiri pun didesak LETAK JAWATAN. Sdgkan mereka yg disyakki bertanggungjawab telah ditangkap dan sdg didakwa.

Bagaimana pula dgn KEMATIAN 4 ANGGOTA POLIS semasa MEMALI 1985 yg berpunca akibat AMANAT HAJI HADI. Adakah masyarakat menuntut bela di atas kematian 4 POLIS tersebut???

Berdasarkan kpd LAPORAN KERTAS PUTIH MEMALI yg dibentangkan di parlimen, jelas menunjukkan pihak polis telah diserang dan dibunuh terlebih dahulu oleh PENGGANAS MEMALI.

Kenapa kemudiannya pihak-pihak tertentu kemudiannya memuja dan menjulang kumpulan Ibrahim Libya pula sbg SYAHID....bukan anggota POLIS yg berjuang utk negara.

DIMANAKAH KEADILANNYA ???

Kenapa tidak ditangkap Hj Hadi dan kumpulannya yg secara jelas terlibat dalam mempengaruhi tercetusnya insiden Memali. Kenapa Hj Hadi tidak pula didesak letak jawatan dalam Pas.
Telah lebih 30 tahun Memali berlaku dan sehingga kini tiada satu pun pihak yang bangkit membela 4 anggota polis yg telah terkorban kerana mempertahankan keamanan negara. - f/bk
An Acceptance Of Thamby Chik Will Make Mahathir Government A Club Of The Crooks And Rapists...

Former Melaka (Malacca) Chief Minister Abdul Rahim Thamby Chik yesterday (Dec 16) announced his resignation from UMNO. He was Malacca's 6th chief minister – from 1982 to 1994 during the era of Mahathir Mohamad. He was also the UMNO Youth Chief from 1993 to 1996. However, the 68-year-old former big gun is nothing but an expired UMNO warlord.
What raises eyebrows though, is his application to join Prime Minister Mahathir's Parti Pribumi Bersatu Malaysia (PPBM). Rahim Thamby Chik said – "I am sad to leave UMNO after having struggled for over 40 years to champion the Malays. I quit the party because Bersatu can champion the Malays better, more efficiently and more effectively."
The former Malacca chief minister also said that UMNO was now caught in the "cash is king" culture which was more difficult to rectify, even in the next one or two elections. Exactly where was Thamby Chik when the ex-premier Najib Razak, his former boss whose policy was "cash was king", was busy stealing and plundering the national coffers?
Thamby Chik talked as if he wasn't part of the "cash is king" system, despite the fact he was rewarded with the chairmanship at RISDA (Rubber Industry Smallholders Development Authority) during Najib administration. Now that UMNO has collapsed and Najib has been slapped with dozens of charges, he conveniently blames everything and everyone but himself.
But the worst part isn't about Rahim Thamby Chik being ungrateful and betrays his party the moment he has the chance. The worst part is when PPBM President Muhyiddin Yassin plays down suspicions and dissatisfactions raised by the component parties of Pakatan Harapan over Rahim's attempt to join the party. He said every membership application would undergo a vetting process.
Seriously? Does the name Rahim Thamby Chik, infamous of raping an underage school girl, really needs any further investigations? Yes, the disgraceful Rahim Thamby Chik should be the last person on planet Earth qualified to be even considered for membership in PPBM, if Muhyiddin Yassin and Mahathir Mohamad don't want their party to be known as a club for the rapist or paedophile.

It was already bad that Mahathir is being called a "garbage collector" now, in reference to his desires and fetishes to accept all UMNO frogs. It would be an insult to the 93-year-old man's reputation if he readily accepts Rahim Thamby Chik, a former UMNO leader who raped a 15-year-old school girl (under Malaysian law, sex with minor constitutes statutory rape) back in 1994.
Ironically, the present Finance Minister Lim Guan Eng was the opposition MP who had stood and spoken against the then-Chief Minister of Malacca Rahim Thamby Chik. Mr. Lim was instead arrested, charged and imprisoned 18 months under the Sedition Act 1948 and the Printing Presses and Publication 1984, while all rape charges against Mr. Rahim were dropped.
Due to the rape and corruption allegations, Rahim was considered too "high profile" hence forced to resign from all his posts by Mahathir (during his era from 1981 to 2003). But he never went to jail. As for the underage rape survivor, she was initially detained for 10 years without parental consent. She was subsequently sentenced to three years "protective custody" in a house for "wayward girls".

Together with Shazryl Eskay Abdullah and Shuib Lazim, Rahim Thamby Chik was also the architect behind the making, possessing and distributing of a sex video with an evil intention to frame opposition de-facto leader Anwar Ibrahim (now PM-in-waiting). But there's more. In 2014, the despicable man spread fake news that the Selangor prince had converted to Catholicism.
Apparently, Mr. Rahim spread the fake news that the crown prince of the Sultanate of Selangor had relinquished all his possessions and a chance to succeed to the prestigious throne of Selangor state to follow his heart and marry Spanish top model and superstar 16-year-old Cristina Gomez. The royal house had considered the fiasco as sedition and slander.
What type of grass has Muhyiddin been smoking lately? Rahim is actually worse than UMNO President Zahid Hamidi. At least, Zahid was merely involved in corruption and money laundering and gangsterism, but didn't rape a school girl. Besides, Rahim isn't a Member of Parliament so the justification to accept him for the sake of getting two-thirds majority of institutional reforms does not hold water.
PM Mahathir has been telling all and sundry that his party only accepts good UMNO people. But if Rahim Thamby Chik is the gold standard of the so-called good people, the Mahathir government might as well welcome Zahid Hamidi, even Najib Razak for that matter, into his party and make "Barney & Friends" theme song the official song of PPBM where everyone hugs and dances like one big happy family.
In reality, Rahim Thamby Chik is the biggest pariah among the Malays and Muslims and worse than a prostitute. A good Malay leader does not rape a 15-year-old Malay school girl. A good Muslim does not spread fake news that the prince of a Malay Ruler had converted to Catholicism, let alone produced sex video to falsely frame another person.
After prostituting himself to Najib Razak, now he bends down for Mahathir Mohamad just because he isn't done with power, contracts, wealth and most probably sex. It will be a slap in the face to not only Finance Minister Lim Guan Eng, but also the PM-in-waiting Anwar Ibrahim. How could both individuals work together with a crook and rapist like Rahim Thamby Chik who had them framed?
Hell, if Mahathir and Muhyiddin could accept Rahim Thamby Chik with open arms, they should offer Chua Soi Lek, former MCA president caught in a sex scandal in 2008, a ministryship in the government. After all, Mr. Chua's offence was merely bonking his "girlfriend" in a hotel room. And it was a consensual sexual relationship, unlike Thamby's sexual assault.
Mahathir has been crying, whining and bitching about corruption being the new culture of the Malays and how the ethnic was so lazy and untrustworthy that even the banks don't trust them anymore. Yet, at the same time, he has no problem considering the membership of a corrupt Malay leader like Rahim. Worse, his party appears to have no issue with a Malay leader who had raped a school girl.
More importantly, the prime minister will be sending the wrong signal if Rahim Thamby Chik's membership is accepted – that he's returning the favour of his man, Rahim Thamby Chik, for being loyal once upon a time. It would send a message that he has higher regard, respect and appreciation for a crook and a rapist, than allies Anwar Ibrahim and Lim Guan Eng.

It would be a moronic move to forget and forgive what this despicable former Malacca chief minister had done in the past – destroying the life of a Malay school girl, insulting a Malay Ruler and mocking the judiciary system. Heck, this is one classic and genuine example of how the Malays, Islam and Malay Sultans were being insulted. - FT
Anwar's daughter distances herself from her party...
Political loyalties are in flux in Malaysia. Inter-coalition and inter-party strife has led to unprecedented resignations and defections in the months since the former ruling coalition's 61 years in power came to an end, making way for Pakatan Harapan, led by current premier Mahathir Mohamad.

The People's Justice Party (PKR), a key Pakatan Harapan component led by democracy icon and prime minister-in-waiting Anwar Ibrahim, endured its own turbulence on Monday when Nurul Izzah Anwar, Anwar's daughter, announced her resignation from the roles of PKR vice-president and Penang state chief, adding to internal strife following heated party polls that wound up last month.

"There are beliefs and ideals I hold dear and I feel that I can be most true to them by taking this course of action I am now announcing," she said in a statement, adding that while she would continue to serve as an ordinary PKR member and member of parliament, she would no longer serve the federal government in any capacity.

"I remain a member of the parliamentary backbench committed to reforms … My only regret is that I should have made this announcement sooner, but it has not been an easy decision to arrive at. The pace of political developments has been relentless for the last nine months, with party elections following a gruelling general election campaign."

Izzah's announcement was received with shock, although her father, Anwar, has said little. PKR deputy president and economic affairs minister Azmin Ali said he would "try to talk to her" in an attempt to understand her motivations and what "really happened".
Meanwhile, PKR stalwart Rafizi Ramli – who ran against Azmin for the role of Anwar's deputy in an internal election plagued by claims of corruption, bribery and violence – released a pointed statement saying Izzah "had and will prove that the Reformasi [the reformist movement kick-started by Anwar in 1998 after he was charged with sodomy and corruption] idealism is more important than posts, ranks or power".

"I hope she can reconsider her decision. I feel she can defend the idealism with her position in the PKR leadership," he said.

Opposition lawmaker Khairy Jamaluddin also threw his support behind Izzah, calling her a worthy opponent and that he was sure once "the country is finally ready for a generational change in politics, [Nurul Izzah] will be back".

Izzah responded to the both of them on Twitter, thanking Rafizi and adding she had supported his unsuccessful bid for the position of party deputy president, and calling Khairy "an inspiration from across the bench".

Awang Azman Awang Pawi, a political science professor at the University of Malaya, said Izzah's resignation was due to allegations of nepotism and preferential treatment within the party, following the allegedly biased appointment of state party leaders by Anwar as Azmin and Rafizi's rival factions push for a stranglehold on PKR's central leadership council.
Observers and party insiders believe Anwar has been backing Rafizi's supporters to ensure Rafizi will be put forth for a leadership position within the party, a claim that prompted PKR central committee member Latheefa Koya to criticise "nepotism and cronyism" within the party.

"Nurul Izzah's resignation as Penang chair and vice-president was due to internal pressure within PKR itself," Awang said. "Latheefa was seen as less than enthused with the family politics of Anwar from way back when, including with [deputy prime minister] Wan Azizah. Nurul Izzah's appointment as chair of Penang was accused as nepotism, accusations like this affected Nurul Izzah and so she rejected all the positions she was appointed to."

Wan Azizah is also Anwar's wife and Izzah's mother.
However, Awang pointed out, Latheefa had not questioned Mahathir's son being appointed as a state chief minister – a sign the tussle was not so much about pure nepotism as inter-party disputes.

"Nurul Izzah is showing that she is principled by making this decision," Awang said. "This action is an almost sarcastic gesture to other component parties within Pakatan Harapan who have allowed these things to happen while talking about principles, transparency and integrity. Either way, it looks like the disputes within Pakatan Harapan are ongoing even as time passes."

Izzah's resignation came just a few days after a series of defections from opposition party the United Malays National Organisation (Umno), her father's former party before he was sacked in 1998. On Friday, six Umno MPs announced their resignation. Two days earlier, five MPs, nine assemblymen and two senators also quit the party, citing its lack of direction – a move Izzah criticised, likening party-hopping to betraying voters.
Although both PKR and another component, the Democratic Action Party, have pledged to not accept any "political frogs", Mahathir's Malaysian United Indigenous Party (Bersatu) is suspected to be canvassing support to consolidate power, as it has only 16 of 222 parliamentary seats, compared to PKR's 50. As PKR is the largest bloc within the government, rumours have emerged that Anwar may challenge Mahathir for the role of premier – a claim the opposition has seemingly taken seriously.
Umno supreme council member Nazri Aziz claimed "the majority" of Umno MPs have signed an agreement allowing party leader Zahid Hamidi to court Pakatan Harapan in the hopes of returning to power.

On Monday, embattled former premier Najib Razak, added fuel to the fire by warning party-hoppers to be wary of compromising their integrity.

"We must have consistency of principles, even in the opposition," Najib told Umno-linked web outlet Nothing To Hide Media. "Then only will people respect us. Party-hopping will result in our credibility being questioned. Do not be hasty, there is uncertainty."

Najib is currently facing scores of charges of corruption, money-laundering and abuse of office. - scmp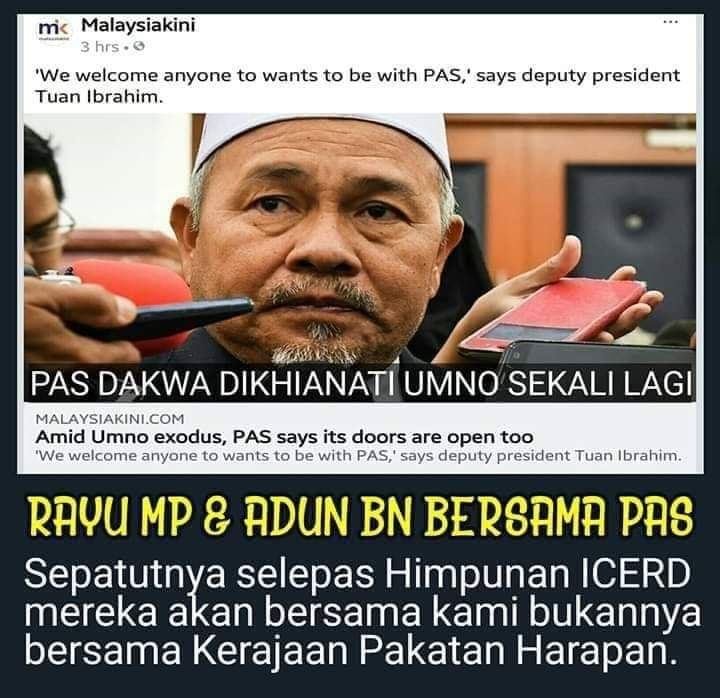 cheers.
tumpang sekole...?: Jangan mai rogol Bersatu pulak...
Kenapa dengan Puteri Reformasi...
Tanpa ribut dan ombak kencang tiba-tiba Nurul Izzah Anwar mengumumkan peletakan jawatan sebagai Naib Presiden PKR dan juga selaku Pengerusi PKR Pulau Pinang. Ia mungkin mengejutkan tetapi bagi saya wajar kalau anak Presiden PKR itu mengambil keputusan begitu atas maslahat siasah. Tindakan itu boleh mengurangkan persepsi buruk terhadap kerjaya politik, ibunya dan bapaknya.

Bagaimana pun peletakan jawatan Naib Presiden bukan mudah untuk berlaku kerana jawatan itu dipilih. Apa lagi beliau mendapat undi terbanyak. Untuk jawatan pengerusi PKR Pulau Pinang mungkin boleh kerana ia berstatus dilantik. Menurut Nurul Izzah beliau juga meletak jawatan dalam kerajaan, bagaimana pun akan kekal sebagai MP Permatang Pauh.

Kita tidak mahu menerjah jauh mencari sebab musabab tindakan Nurul Izzah itu. Dari konteks politik baharu Malaysia yang telus, tindakan itu bertepatan untuk mengelakkan beliau terperangkap dalam politik kronisme. Ayahanya ahli Parlimen Port Dickson, ibunya ahli parlimen Pandan yang juga Timbalan Perdana Menteri. Apa dicapai mereka anak beranak adalah rekod untuk Malaysia.

Kalau itu alasan kenapa Nurrul Izzah menarik perlahan-lahan tali politik yang dipegang sejak usia belasan tahun saya ucapkan terima kasih dan syabas. Peletakan jawatan itu akan menambahkan martabat politik integriti Anwar Ibrahim bakal PM ke 8 Malaysia.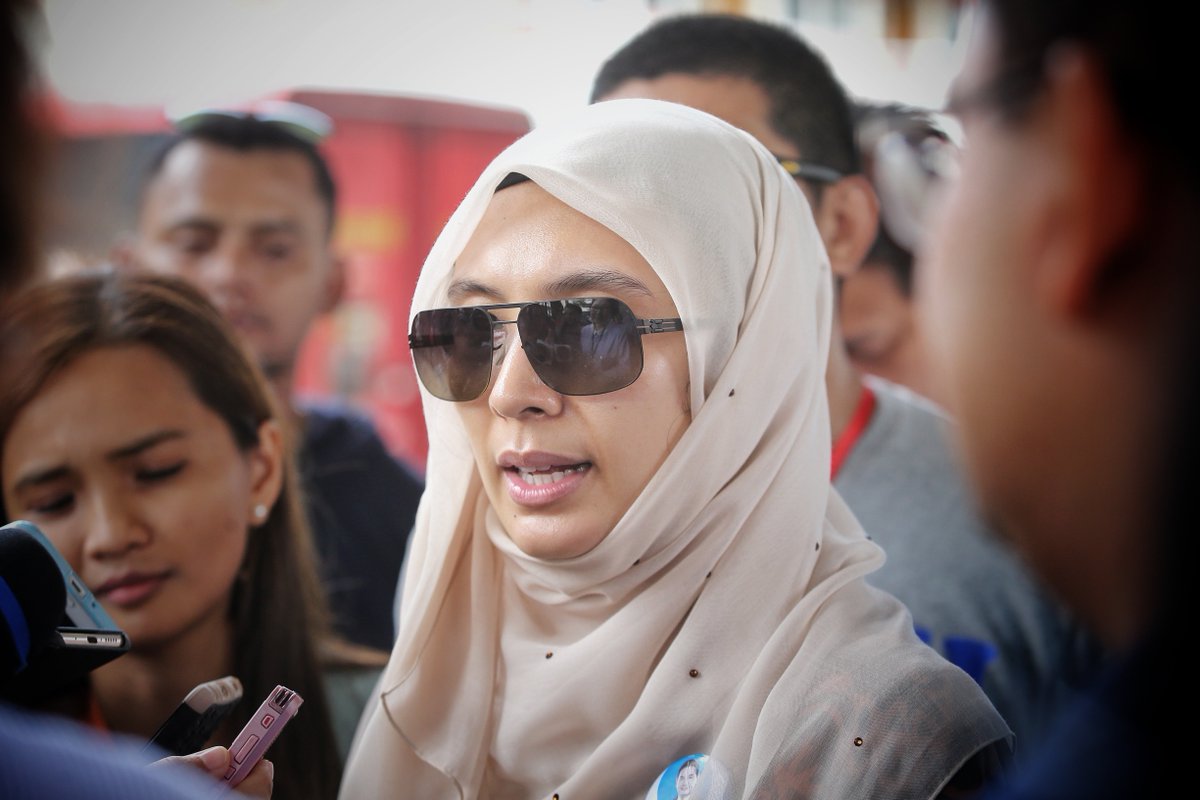 Khabarnya penyusunan dan pelantikan pengerusi negeri dalam parti Keadilan (PKR) menimbulkan pertikaian ada yang yang tidak puas hati. Ada yang mendakwa pelantikan pengerusi negeri dibuat tanpa seimbangan di antara puak-puak yang ada dalam parti.

Natijah dari pelantikan yang tidak seimbang itu menyebabkan parti itu boleh hilang kepercayaan ramai.

Antara pelantikan pengerusi negeri ialah di Kelantan. Pelantikan Supardi Mohamad Nor dipertikaikan kerana beliau baharu menyertai parti itu malahan masih dianggap sebagai anggota Umno.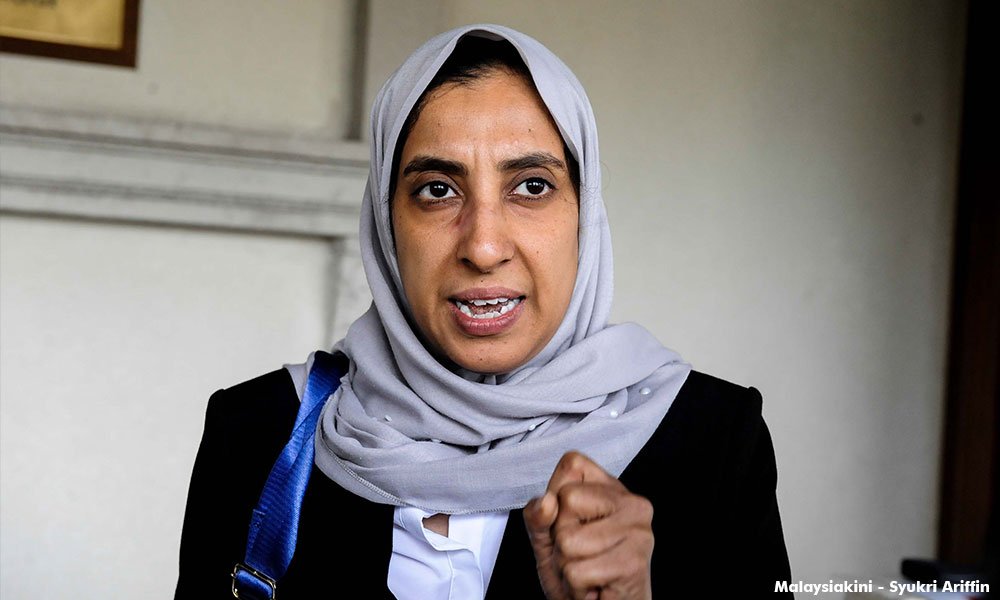 Pelantikan itu dipertikaikan dan kesalahannya diletakkan di bahu Anwar Ibrahim selaku presiden parti.

Bagi orang yang mengenal dan memahami politik Anwar tidak pelek mendengar pertikaian itu. Lagi pun begitulah sifat dalam politik. Sesiapa yang rapat dengan presiden, baik dengan pemimpin kanan, kebetulan ada sumber kewangan yang kukuh pula dan bermurah hati melaburkan duit, ia akan dipilih.

Pun begitu hak Anwar sebagai presiden tidak boleh dipertikaikan. Apabila beliau sudah buat pelantikan tidak manis dipertikaikan. Kalau hendak pertikai, buatlah sebelum keputusan dimuktamadkan. Sekiranya pertikaian berterusan ia tidak membawa kebaikan buat parti. - MSO
Nurul Izzah protes Anwar?
Inna lillahi wainna ilai hirojiuun..
Anggota bomba Muhammad Adib Mohd Kassim kembali
menemui PenciptaNya jam 9.41 malam Isnin 17,2018.
Arwah bakal berkahwin Ahad 23,2018 dengan
Nurul Najihah bt Mohd Radzi
Salam Takziah Untuk Keluarga dan tunang...
Tiada cerita sebenar untuk kita dengar..
Tentang bagaimana beliau di belasah..
CARI PEMBUNUH ADIB SAMPAI KE LUBANG CACING!!!
Najib memberi konsesi kepada Lee Hsien Loong menggunakan ruang udara dan perairan Johor sebagai balasan untuk ubah wang haram 1MDB di Singapura...
Sebagai satu balasan untuk membantu bekas PM Malaysia, Najib Razak bagi mengubah wang haram dana 1MDB di Singapura, PM Singapura, Lee Hsien Loong telah sediakan senarai konsesi termasuk Perjanjian Keretapi Berkelajuan Tinggi, diskaun drastik terhadap penjualan air mentah dan mengunakan ruang udara dan perairan Malaysia sebagai pertukaran. Secara tak langsung ianya telah mencabul kedaulatan Malaysia di Selat Johor dan Johor Selatan.
Pada Oktober 2016, Singapura memulakan projek S$50 juta pembinaan semula terminal Seletar Airport. Terminal jet persendirian itu telah melepasi bajetnya sebanyak 60% kepada S$80 juta, dan penggunaan ruang udara di selatan Johor tidak mendapat bantahan daripada PM Najib Razak ketika itu. Pentadbiran Najib tidak mendaftarkan protes langsung terhadap Singapura yang begitu bebas menggunakan ruang udara dan perairan Malaysia tanpa mempedulikan kedaulatan udara dan perairan Malaysia selama dua tahun lalu, dan projek itu diteruskan kerana PM Singapura yakin kerajaan Malaysia di bawah Najib Razak tidak akan menimbulkan sebarang kekecohan dan bantahan terhadap kedaulatan negara Malaysia.
Pada masa yang sama lebih kurang setahun sebelum Oktober 2015, Malaysia mengumumkan pembinaan tambahan Pelabuhan Johor - yang kini Singapura mengadu bahawa tambahan itu "secara serius melanggar" wilayah lautannya. Pembinaan tambahan pelabuhan Johor selama 3 tahun itu tidak langsung dibantah oleh kerajaan Singapura ketika itu. Nyata ini adalah sebahagian daripada persetujuan sulit di antara kedua-dua Perdana Menteri Malaysia dan Singapura waktu itu yang dibuat tanpa persetujuan dan pengetahuan orang ramai.
Perdana Menteri Malaysia yang baru, Dr.Mahathir Mohamad menjelaskan bahawa beliau tidak akan terlibat dalam perbincangan peribadi dengan PM Lee Hsien Loong. PM Malaysia yang baru secara terang-terangan menolak jemputan PM Lee Hsien Loong untuk adakan "pertemuan peribadi pemimpin" pada Oktober 2018 - iaitu satu acara tahunan makan malam Najib Razak yang dilakukan setiap tahun bersama PM Lee Hsien Loong bersama2 dengan isteri mereka. Kini Malaysia di bawah pentadbiran baru tidak lagi sanggup menerima rasuah dan memertai perjanjian2 peribadi. Ini telah terbukti menimbulkan masalah kepada PM Lee Hsien Loong, kerana pentadbiran baru dipilih atas komitmen memerangi rasuah.
Nyatalah PM Lee Hsien Loong dari Singapura masih begitu lambat untuk mengubah keterlibatannya dengan Malaysia baru, yang kini lebih demokratik dan bebas dari rasuah berbanding dengan Singapura. Hubungan dua hala tidak akan bertambah baik apabila sikap kediktatoran Singapura masih berkembang seperti rasuah undang2 dan menulis semula undang2 tempatan, yang sepatutnya tidak boleh untuk undang-undang antarabangsa. - Singapore Herald
(Rencana ini adalah terjemahan dan adaptasi dari artikal berjodul "Lee Hsien Loong given Najib's concessioon on Johore airspace and waters for laundering 1MDB" - Singapore Herald) -TS
Lee Hsien Loong given Najib's concessioon on Johore airspace and waters for laundering 1MDB...

In exchange for assisting former Malaysian Prime Minister Najib Razak launder 1MDB funds in Singapore, Singapore Prime Minister Lee Hsien Loong was provided with a list of concessions including the High Speed Rail deal, drastic discounts over raw water sale and the forfeiting of Malaysian's sovereignty at the Johor Straits and Southern Johor.

In Oct 2016, Singapore began a S$50 million reconstruction of the Seletar Airport passenger terminal. The private jet terminal over shot its budget by 60% to S$80 million, and the use of Southern Johor's airspace received no objection from the then-Malaysia dictator Najib Razak. The Najib administration did not register a protest over Lee Hsien Loong's blatant ignoring of Malaysia's airspace sovereignty two years ago, and the project went ahead as the Singapore dictator was confident his partner-in-crime will not make kick up a fuss over sovereignty.

At around the same time just a year before in Oct 2015, Malaysia announced the construction of the Johor Port extension - which today Singapore is seen complaining that the extension has "seriously violated" its water territories. The 3-year construction of the port extension did not warrant a single response from the Singapore government then. Again, it is apparently part of the many secret deals the two dictator Prime Ministers agreed in private without the public's consent and knowledge...

Malaysia's new Prime Minister Mahathir Mohamad has made clear that he will not engage in private talks with Lee Hsien Loong. The new Malaysian PM outright rejected Lee Hsien Loong's invitation for a "leaders retreat" in Oct 2018 - a yearly dine-and-wine event Najib Razak enjoyed yearly with Lee Hsien Loong and their mistresses. A new Malaysia not willing to take bribes and private deals has proven to be problematic for Prime Minister Lee Hsien Loong, as the new administration was voted in power from commitments on anti-corruption.

Singapore's Lee Hsien Loong is still evidently slow to changing his engagement with the new Malaysia, which is now more democratic and corrupt-free than Singapore. Bilateral relations are unlikely to improve as the Singapore dictatorship flourish on legal corruptions and re-writing local laws, which it can't for international laws. - Singapore Herald
Now berthing in Langkawi, the "Equanimity" is said to worth about half of its original price tag. Valued at USD 130 million, the super yacht will now be sold through private negotiations. This, after bids received from public tender were said to fall short of appraised value. Lost too much!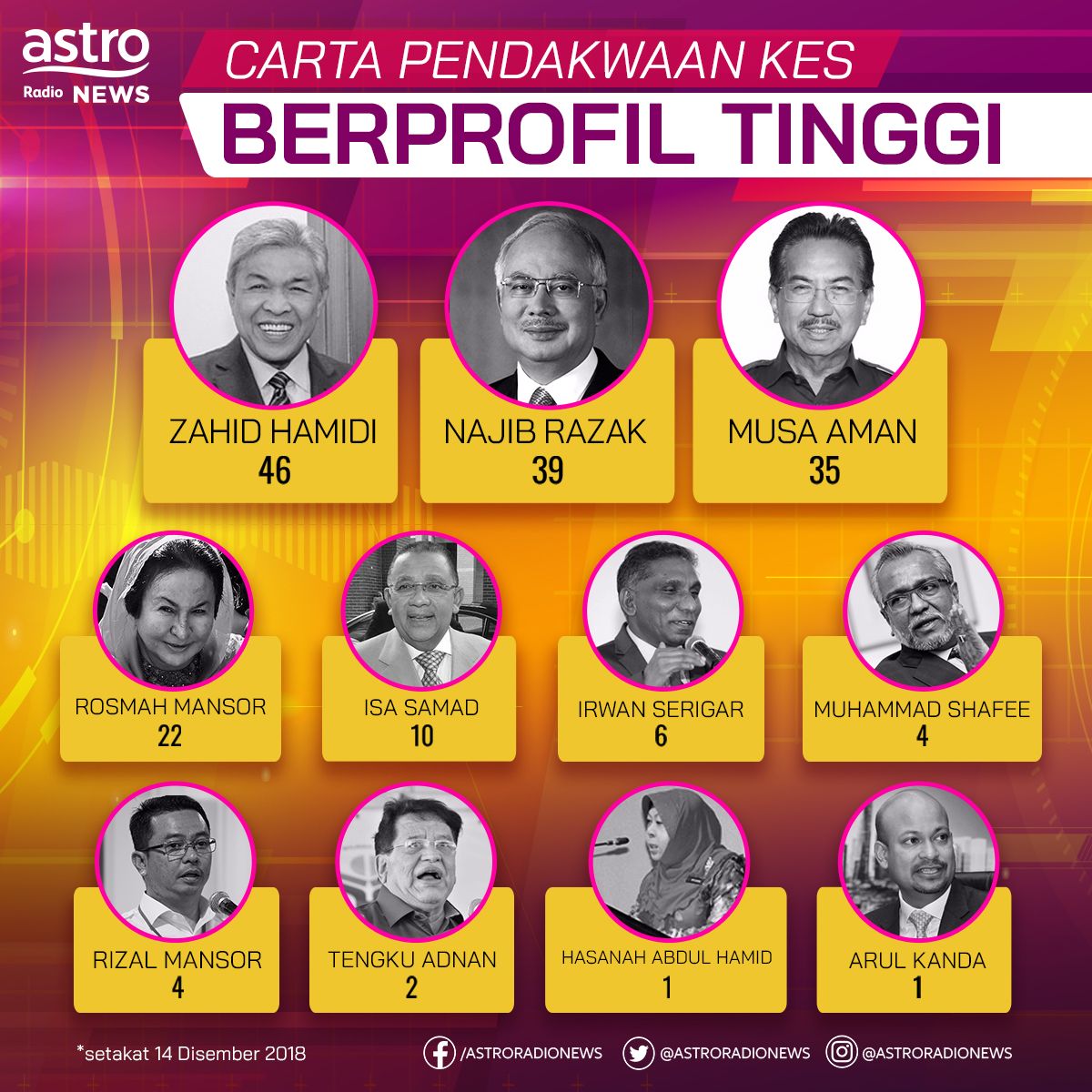 cheers.
tumpang sekole...?: Kenapa dengan Puteri Reformasi...
Singapura pun boleh dijual, inikan pula Pulau Kukup...
1. Sejarah Kesultanan Johor berubah apabila Sultan Mahmood mati ditikam oleh Megat Seri Rama, Laksamana Bentan.

2. Peristiwa itu berlaku ekoran kezaliman Sultan membunuh Dang Anum , isteri Megat Seri Rama yang sedang hamil.

3. Makam 'Sultan Mahmood Mangkat Di Julang' itu kini terletak di atas sebuah bukit di bandar Kota Tinggi, Johor.

4. Oleh kerana beliau tidak mempunyai waris atau zuriat , orang kampung di situ telah memilih seorang dari mereka yang kebetulan berdarah Bugis bergelar Temenggong sebagai ketua mereka yang baru dan akhirnya telah menggunakan gelaran Raja.

5. Inilah tipu helah pertama sehingga rakyat biasa yang pernah memegang jawatan Temenggong dipilih sebagai Raja atau Sultan sehinggalah ke hari ini.

7. Dalam tahun 1819 Sultan Hussein Mua'zzam Shah dianggat sebagai Sultan Johor yang baru.

8. Bagi mendapatkan sokongan dan pengiktirafan British, Raja Hussein telah menjual Pulau Singapura kepunyaan Johor itu kepada mereka.

9. Peristiwa hitam ini tercatit dalam sejarah Johor dan Negara.

10. Jika ada mana – mana pihak yang menganjurkan rakyat atau 'Bangsa' Johor mengkaji sejarah Johor, maka peristiwa ini tidak boleh diketepikan.

11. Pesanan akhir Megat Seri Rama ' RAJA ADIL RAJA DI SEMBAH , RAJA ZALIM RAJA DISANGGAH' harus dijadikan pengajaran.

12. Tindakan – tindakan liar dan buas Sultan Mahmmod Iskandar , bapa kepada Sultan Johor sekarang dengan mencedera, menzalimi malah membunuh rakyat sesuka hati itulah yang menyebabkan Tun Dr. Mahathir bertindak.

13. Kini Sultan Johor , anaknya dan beberapa Sultan yang lain cuba menutup pekong yang mereka lakukan dengan alasan Kerajaan PH hari ini akan menghapuskan Institusi Raja.

14. Menegur dan menasihatkan supaya Raja – Raja menghormati pemimpin dan rakyat dan menghormati Perlembagaan dan Undang – Undang dan Agama Islam tidak bermakna Kerajaan hendak menghapuskan Institusi Raja.

15. Jika sekiranya Raja – Raja menggangap diri mereka 'perfect' atau 'maksum' yang tak boleh di nasihat dan ditegur, maka inilah bermulanya kehancuran Instutusi Raja itu sendiri.
16. Sekali lagi saya anjurkan agar Majlis Raja – Raja yang bersidang setiap tahun membincangankan peranan dan tanggungjawab dan tingkah laku mereka sendiri.

17. Rakyat hari ini sedang memerahati segala tingkah laku Raja DAN keluarga mereka.

18. Penolakan rakyat kepada UMNO / BN terutamanya di Johor baru – baru ini adalah lampu isyarat kepada Sultan dan anaknya itu.

19. Jika itu pun mereka tak faham atau buat – buat tak faham maka ini membawa makna rakyat atau bangsa Johor mempunyai Sultan dan bakal Sultan yang tak berapa cerdik atau ALLAH SWT telah menutup mata dan hati mereka.

20. Baru – baru ini negara dikejutkan dengan pemindahan Taman Negara Pulau Kukup dari Hak Milik Kerajaan ke Tanah Kesultanan atau Sultanate Land.

21. Mengikut undang – undang seperti yang dinyatakan oleh Tan Sri Muhyiddin, bekas Menteri Besar yang bertanggungjawab mewartakan Pulau itu, apabila Hak Milik bertukar tangan maka Sultan boleh berbuat apa sahaja aktiviti dan mengenakan berbagai syarat atau akhirnya boleh menjual Pulau tersebut kepada pelabur Singapura atau China seperti yang pernah dilakukan oleh keturunan beliau apabila menjual Pulau Singapura, hak asal Johor kepada British dahulu. Lihat saja kepada projek raksasa Forest City, berapa ramai anak tempatan yang mampu membelinya.

22. Mengikut Enakmen status Pulau Kukup sebagai Taman Negara gugur apabila ia diwartakan sebagai Tanah Kesultanan atau Sultanate Land ; ini bercanggah dengan jaminan Sultan Johor sendiri apabila beliau mengatakan status Pulau itu dikekalkan walaupun berpindah milik.

23. Begitu juga alasan yang diberi oleh anaknya bahawa tujuan memindahkan Hak Milik Pulau tersebut bagi memelihara dan melindungi kedaulatan tanah berkenaan.

24. Jika itulah alasannya, bukankah baik diserahkan sahaja keseluruhan tanah Johor menjadi Sultanate Land?

25. Perkara ini telah saya bangkitkan dalam tulisan saya baru – baru ini bertajuk "ROMPAKAN DI SIANG HARI , SERAHKAN SAHAJA SETIAP INCI TANAH KEPADA SULTAN".

26. Apakah tujuan dan muslihat sebenar Sultan dan anakya MEMAKSA Kerajaan Negeri MEMINDAHKAN Hak Milik dari Negeri kepada mereka?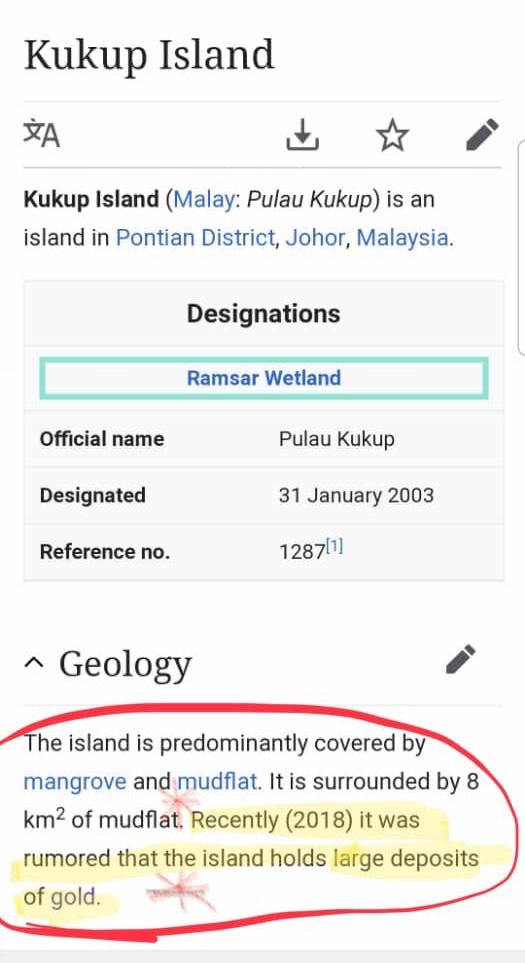 27. Ada laporan yang menyatakan Pulau tersebut kaya dengan emas dan lain hasil maksul bumi.

28. Dalam perkara Pulau Kukup ini terbukti bukan sahaja Menteri Besar , EXCO , Setiausaha Kerajaan Negeri , Pengarah Tanah dan Galian dan Pegawai Undang – Undang takut kepada Sultan dan anaknya malah mereka boleh dianggap BERSEKONGKOL dengan dua orang itu.

29. Walaupun sudah Pindah Milik dan dibatalkan Warta tersebut namun jika mereka yang diamanahkan rakyat masih sayangkan Negeri dan rakyat Johor, maka Kerajaan Negeri melalui MB dan EXCOnya dan Dewan MASIH BOLEH MEMBATALKAN kelulusan awal itu.

30. Yang membuang Kerajaan Negeri UMNO / BN ialah rakyat, dan yang memberi peluang Osman Sapian sebagai Menteri Besar , barisan EXCO dan ADUN yang lain ialah rakyat Johor juga.

31. Jangan jadi sepert "Kacang Lupakan Kulit " , "Dah Menyeberang Tongkat Mahu Dibuang".

32. MB dan EXCO berkhidmat untuk kepentingan negeri dan rakyat BUKAN nak bertindak apa sahaja kehendak Istana.

33. Perlu diingatkan sekali lagi kepada Osman Sapian , EXCO dan ADUN dan Pegawai – Pegawai Kerajaan, Sultan BUKAN Tuhan atau Malaikat atau keturunan Dewa – Dewa dan Jin yang kita perlu takuti.

34. Sultan dan anaknya juga TERTAKLUK kepada Perlembagaan dan Undang – Undang.

35. Jika sekiranya tidak ada tindakan membatalkan kelulusan tersebut dalam masa terdekat ini maka adalah lebih baik GANTIKAN SAHAJA beliau kepada sesiapa yang benar – benar berjiwa rakyat – atau rakyat buangkan sahaja Kerajaan Negeri ini yang sudah seperti kacang lupakan kulit.

36. Jika Sultan berjiwa besar dan mengamalkan sikap Mahmudiah dan sayangkan Negeri dan 'Bangsa' Johor PULANGKAN saja Pulau Kukup itu kepada Kerajaan Negeri TANPA MEMINTA sebarang pampasan dan gantian dengan tanah yang lain.

37. Harta kekayaan Sultan Johor dan keluarganya yang dianugerah ALLAH SWT jika dikumpulkan ia mungkin lebih tinggi dari Bukit Layang – Layang.

38. Semoga pandangan saya ini dapat berkongsi bersama oleh Sultan, MB, EXCO dan lain – lain. -Tamrin Tun Ghafar,SuaraTV

On the surface, Pulau Kukup appears to be just an environmental and ecological issue, but in reality it is a political issue (tussle between the government and royal family) that could possibly develop into a constitutional issue in future.

Kukup, the world's second largest mangrove island, was gazetted as a national park in 1997. The island is also one of the Ramsar Convention sites. The value of Kukup lies with the fact that it is untouched by human civilization, and remains the habitat of many rare waterfowls and wetland flora. It has the functions of preventing soil erosion and mitigating flood impact.

However, the island's national park status was revoked in October, the reason unclear. The Johor Palace subsequently wrote to the state land and mines department, highlighting that Kukup was already made a sultanate land and would continue to be a national park.

The Crown Prince claimed that being a sultanate land, Kukup's national park status would be further protected. The incident came to public attention after Crown Prince Tunku Ismail published the letter on his Twitter.

The issue was later brought to the cabinet for discussion, and minster Xavier Jayakumar said the federal government had decided to maintain Kukup's national park status in order to protect the island's natural environment.

TMJ responded by saying that outsiders should not meddle on matters related to Johor. And PM Mahathir rebutted by saying the federal government was not "outsider" and that the government's position was that Kukup should not be developed and he hoped the Johor Sultan would accept this.

TMJ replied that no one had wanted to develop Kukup in the first place and the Sultan's intention was to protect the natural environment of Kukup. Well, it is obvious here that both the Johor Palace and government have wanted to preserve the national park status of Kukup and to make sure the island will not be developed.
But there comes the questions:

1.Since both sides have wanted to keep the island's national park status, why did the state government de-gazette it in the first place?

2. How did Kukup become a sultanate land after its national park status was revoked? Is Kukup immune to development after becoming a sultanate land?

3. Now who has sovereignty over Pulau Kukup? The state government or the Sultan?

Home minister and former menteri besar Muhyiddin Yassin explained that once Kukup becomes a sultanate land, its status will be changed and it is no longer a national park.

4. Does this mean if Kukup were to be re-gazetted, it would no longer be a sultanate land?

From the viewpoint of the rakyat, is the preservation of Kukup's natural environment and ecosystem bound by the laws, or royal pledge? The Kukup controversy has brought on a bigger question: save for privately held properties, can a national park or government land be converted to sultanate land solely by the will of the Palace?

Who is the ultimate proprietor of the whole land mass in the state?

The Crown Prince said in a statement that Johor had its own constitution and own way of doing things long before Malaysia came into being. Does that mean the Sultan's power overrides all else?

The status of Johor royalty was one of its kind during the colonial times, and has remained very much so after independence. The jurisdiction of the Johor royalty goes way beyond what constitutional experts can expound, and will perhaps develop into a constitutional issue or a political battleground? - mysinchew
Year Of Living Dangerously...

The year is fast coming to a close. It is time once again to make conclusions about how the Year 2018 has impacted Malaysians, in general. The icing on the cake is, of course, the outcome of the 14th General Elections on Sunday, May 9 which saw the ouster of BarisanNasional (BN), the ruling coalition that had been calling the shots for 61 years.

Fortunately, I am one of those who has been around since the party, then known as Alliance (PartiPerikatan) with its catchy symbol of a white sailing boat on a blue backdrop, won the trial local council elections in 1955 followed by the inaugural general elections after the country's independence in 1957.

Up until then, Malaysia was being constantly mocked by its rather condescending moniker, the country with the longest one-party rule in the world. Before BN the title was held by the Indian Congress Party which was in power in the Indian subcontinent for 49 years, from 1947 till its defeat by Indian right-wing party the BharatiyaJanata Party (BJP) in 1996. The defeat saw the end of Nehru's legacy in India.

Incidentally, BJP's rule ended abruptly 13 days later because it lacked a majority in the lower house of Parliament. A similar scenario is evident in the current ruling coalition, PakatanHarapan (PH). The party lacks a two-thirds majority in parliament and thus is unable to enact or amend bills that run contrary to the federal constitution. Amending the contentious Sedition Act is a case in point and, perhaps, to further clip the wings of the royalty in view of the ongoing debate on the status of PulauKukup, a largely mangrove-infested islet off the coast of Johor.
The end of BN rule ushered a new dawn to the political landscape of Malaysia. Nonagenarian and former Prime Minister of Malaysia Tun Dr Mahathir was elected to fill the post of the seventh premier. At 93 years of age, he is being acknowledged as the senior-most serving head of government in the world. An unenviable feat considering he was responsible for the introduction of "crony capitalism" making a small band of well-connected and "apple-polishing" businessmen super-duper rich.

That was before "Najibnomics" (NajibRazak's brand of economic ideas and concepts) resulted in the transformation of a widely-condemned kleptocratic regime which brought down BarisanNasional and a premature end to the wheeling and dealing of a corrupt couple who amassed billions via the manipulation of the country's coffers. Today Najib, his wife and his henchmen are facing a plethora of criminal charges, ranging from money laundering to outright stealing. Their fate will be decided by the courts in 2019, hopefully.

Events unfolding the last few months, beginning with the widely circulated video clip of a Malay guy haranguing a young Chinese lady over her beer-promoting effort within a non-halal section of a supermarket to the racially-charged Seafield Hindu Temple debacle and the recent Anti ICERD rally in Kuala Lumpur, the spectre of May 13 race riots of 1969 was becoming real.

I was riled when some smart alecks went public with threats of rioting as a means to settle old scores. The duo warned of a return to that perilous period if the PH government continues with its reform agenda, especially one that impinges on Malays' rights. AzwanddinHamzah of PertubuhanJaringanMelayu Malaysia and blogger Ragvinder Singh Jess made incendiary remarks to that effect. Being someone who had witnessed May 13 firsthand, I am definitely appalled by such careless remarks.

In the early 1970s, Kuala Lumpur witnessed numerous clashes between Police and students over economic issues plaguing the nation then. My battalion was stationed at Wardieburn Camp in Setapak. We were tasked to assist the Police in Kuala Lumpur and Rawang. My company was assigned to police districts of Sentul and Campbell. Being the liaison officer I got to follow the police riot squads on their rounds. One nasty incident took place near Odeon Cinema along JalanTuanku Abdul Rahman. And this is very fearsome – once trouble starts it is difficult to diffuse, as it becomes very contagious and will spread like wildfire.
In a civil strife, the army's role is to assist the Police. Getting the army deployed on the ground is the last thing on any government's mind. The downside is not only hideous but bad for publicity. It signifies a complete collapse of law and order. No government, worth its salt, would want the army to take over the Police's roles. It is detrimental to a nation's health.

The past few weeks had been very touchy especially with the Anti-ICERD rally on Saturday, December 8 at Dataran Merdeka in Kuala Lumpur. According to conservative estimates some 50 to 60 thousand people, from all over the country, attended. I concur with Mariam Mokhtar's views that the real winners in the anti-ICERD rally "were the bullies and the racists who threatened violence simply to get their way".

The episode brings to mind what took place in Indonesia during the closing stages of President Sukarno's communist-infiltrated regime. It is best illustrated in Christopher Koch's 1978 novel "The Year of Living Dangerously" which was made into a movie soon after. Set primarily in the Indonesian capital city of Jakarta, it also describes a partly fictionalised version of the events leading up to the coup attempt by the Communist Party of Indonesia on September 30, 1965.

I can't help feeling so, as events unfolding in the nation's capital are akin to a tinderbox that could ignite with the slightest provocation. A potentially volatile situation will go haywire if it is not carefully managed. Fortunately, cool heads prevailed.

But what I find disturbing today is the elegant silence by many fiery Malay-rights groups, individuals and political parties who have threatened to run amok if pushed to a corner when it was revealed that RM4.1 billion had gone missing from Tabung Haji, the Malaysian Hajj pilgrim fund that facilitates savings for a pilgrimage to Mecca. - Fathol Zaman Bukhari.Ipoh Echo
Bakal PM Malaysia...
cheers.
tumpang sekole...?: Singapura pun boleh dijual, inikan pula Pulau Kukup...