tumpang sekole...?
nasi kandaq kedai mamak, anak mami juai pesemboq, lepaih baca jangan dok syiok, kalu-kalu SB jengok kot dapoq...
0
6 April 2020
Roti putus tak pa jangan Heineken...takebeer!!!
Terima kasih kepada kerajaan MELAYU-ISLAM lebai penipu tebuk atap Penyamun Nasional (PNipu) kerana membenarkan Heineken Malaysia Berhad terus beroperasi semasa tempoh Perintah Kawalan Pergerakan (PKP).

Tahniah juga diucapkan kepada kepala penyamun Muhyiddin Yassin dan bekas mufti yang kini jadi menteri kerana pada ketika masjid dan surau ditutup hingga tak boleh solat sejak 18 Mac lepas, kilang arak terus dibenarkan beroperasi.

Maklumlah, sejak jadi pakar tebuk atap, arak dah jadi barang keperluan asas macam beras, roti dan gula dan lebai penipu terus jadi syaitan bisu duduk dalam gua.

Kelulusan operasi kilang arak itu dikeluarkan pada 31 Mac 2020 kira-kira 10 hari selepas lebai penipu mengutus surat penuh fitnah jahat terhadap Pakatan Harapan dan sebelum dilantik jadi duta bertaraf menteri ke Asia Barat.
Bekas mufti yang jadi menteri agama kenapa diam seribu bahasa??? Pas cuma jadi parti kuda tunggangan MCA dan MIC utk ambil alih kerajaan.

Sbb tu MCA dan MIC biarkan kilang arak dibuka masa PKP Pas? Diam seribu bahasa Kilang arak dibuka dan dia tak bantah

Ore tua kata, tak bantah tandanya setuju Masjid tutup. Kilang arak buka Kafarah atas kejahatan PNkhianat
Dia dah 2 tahun sembang nak tutup kilang arak, tapi yang PN tutup masjid dan maahad tahfiz pasai apa, kata cari redha Allah, pasal apa kilang arak boleh buka? Dah la 3 minggu tak boleh jumaat, zaman kerajaan Melayu Isle, bukan zaman Komunis hak tak boleh Jumaat ni

"Belum cukup lagikah teguran demi teguran Allah kepada kita semua ini?"

Ka hangpa berdua lebih suka mencari redha MCA dan MIC, wahai khodam beradik?
Bab sembang ... babi pun terbang !!
Bayangkan kalau waktu ini kerajaan adalah kerajaan PH. Agak2 apa lebai dan Umno akan kata? Mesti mereka akan kata,
" Lihat, kerajaan PH ikut telunjuk Cina Dap, kilang lain banyak tutup waktu PKP, tetapi kilang arak dapat kebenaran untuk beroperasi."
Sejak Pas bersekutu dalam kerajaan PN, arak pun sudah masuk kategori makanan yang mesti dipastikan bekalannya mencukupi walaupun ketika PKP. Apa akan jadi kesudahannya?
Mengapa lebai dan Umno membisu sekarang? Sebab, mereka dah jadi kerajaan. Lebai dah jadi menteri alam sekitar dan duta khas bertaraf menteri. Itu saja.
Kilang arak boleh beroperasi ni kan Dato' Seri Tuan Guru Haji Abdul Hadi Awang? Apa dalil kali ni?

Mana Ustaz Dato' Tuan Ibrahim Tuan Man? Takkan takut nak tegur menteri KPDNHEP kot. Ker mcmana? Tanya. Dulu bising. Loni bisu....
Apa itu Syarikat Heineken Malaysia Sdn Bhd?

Heineken Malaysia Berhad juga dikenali sebagai Heineken Malaysia (MYX: 3255) adalah pengeluar utama bir dan stout di Malaysia dan telah disenaraikan dalam Bursa Malaysia sejak tahun 1965. Antara jenama mereka menghasilkan dan pasaran adalah Tiger Beer, Guinness, Heineken, Anchor Smooth, Anchor Strong, Kilkenny, Anglia Shandy, Malta, Paulaner, Strongbow, dan Soll.
Punyalah walaun tak boleh terima hakikat bahawa di bawah kerajaan pintu belakang yg mana lebai berada di dalamnya, masjid dan kilang budu ditutup, tetapi kilang arak dibenarkan beroperasj pada waktu PKP ini, walaun pun kata surat yg diviralkan itu palsu.

Palsu apa wahai lebai? Malaysiakini pun melaporkan berita ini. Mahu salahkan Dap lagi ke? Dap tiada dalam kerajaan ikut atap ni, tau tak, lebai? Mana suara olamak penjual agama dan pejuang melayu yg selama ini menyalak bukan main? - Wfauzdin Ns
Baru kena acah oleh YB Hanipa Maidin untuk ambil tindakan saman, ulamak PAS Mokhtar Senik terus padam status fb dia. Masa tulis lagak seorang pejuang, yang komen pun semua sokong dan puji. FB Mokhtar Senik tu dia tutup ruang komen, hanya untuk 'friend' saja.
Yang bukan friend hanya boleh like dan share. Belum apa-apa dah kecut teloq...
Was Hadi trying to pass the buck?...
Was PAS president Abdul Hadi Awang battling to sustain credibility among Muslim leaders across the world after they questioned the motives behind his shifty political stand which eventually resulted in PAS being a key party to what is understood outside Malaysia as a political coup by Perikatan Nasional?

Amanah communication director Khalid Samad threw just this question in the air as he fired back at Hadi over the lengthy seven-page letter in Arabic dated March 22, in which the PAS leader seemed to be explaining himself in an effort to justify his party's part in the plot.

"It is clear in the letter that Hadi was trying to misrepresent Malaysia's political position. It is understood that Abdul Hadi's misleading explanation was made after a number of leaders of the Islamic movement around the world questioned the legitimacy of PAS's recent actions and political attitudes," said Khalid in a statement issued a moment ago.

Khalid said Hadi, the newly minted Special Envoy to the Middle East with Minister's status, also irresponsibly and purposely labeled the Pakatan Harapan component parties in bad terms in order to be viewed as an insult and an enemy of Islam.

"He claimed that PH was dominated by non-Muslims, under Communist and Christian influence and supported by the United States, Europe, Singapore, Zionists and the Freemason movement," said Khalid, echoing the shock voiced by a number of analysts on their social media platforms after the letter surfaced.

In his letter, Hadi also described PKR president Anwar Ibrahim as a 'dangerous pragmatic secular', with bad personal and moral character. Anwar was also accused of leading a group that was against Islam and he was supported by the DAP as a Christian party.

The mind-boggling accusations did not stop there, as Hadi also stated in his letter that Amanah, formed by a splinter group that broke away from PAS after the passing of former leader the late Nik Abdul Aziz Nik Mat, as a party that was formed by Anwar Ibrahim and DAP!
Betul kaa mung tulis mcm tu Encik Dato' Seri Tuan Guru Haji Abdul Hadi Awang? Sanggup mung fitnah seteru politik enta sebegitu rupa naa. Mung dah lupa kaa jasa Anwar sehingga mung merasa kerusi MB sepenggal? Dengki tu buang laa. Dah tua dah... - f/bk

"He also called those with AMANAH a hasty and opportunistic group that had left PAS," said Khalid.

"All these accusations were made to uphold Hadi's argument and to convince the recipients of the letter that Pakatan Harapan was an enemy and a threat to Islam. Based on the superficial argument, Hadi tried to justify PAS's actions in leading the effort to form the backdoor government," said Khalid.

Besides that, Hadi also accused PH of an internal conspiracy to bring down former Prime Minister Tun Dr Mahathir Mohamad, who Hadi described as pro-Islam, to be replaced by anti-Islamists, which "forced PAS and its allies to take over the government". Khalid described this Hadi claim as "simply an illusion."

"The Pakatan Harapan government stood with Tun Dr Mahathir Mohamad's leadership and firmly defended Islam as a federal religion. The PH government also put the interests of Islam and Muslims at the forefront of the government's agenda. Many reforms to strengthen the Islamic administration had been implemented within a short period of 22 months," said Khalid.

"PAS is not able to bring a message of political Islam in a country where Malaysians of all races have chosen the way of racial and multi-ethnic political approach, and attacks them as being enemies to Islam and the Malays. This is a change in the political direction that Abdul Hadi brought to in the struggle for PAS itself.

"Due to political changes and principles, PAS is also willing to defend and cooperate with UMNO which has been rejected by the majority of Malaysians as a result of scandals in embezzlement of public funds and rampant corruption. That coalition has been working for a long time, dating back to the 14th general election. It is nothing new as claimed in this letter," said Khalid.
The rest of Khalid's press statement reads as follow....

"Hadi has also been reckless and irresponsible by making accusations that there are countries and certain outsiders trying to intervene in Malaysian politics. This is a serious allegation that could undermine diplomatic relations between Malaysia and the countries involved.

"Amanah's concern is that Abdul Hadi's reckless and baseless accusations against these countries are at risk of increasing misunderstandings and thus undermining diplomatic relations between countries. Amanah calls on Malaysians to reject this political pattern of slander, hostility and sheepish hostility.

Abdul Hadi's attitude and behavior could be termed 'gutter politics' or the drainage politics no longer deserved to be entertained, let alone followed. Amanah calls on PAS members and leaders to leave PAS in public.

PAS has strayed far from its Islamic struggle and is now Machievelli's party that aims to legitimize its means. These include cheating, slandering, fighting sheep, racism and plundering the people's money." - talkedabout.org

Surat Hadi fitnah untuk gambarkan PH musuh Islam
Siapa nak apply jawatan Duta Khas, sila ke website JPA sekarang
dan taip "Jawatan Duta Khas". Tanya sebab ana nak apply juga...
cheers.
05 April 2020
Pak Lebai Kaki Putaq...
Ulasan surat lebai Hadi yang pertahan gomen pintu belakang...
ALLAH tunjukkan ciri utama seseorang 'Ulamak itu adalah tatkala mereka takutkan Allah, iaitu takut lakukan dosa-dosa, apatah lagi jika dosa besar termasuklah dosa pembohongan atau dosa khianat;
إِنَّمَا يَخْشَى اللَّهَ مِنْ عِبَادِهِ الْعُلَمَاءُ
(Sesuangguhnya hanyasanya 'Ulama itu adalah mereka yg takut Allah)
[alFatir : 28 ]

Semalam terdapat pimpinan Islam luar Negara menghubungi seorang AJK Biro Syariah Amanah, nyatakan mereka sungguh terkejut tatkala menerima surat melalui media sosial kepada mereka yg menggunakan letterhead Pas, dan tertera nama Haji Hadi Awang, Presiden Pas.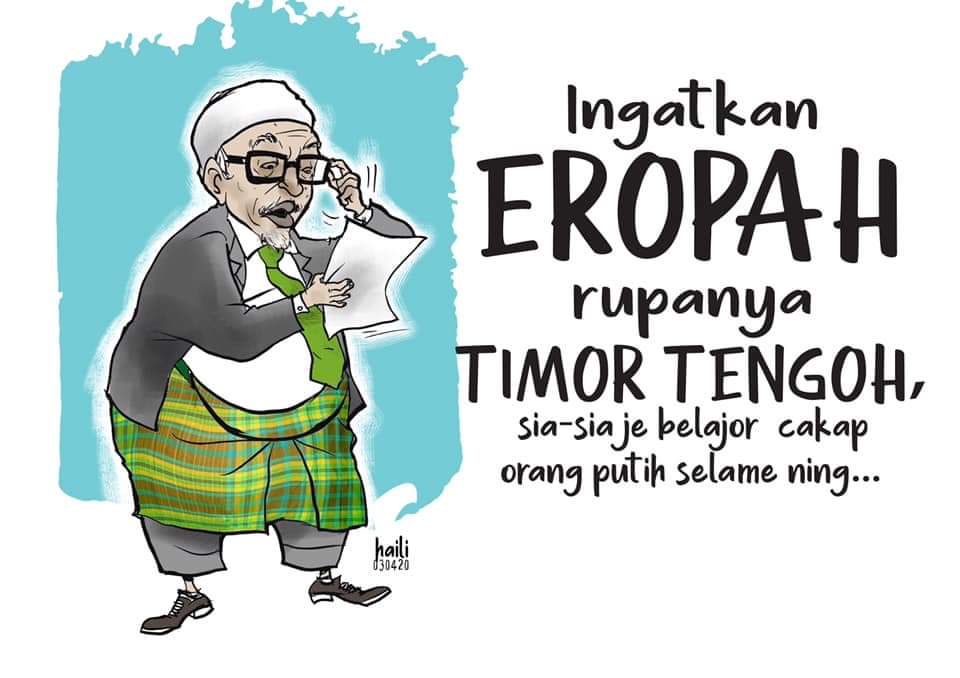 Ulasan surat lebai Hadi yang pertahan gomen pintu belakang...
ALLAH tunjukkan ciri utama seseorang 'Ulamak itu adalah tatkala mereka takutkan Allah, iaitu takut lakukan dosa-dosa, apatah lagi jika dosa besar termasuklah dosa pembohongan atau dosa khianat;
إِنَّمَا يَخْشَى اللَّهَ مِنْ عِبَادِهِ الْعُلَمَاءُ
(Sesuangguhnya hanyasanya 'Ulama itu adalah mereka yg takut Allah)[alFatir : 28 ]
Semalam terdapat pimpinan Islam luar Negara menghubungi seorang AJK Biro Syariah Amanah, nyatakan mereka sungguh terkejut tatkala menerima surat melalui media sosial kepada mereka yg menggunakan letterhead Pas, dan tertera nama Haji Hadi Awang, Presiden Pas.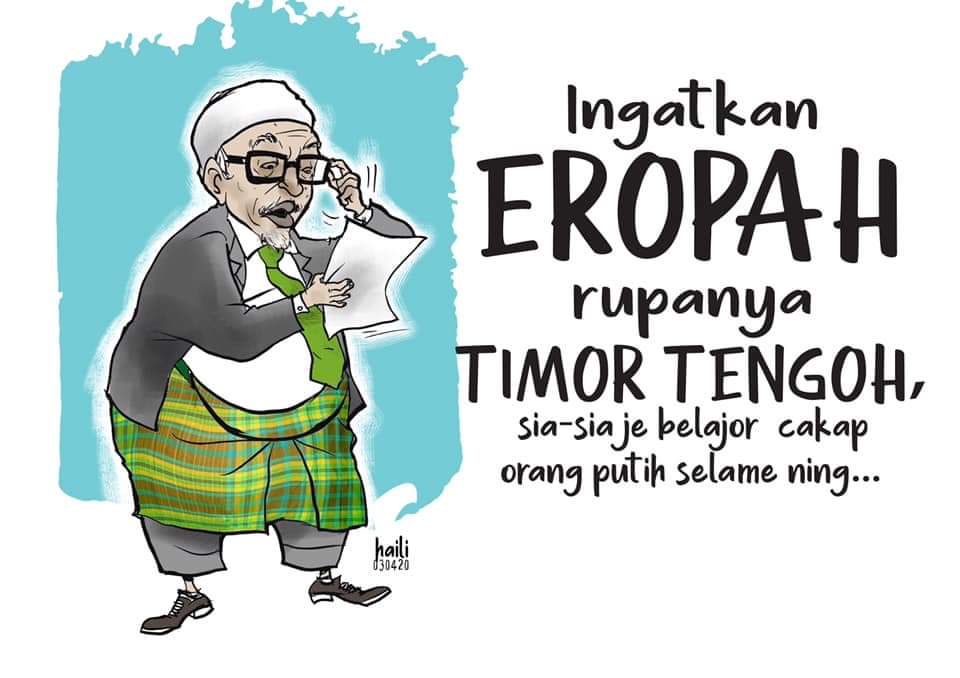 Surat 7 mukasurat itu ditulis dalam 'Arab, bertarikh 22 Mac 2020. Sasarannya pasti pada pimpinan Arab. Maka saya yakin, surat itu jika benar ditulis oleh Hj Hadi Awang iaitu Presiden Pas, ianya ditulis 10 hari sebelum beliau ditabalkan habuan wakil rasmi PM ke luar negara bertaraf Menteri, jawatan yg kerap digunakan oleh Umno/Najib sebagai habuan politik buat penyokong yg berjasa, tapi tak berpeluang masuk dalam kabinet.
Baca surat bohong Hadi seterusnya...
Jawatan yg sama dibuat TunM masa pemerintahan Pakatan Harapan (PH) dengan lantikan pimpinan berbangsa Cina sebagai wakil rasmi PM untuk hubungan dgn Negara China yg pada masa itu memerlukan pelbagai negosiasi semula project raksasa oleh regim Umno/BN tree terdahulu.
Tapi lantikan PH itu tidak sesekali bertaraf Menteri seperti yg dikecapi oleh Presiden Pas melalui amalan Umno dan Mahyuddin hari ini yg kerap dibantah keras oleh Pas sejak sekian lama. Tapi semalam bila Mahyuddin angerahkan taraf Menteri itu pada Presiden mereka, tiba-tiba Timbalan Presiden yg samalah terus mengucapkan tahniah pada Mahyuddin. Sifat hipokrit sungguh! - Ahmad Sayuti Bashiron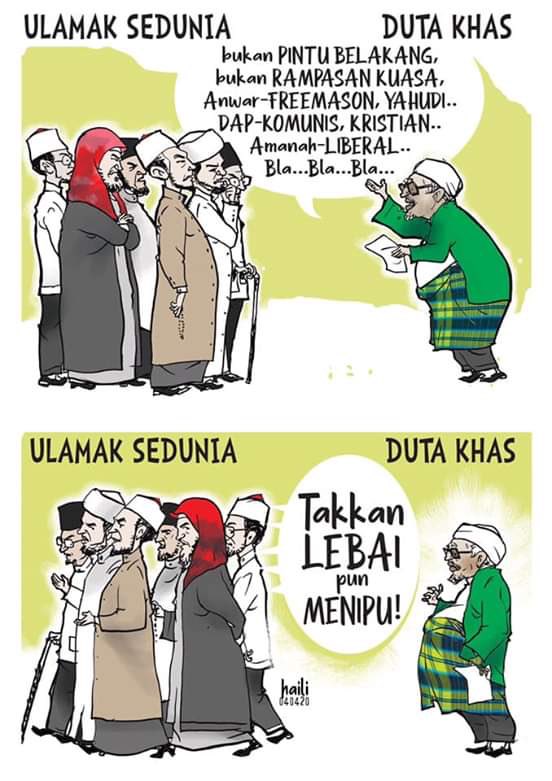 Penyokong PAS selalu berbangga dengan jawatan naib presiden Persatuan Ulama Sedunia yang Hadi pernah pegang.
Dari segi sejarah, Hadi dapat jawatan tu atas rekomendasi Anwar. Asalnya persatuan tu nak lantik naib presiden dari Timur Tengah.
Anwar kata, kalau persatuan tu lantik dari Timur Tengah saja, depa hilang peluang untuk mengetengahkan ulama dari Nusantara.Kebanyakkan orang tau benda ni. Anwar yang rekomen, tapi walaun yang fresh keluar dari lubang taik kata fitnah. Itu semua usaha dakwah tghaha sendiri.
Oleh demikian, Hadi diketengahkan. Aku tak cakap la Anwar tu hebat sangat.
Saya percaya surat tu bukan Haji Hadi tulis sendiri tapi ada beberapa orang PAS yang lain turut terlibat.... Maksud saya bukan Hadi seorang saja suka berbohong tapi PAS itu sendiri adalah parti pembohong... Orang PAS dari atas sampai ke bawah memang kuat bohong.
Soalnya 2 juta ni berhimpun kat mana? Fantasi lebai2 kot...
Saya beranak dalam lubuk PAS, saya tahu lah....
Tapi berdasarkan pembacaan aku pada (terjemahan) surat tu, lebih banyak dinukilkan fantasi Hadi berbanding kebenaran yang sebenar.
Ingat, syeikh Yusuf Qardawi pun pernah di fitnah kata pekak oleh Guru Tebok Atap. Dah la kita ada trust deficit dengan negara luar, dapat pula duta kaki adu domba, habis pula politik kebencian akan di export ke luar negara - f/bk
Naratif walaun: "semua ni mula bila TunM resign. Jangan salahkan orang lain." Walhal proses berkomplot, memujuk, menghasut, bersemburit antara kleptokrat, parti lebai, PNkhinat dan kartel bermula jauh lebih awal dari tu..
Cuma babak tu disembunyikan..Sheraton disusun SEBELUM dari TunM resign bahkan majlis itu diadakan pun dengan harapan TunM telah bawa PBBM lompat keluar dr PH yang mana ditolak oleh TunM.
Paginya meeting PBBM untuk desak TunM bawa PBBM keluar dari PH. Petangnya pertemuan kelompok ini dengan Istana telah dibuat nak maklum kabinet baru. Malam umum di Sheraton. Sehari sblm retreat Umno - Pas di janda baik. Semuanya disusun.
Ini dilakukan ditengah-tengah Negara dan Kerajaan PH sedang hadapi ancaman wabak COVID-19 yang membunuh ni. Terbaru tersebar surat kepala lebai kepada pemimpin gerakan Islam. Dia akui sendiri parti lebai yang mulakan komplot jahat ini seawal pembentukan kerajaan PH.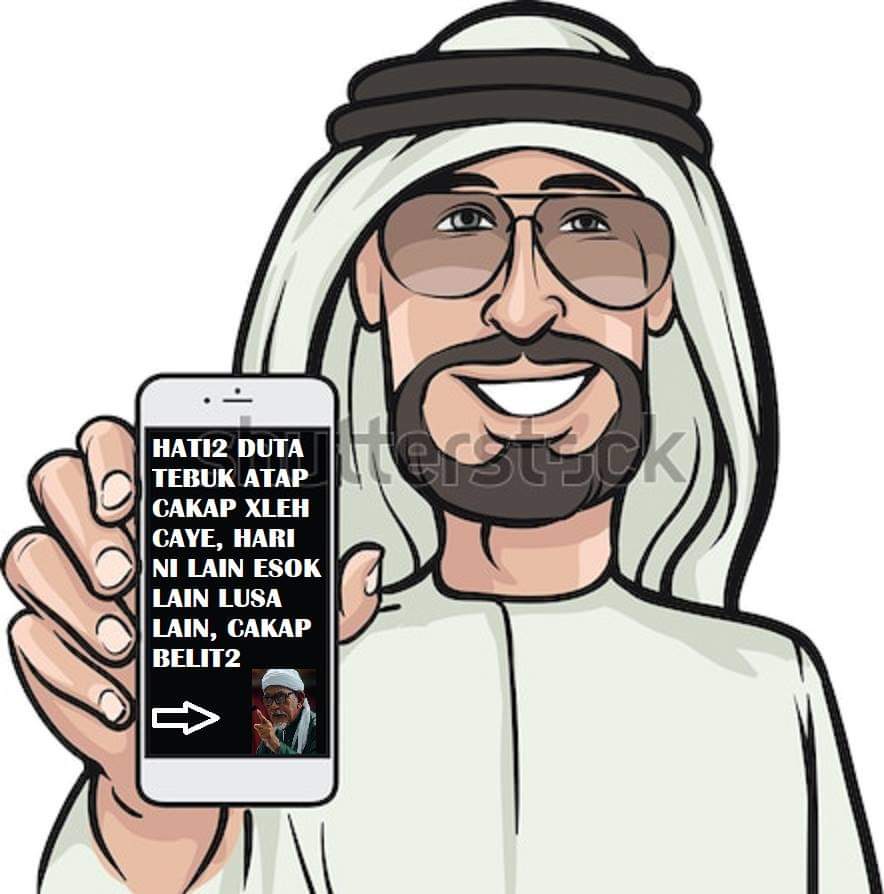 Surat penuh pembohongan, penipuan fakta dan Prasangka jahat. Jijik.
Bukankah antara ciri munafik adalah berbohong dan ciri ulama pula bercakap benar? saya pun dah terkeliru.
Patutlah 10Mac2020 Dr Yusuf Qardhawi up status fb "ulama bersama gerombolan zalim". Untuk elakkan sejarah ditulis secara salah oleh PNipu, PNkhianat, PNyamun, saya rakamkan - f/bk
How Hadi's first statement to middle east translate as an envoy on a global perspective....
Mind-boggling to many, but this statement from PAS president Abdul Hadi Awang has surfaced right upon his appointment as Middle East Envoy with Minister's status by Prime Minister Muhyiddin Yassin.
The statement, dated March 22, was a lengthy seven-page statement written in Arabic, allegedly aimed at the Muslim movement in the Middle East nations he is soon to engage with.
Friends of Harapan Jordan had translated the script into Bahasa Malaysia. We then translated that into English.
The global press, along with those who are non-Muslims, may want to take note of Hadi's perspective on life, especially since his ascension to power in Malaysia and now jettisoned to the international stage as envoy to the Middle East.
Below is Hadi's letter to the Gerakan Islam movement adapted from the translation to Bahasa Malaysia from Arabic by Friends of HARAPAN Jordan...Make your own judgement...
PEACEFUL REFORM MOVEMENT, NOT A COUP D'ETAT AND REVOLUTION
Praise be to Allah, who has all power in his hand, and He is the All-Powerful in all things. Say: "O Lord of dominion, Thou givest the kingdom to whom Thou wilt, and Thou takest the kingdom from whom Thou wilt. Power over everything: Welcome and greetings to our great leader, leader and example of the Prophet Muhammad, who brought blessings and light, as well as to family members, His companions, and those who received guidance until the Day of Judgement."
Malaysia has been fascinated by the plots left by the British colonialists on issues of thought, culture, politics, economy and society, which have been practiced by the government and its leaders on a regular basis, as well as against multiracial and religious communities. Although the Muslim community is a majority, their current situation has deteriorated, in terms of community structure and population planning, due to the narrowing of the current state of the Muslim community in dealing with non-Muslim communities.
The colonists had set the terms of independence, including having to accept citizenship for non-Bumiputeras entering the country as workers and laborers in cities, while the majority of Muslims lived in rural areas with limited infrastructure. The imported solutions were implemented and then forced upon the people in the form of ideologies of secularism which resulted in the inability of a powerful government to maintain the sovereignty of Muslims in their own country. Later, (the government needed to) face the challenges of government administration under the influence of other races in education and economy, and the government was plagued with issues of destruction, embezzelement, corruption and more.
Indeed, corruption, embezzelement, and mismanagement of state treasures have been widely debated by the media for decades in the country, not just during Najib Razak's leadership session. It is the result of illnesses that have afflicted the previous government for so long that it has led to its weaknesses. It had become increasingly critical that it led to political strife between the thieving leaders among the indigenous people which led to the split of the Muslims due to the conflict within the government itself.
Then their political downfall made the country fall into a precarious situation in the recent General Elections with its decision in favor of a non-Muslim majority in the government (Pakatan Harapan) who had used Tun Mahathir, the former Prime Minister and an experienced politician, to bring down Najib Razak. He was used because of his advanced age and his weak party. They made him a stepping-stone towards taking the lead in politics irrespective of the composition of the Muslim majority in the country, which has increased by more than 69% over minorities of various races and religions, which further encouraged internal strife. In addition, there are also opportunities for interference by foreigners who are hostile to Islam and Muslims as is the case with other Muslim countries such as Arab countries.
After examining past experiences in the coalition from a positive and negative angle, PAS had taken a stand to form the Third Block without accepting or agreeing with Tun Mahathir's invitation to join Pakatan Harapan to overthrow Najib Razak's government and change the new government under his leadership after the previous government was overthrown. Likewise, without accepting or agreeing to Najib Razak's invitation to his Barisan Nasional coalition under his leadership to defend the existing government that had led decades of dangerous opposition.
Pakatan Harapan: Tun Mahathir's party, the United Indigenous Party of Malaysia (BERSATU) which is a UMNO fragmentary party (the backbone of the ruling party) is a newly formed party, practically a weak party. Joining him is the party of Anwar Ibrahim (Parti Keadilan Rakyat, PKR) which is a pragmatic secular party comprising members of various races and also have ideological differences such as the Malay Muslim secular and also groups of non-Muslims from the Chinese and Indians, most of them being Christian. Also together is The Democratic Action Party (DAP), which has a predominantly Christian majority Chinese membership, a remnant of a banned communist party and liberal thinkers. Together with them are the liberal-secular Islam-oriented National Trust Party (AMANAH), formed by Anwar Ibrahim and DAP leaders to fight for PAS's popularity especially among Muslims and to break their unity, by bringing together opposition groups including bringing in hasty and opportunistic groups that have left PAS. Behind this block are external support groups that benefit Anwar's presence in the block.
Then after Pakatan Harapan succeeded in changing the government with their victory in the election, there was an internal attempt to nominate Anwar Ibrahim as Prime Minister by the DAP, PKR and AMANAH to oust Tun Mahathir, with the support of the United States, Europe, Singapore, Zionists and even Freemasons. Mahathir's candidacy was purely against Najib's use of his popularity but at the same time, they rejected Tun Mahathir's hold on what he considered to be an overstatement, especially in his attempt to reject a reconciliation with the West and his views on issues of Palestine, Kashmir, Myanmar and Uighur. Pakatan Harapan finally won the last election. PAS had withdrawn from the alliance that it had been involved with from 1999 to 2012 due to the attitude of those who violate the agreement that is in line with PAS principles and objectives in serving Islam and Muslims.
The UMNO, MCA and MIC (Barisan Nasional) government parties are working to defend the Najib Razak-led government that has brought and inherited damage from previous governments such as corruption, governance failures and more. PAS was with the block of these parties from 1973 to 1979. From this experience, PAS is aware of the disadvantages of the Barisan Nasional.
Based on PAS's experiences in coalition with various parties, be it the government or the opposition, PAS had decided to set up a third block between Pakatan Harapan and Barisan Nasional, which is also joined by small parties and supported by Islamic NGOs and national (using the name of Gagasan Sejahtera) who practice politics with the principles of co-operation for good and piety, not for evil and for hostility.
PAS has already participated in the 14th General Election in 2018 and won two states (Kelantan and Terengganu) with a two-thirds majority. While the majority of the seats in other states were won by some opposition parties. At the parliament level, PAS won 18 parliamentary seats, making PAS part of the opposition bloc in parliament and at the same time a government party in two states. Then the central government collapsed and lost all its power led by Najib Razak and his allies in the Barisan Nasional. Pakatan Harapan won and was given the mandate to form the government and the Cabinet Council led by Tun Mahathir. So now let's touch on the developments that have taken place after this event.
Wrestling in the Federal Government
Pakatan Harapan, the party that nominated Tun Mahathir as Prime Minister through the support of the non-Muslim majority at the Federal Government, and appointed him Prime Minister on a provisional agreement that was merely verbal in a press release, had decided that Anwar Ibrahim will be appointed as Prime Minister after 2 years of government, without the consent of Tun Mahathir, in which he himself thinks the agreement does not bind any party either legally or by Syariah.
The Barisan Nasional (including the UMNO party within it) had won two states, and it was the opposition that won the most seats in the House of Representatives. Several parties from Sabah and Sarawak, predominantly Muslim, had declared themselves out of the Barisan Nasional and decided not to join the Federal Government. Later, several Sabah-based parties joined the parliamentary seat of Tun Mahathir. Likewise, some MPs from UMNO stepped down from the party and joined the ruling coalition to strengthen Tun Mahathir's position in the Federal Government. Later, some parliamentarians from PKR led by Azmin Ali had split in full support of Tun Mahathir.
However, the number of Muslim MPs from both the Government and the Opposition had not reached a majority in Parliament (the House of Representatives) as a whole. Muslim intellectuals, bureaucrats, members of the military and police were alarmed after the entry of Non-Muslim and Muslim Liberal MPs into the new Government trying to undermine Islam, Muslims and Bumiputeras, in an attempt to amend the Constitution, the educational and tertiary systems, mass media and so on in politics and economics which had shocked Muslims and they saw the dangers of their situation.
Thus, PAS took the political step of cooperating (Taawun) peacefully. PAS has chosen relations with Tun Mahathir because of his nationalist attitude and his passion for defending Islam. And PAS rejected cooperation with Anwar Ibrahim's group because of his uncertain character and morals and its dangerous pragmatic political stance. And together with Anwar Ibrahim, is a liberal Islamic faith, based on the support and stance of Western embassies that support him in terms of strategy, media and finance. We also rejected total foreign intervention, despite our meetings with these delegates who came to meet us to try to build a friendly face, especially the American delegation who invited PAS to join Pakatan Harapan and help Anwar Ibrahim overthrow Tun Mahathir.
We met with Tun Mahathir shortly after the General Election to understand the post-election dangerous situation. Then Prime Minister Tun Mahathir, after discussing with us, sought to improve the position of Muslims from within the Government with the help of us, the Opposition, Islamic and Non-Members of Parliament – The moderate Muslims who cooperated with us in the face of their plans, some of which were to amend the Constitution and so on, which later led to fierce clashes, as extremists from the opposing Government parties were with Western support through Anwar Ibrahim who tried to oust Tun Mahathir from taking the leadership of the Government.
Thus, last year, PAS had convened a rally of the Unity of the Ummah to protest against any call for religious equality, but PAS did not reject tolerance between religion and its freedom. Based on PAS's popularity among the people, nearly 2 million Muslims had joined the gathering.
PAS then began working with UMNO to form a unity of religious and national unity. Then this coalition created an alliance called Muafakat Nasional in the opposition bloc. Next, from the government, Bersatu was responsible for collecting Malay organizations in collaboration with student associations, professors, academics and thinkers, for organizing the Congress of Malay Dignity (Kongres Maruah Melayu) as a platform to review the current position of the Malay Muslims. The organizers of the Congress have given a special invitation to the Muafakat Nasional to attend the congress. Tun Mahathir as Prime Minister at the time was invited to deliver the opening speech at the Congress. Later, the Congress had passed a resolution which inter alia mentions the importance of unity among the Malay Muslim community to confront the current challenges while celebrating statehood rights of all races in the country.
Subsequently, PAS took a peaceful approach and avoided any form of demonstration. PAS sought an audience with His Excellency the Yang di-Pertuan Agong (YDP Agong) who leads the Council of Rulers and consists of the sultanates of each state based on their respective constitutional positions, to clarify dangerous situations and the country's need to change the government through a democratic channel through parliament. PAS had also successfully mobilized Muslim MPs from Sabah and Sarawak as well as the non-Muslim Bumiputras to collect signatures (Statutory Declaration) among MPs by securing a majority of 133 out of a total of 222 MPs.
When we received the majority, we placed our confidence in Tun Mahathir to lead the new government after implementing a proposal to resign from the government and step out of the Cabinet to form a new government. Therefore, the YDP Agong had solicited oral declarations directly before him one by one from each member of parliament. Then there was a counter-movement of Pakatan Harapan in support of Tun Mahathir only to represent a form of deception by the Anwar Ibrahim, AMANAH and DAP groups. They had gone to meet Mahathir in the morning, weeping just as the Prophet Joseph's brothers did upon throwing him into the well, to hand Mahathir the proposal of forming a unity government. Indeed this cunning strategy was to break the unity of the Muslims with the right words but what they required was a lie!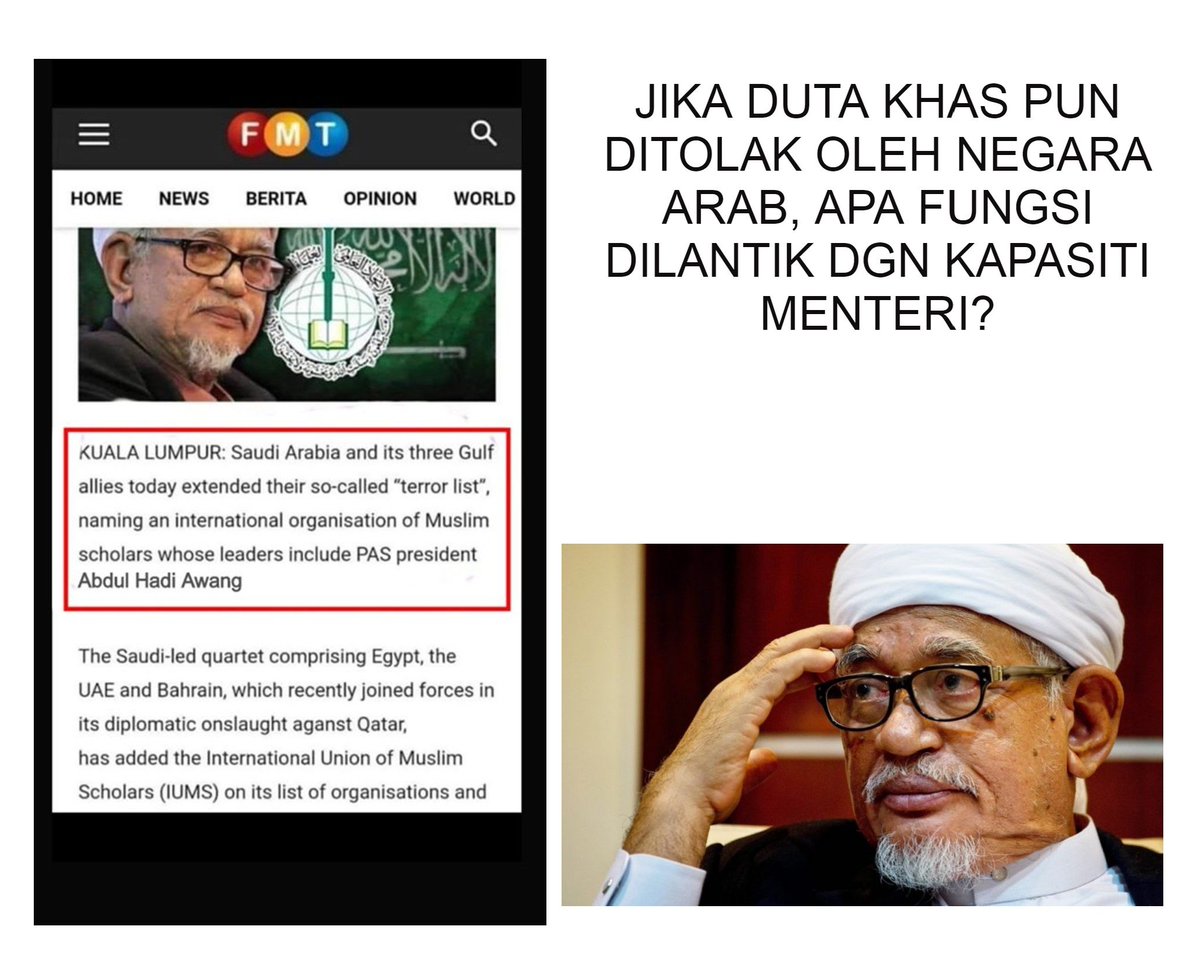 Later, PAS was invited to join the government under Mahathir's leadership and we had been nominated to the Deputy Prime Minister's seat and also appointed to serve in several ministries. All this had been done in secret. MPs were threatened with anti-corruption protests, abductions, and threats against all lawmakers were coming in exchange for support. Apparently, Tun Mahathir was deceived by this very cunning scheme. Later, he went to meet the YDP Agong with the signatures of all parliamentarians. However, some MPs had turned their backs on Tun Mahathir in support for Anwar Ibrahim.
A number of Muslim MPs stood up against this secret deception by nominating Tan Sri Muhyiddin Yassin who is Tun Mahathir's second man in his party to be prime minister by giving the YDP Agong a list of parliamentarians backing their nomination, along with their signatures. After the YDP Agong met with all the leaders of each party to determine who had the most support, it became clear to the YDP Agong after carrying out and implementing every process through democracy and by constitution. Their move had failed despite the intervention of Western ambassadors and Freemasons and Zionist advisers.
Then, a new government cabinet was formed, led by Tan Sri Muhyiddin Yassin under the name of Perikatan Nasional (National Alliance), predominantly Muslim. The coalition comprises several component parties namely UMNO, PAS, UN, GPS, some PKR leaders, MCA, MIC and component parties from Sabah and Sarawak.
Later, the Cabinet Council was formed without involving the individuals who are still facing charges in court. This was done to win the trust of the people. This is what Islah is meant to be, peaceful without any demonstrations, with the support of the people, government officials, the army, the police, and the Council of Kings.
All praise to the Lord God of the Worlds.
He who loves you,
Abdul Hadi Awang
President, Islamic Party of Malaysia (Parti Islam Se-Malaysia)
27 Rejab 1441/22 March 2020
Our Health Director-General Datuk Dr. Noor Hisham Abdullah is from Sungai Pelek, Sepang Foochow kampong. He came from a poor Chinese family and was adopted by a Malay family at the age of 14. He can still speak Foochow.
Many people have commented on his excellent management skills to control the COVID virus in Malaysia. Unlike most of them in his position, he has been very busy and active to keep the public aware of the virus and make them realise the importance of personal safety measures they should take daily to distance themselves and remain at home.
Looking at him in TVs and the media almost daily is reassuring for all Malaysians as a stalwart knight to help us to continue our fight against the virus. In fact, he is the sole representative of the government today who is the most active link to all Malaysians to safeguard ourselves in this pandemic.- David Ong
cheers.
Seluruh KL kini berada dalam zon merah Covid-19
Malaysiakini
KORONAVIRUS |
Seluruh kawasan Kuala Lumpur kini diklasifikasikan sebagai zon merah Covid-19 selepas daerah terbaru - Cheras - mencatatkan 44 kes positif penyakit itu.
Dalam hantaran di akaun rasmi Facebook Kementerian Kesihatan Malaysia (KKM) tengah hari tadi, data menunjukkan Cheras dimasukkan dalam kategori zon merah.
"Taburan kes mengikut negeri dan daerah sehingga 12 tengah hari 5 April.
"Pertambahan kawasan zon merah terbaru iaitu Cheras menjadikan jumlah kepada 18 daerah.
"Duduk di rumah dan penjarakan sosial mampu memutuskan rantaian jangkitan," kata KKM
Sebelum ini Cheras masih berada dalam zon oren dengan 38 kes positif Covid-19.
Semalam berdasarkan maklumat Pusat Kesiapsiagaan dan Tindak Cepat Krisis Kebangsaan (CPRC) ada satu zon merah dalam kawasan Kuala Lumpur dan dua lagi di Selangor dengan jumlah kes positif sehingga 300.
Melalui kenyataan disebarkan dalam aplikasi Telegeram, CPRC sebelum ini berkata sebanyak 17 daerah sudah dikenal pasti sebagai zon merah.
Selain Cheras, kawasan lain dalam Kuala Lumpur yang diletakkan sebagai zon merah ialah Kepong, Lembah Pantai dan Titiwangsa.
at
4/06/2020 06:31:00 PTG
Sumber:
KERENGGA: Seluruh KL kini berada dalam zon merah Covid-19
Hikmah episod pembelotan pengkhianat, Pas berdepan realiti politik
AHMAD LUTFI OTHMAN
Berilah ruang dan peluang kepada Pas untuk perlahan-lahan belajar, memahami dan saling bekerjasama dalam kerajaan 'tebuk atap' tanpa mandat rakyat, tanpa manifesto dan tanpa apa-apa janji pembaharuan.
Pas juga pernah bersama-sama menerajui kerajaan Selangor, dan menjadi menteri besar di Kedah-Perak. Lihatlah perubahan yang dilakukan dalam tempoh itu, terutama dalam konteks agenda Islam; berhati-hati dan begitu teliti menjaga sensitiviti kemajmukan Malaysia.
Kini, selepas Presidennya sendiri mengaku menjadi penggerak penting penubuhan kerajaan pintu belakang Melayu-Islam, Pas mempunyai tiga menteri, satu duta khas bertaraf menteri, dua kerajaan negeri dengan majoriti selesa dua pertiga, kita tunggu saja komitmen Pas untuk melaksanakan segala cita-citanya berkaitan Islam-Melayu.
Menteri Undang-Undang sekarang adalah Setiausaha Agung Pas, seorang peguam, kepercayaan rapat Ustaz Abdul Hadi Awang. Ini masa terbaik untuk membentangkan RUU355 selepas lama mendesak dan berdemonstrasi di padang, berhujah di kuliah dan mimbar (sehingga "menjiratkan" pemimpin tertentu Pakatan Harapan), tetapi terbengkalai di Parlimen walaupun sudah ada peluang berkali-kali.
Masyarakat juga menanti respons Pas terhadap persoalan kilang arak, premis judi, sekolah vernakular yang sering dibangkitkan, selain sentimen Melayu-Islam yang dibakar (termasuk kematian Adib, pengajaran Jawi, pengurusan Tabung Haji dan lain-lain) sebagai modal politiknya untuk meraih kuasa dan menyuburkan kebencian kepada kerajaan terdahulu.
Walaupun Pas tidak diberikan portfolio strategik dalam Kabinet Muhyiddin-Azmin, tetapi Pas tentu sekali menyedari atas prinsip tanggungjawab bersama kerajaan.
Mesyuarat mingguan jemaah menteri sewajarnya menjadi medan terbaik buat menteri-menteri Pas menyuarakan idealisme perjuangan Islam selama ini. Tidak pasti pula peranan Ustaz Hadi; mungkin boleh lebih kerap menulis surat cadangan kepada Muhyiddin, bagi mengangkat maruah bangsa dan martabat ummah.
Tiada lagi halangan daripada DAP yang "anti-Islam" itu, manakala wakil MCA-MIC tidak pun sampai jumlah jari sebelah tangan; boleh abaikan saja jika mereka membantah.
Saya sendiri keliru; jika PH ada Majlis Presiden untuk menggariskan dasar-dasar umum kerajaan, Perikatan Nasional (PN) yang merompak kuasa di tengah penggal ini, apa pula strukturnya?
Kerajaan baharu sepatutnya jelas iltizam politik dan tekad pembaharuannya, tetapi pemerintah yang terbina melalui komplot jahat pengkhianat-oportunis ini masih gagal mengemukakan agenda mereka.
Malah, sebahagian besar menteri dalam Kabinet bersaiz gendut itu langsung tidak muncul di khalayak; yang sesekali tampil pula menjadi bahan sendaan dengan aksi melucukan.
Kita tidaklah mengharapkan prestasi luar biasa pada awal tempoh pemerintahan ini, tetapi biarlah rakyat jelas dengan perubahan-perubahan khususnya berkaitan segala kritikan dan kecaman Pas semasa mengherdik kerajaan lampau.
Masyarakat belum lupa hamburan kata-nista itu. Isu-isu berkaitan arak-judi-syariah hanya sebahagian kecil.
Apapun, saya melihat ada hikmahnya episod pembelotan pengkhianat dan kerakusan ahli-ahli parlimen Umno-Pas ini yang tidak sabar menunggu PRU15. Terutama Pas, mereka kini berdepan realiti politik dan tidak dibayangi mimpi lagi.
Mereka mungkin sedang belajar menyusun prioriti dan keutamaan. Mereka perlu menerangkan kepada para penyokong yang sudah termakan dengan dakyah-sentimen selama ini.
Mungkin ludah terpisah dijilat. Tapi saya lebih percaya, Pas sentiasa ada dan tidak kering ilham mereka untuk justifikasi apa pun isu yang dibangkitkan.
Berpolitiklah seadanya, tangani isu-isu yang lebih real dan mendesak bagi negara tercinta. Moga iklim politik kita lebih terbuka, rasional, harmonis, berdasarkan fakta, saling hormat, beradab, terhindar daripada ekstremisme dan caci-maki. Bersainglah merebut kuasa dalam batas-batas demokratik.
Saya sedang menjalani dialisis, jika kuat akan sambung lagi ulasan ini, Insya Allah. Semoga kita semua, diri, keluarga, jiran, negara, rantau ini, planet bumi sentiasa dalam perlindungan dan rahmat Allah.
at
4/06/2020 08:30:00 PTG
Sumber:
KERENGGA: Hikmah episod pembelotan pengkhianat, Pas berdepan realiti politik
Daftar Isi Al-Quran dan Terjemahan - Silakan Klik untuk membacanya: