https://1.bp.blogspot.com/-FOvUVvBHiQQ/Wv74dt8Y0gI/AAAAAAAAkII/ZD9o7NuPS2UPbBfBhPlm26LEy7W3M5-JQCLcBGAs/s1600/Anwar%2Bn%2BDr.M.jpg
cheers.
Posted by ali allah ditta at 12:21:00 AM
tumpang sekole...?: BN kena pulangkan dana terkait 1MDB..
https://scontent-kut2-1.xx.fbcdn.net/v/t1.0-9/37376094_180486682815902_6573123232331726848_n.jpg?_nc_cat=0&oh=d7526c4c8352cc049fc5b1b8a3109c45&oe=5BC9BC57
https://scontent-kut2-1.xx.fbcdn.net/v/t1.0-9/37303487_296930697718215_8583164748583927808_n.jpg?_nc_cat=0&oh=48ac4bc3a08d6080f79cdcb513aea165&oe=5BCED791
Rupa-rupanya PAS pernah bersetuju
nak laksanakan UEC rupanya..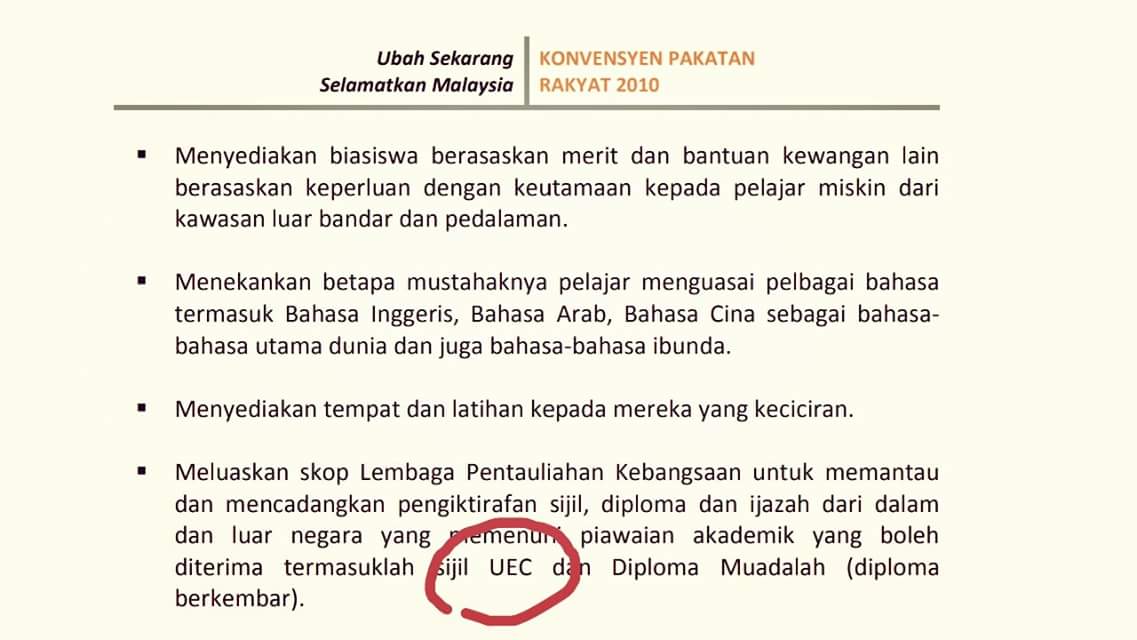 https://pbs.twimg.com/media/DiJdAn7VAAAOBKt.jpg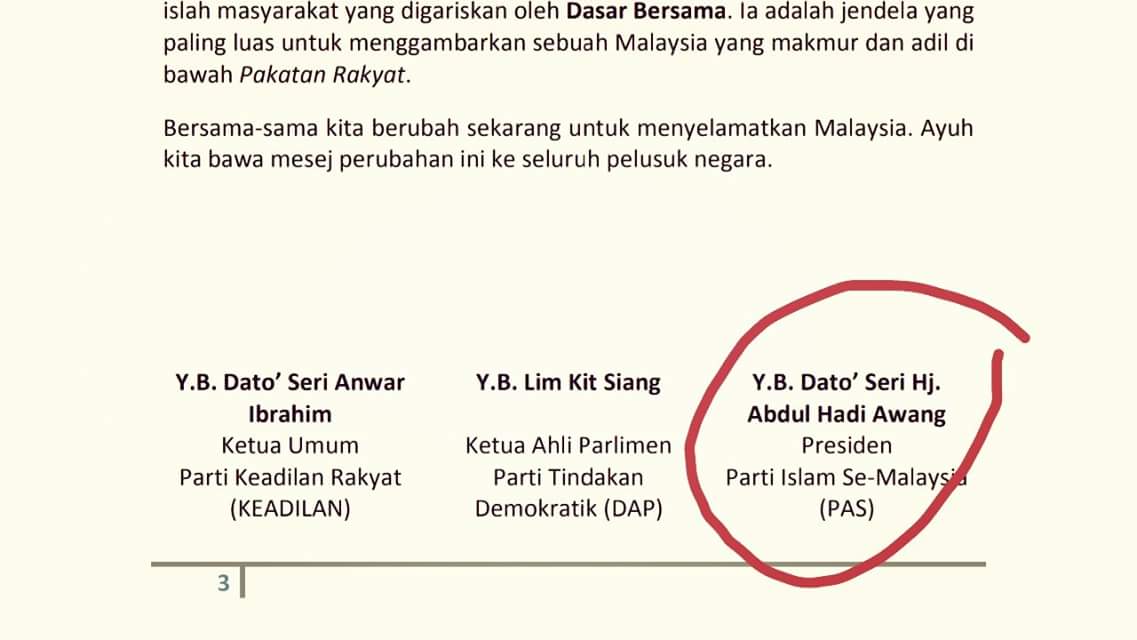 https://pbs.twimg.com/media/DiJdBMIV4AIV_qq.jpg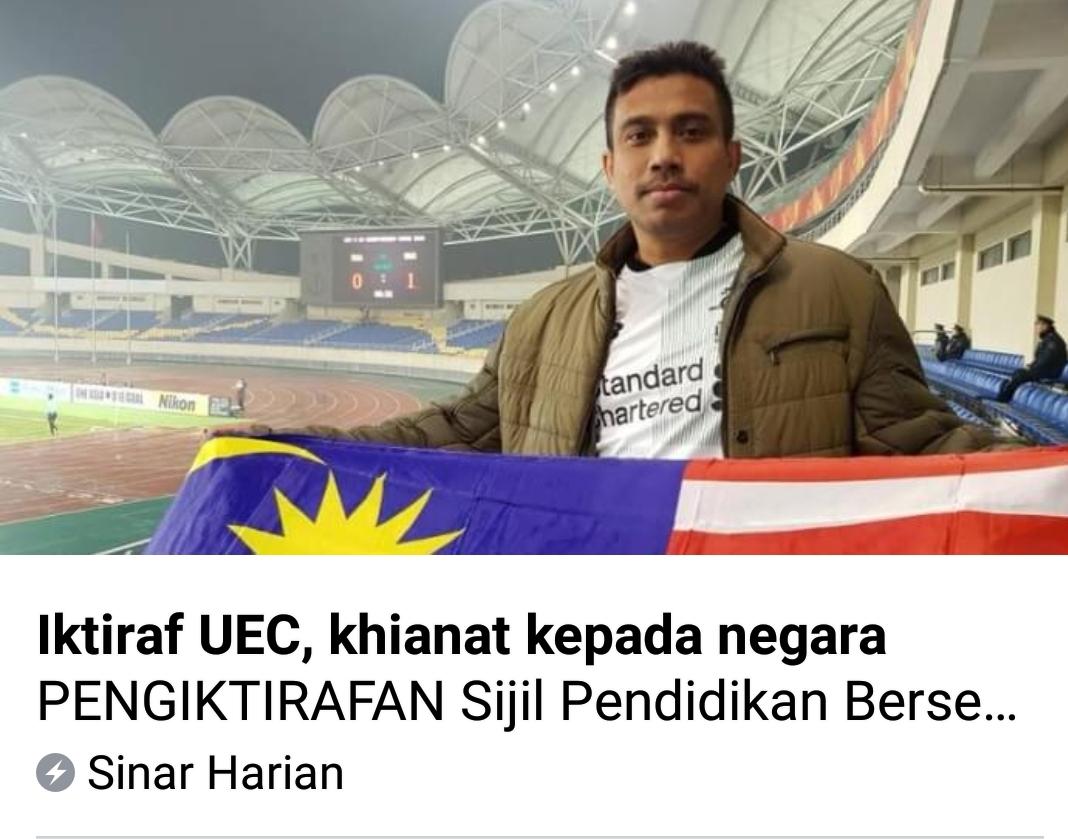 https://pbs.twimg.com/media/DiNyGX2UcAAH1qY.jpg
https://external-kut2-1.xx.fbcdn.net/safe_image.php?d=AQBlwLXROEErwSBK&w=540&h=282&url=https%3A%2F%2Fimg.kinitv.com%2Fimages%2Fvideos%2F74%2Fv63458_20180718125220.jpg&cfs=1&upscale=1&fallback=news_d_placeholder_publisher&sx=0&sy=7&sw=650&sh=339&_nc_hash=AQCRc-B_6TXuVmRH
Ini baru betul speaker yg adil.. Tidak berpihak kpd penyokong kerajaan atau pembangkang... Pandikar Amin Mulia... seharusnya berasa malu ni... Moga Tuan Speaker terus bersikap tidak berpihak ini... Tak ikut peraturan..tak mau dgr arahan...seret je keluar...
https://scontent-kut2-1.xx.fbcdn.net/v/t1.0-9/36967611_10156517288634334_6095666058931208192_n.jpg?_nc_cat=0&oh=71ddb350b9e5b42e6e0f8443c9bc7721&oe=5BC7D28B
https://external-kut2-1.xx.fbcdn.net/safe_image.php?d=AQDzyzfoB3furiri&w=540&h=282&url=https%3A%2F%2Fi.malaysiakini.com%2F1288%2Fc2c4d8a12fc4169d486d52dcdf568a5f.jpeg&cfs=1&upscale=1&fallback=news_d_placeholder_publisher&sx=0&sy=53&sw=1000&sh=522&_nc_hash=AQBduyhgdSXyVSRn
Wee Ka Siong Is Super Jealous Coz Genius Strategist Liew Chin Tong Made Deputy Defence Minister...
The name Liew Chin Tong may not ring a bell among Barisan Nasional (BN) coalition ruling government, let alone 32-million Malaysians, before the 14th general election on May 9, 2018. But this was the guy who sent shivers down MCA (Malaysian Chinese Party) spine when he unexpectedly ventured into the lion's den – Ayer Hitam, Johor.
Mahathir Mohamad - Lim Guan Eng - Liew Chin Tong
http://www.financetwitter.com/wp-content/uploads/2018/07/Mahathir-Mohamad-Lim-Guan-Eng-Liew-Chin-Tong.jpg
Since the federal constituency of Ayer Hitam was created in the 1974, it has never fallen to the opposition. It is one of a few BN fortresses left in the state of Johor. Wee Ka Siong, the deputy president of MCA has been the MP for the constituency since 2004. But he almost lost 2 months ago, winning only by a razor-thin majority of 303 votes (compared to 7,310 majority in 2013).
From seven parliamentary seats 5 years ago, Mr. Wee is today the sole representative of MCA in Parliament. On June 12, Liew Chin Tong filed an election petition to challenge the outcome of the Ayer Hitam seat result. The result which recorded 556 rejected ballots and 94 unreturned ballots was too suspicious and unbelievable to be accepted.
Majority of the ethnic-Chinese, of course, believe Mr. Wee had actually lost the seat. On Wednesday evening (May 9), riot police were mobilised outside a results centre in Ayer Hitam after hundreds of people were seen stopping unmarked cars – allegedly carrying fake ballot boxes – from entering. They suspected Wee Ka Siong had won by cheating.
Today, Mr. Liew is appointed as Senator and subsequently sworn in as Deputy Defence Minister. Clearly jealous, Mr. Wee wasted little time and mocked his rival for accepting "backdoor" appointment. Liew's appointment is extremely significant because this is the first time an ethnic-Chinese has been made a Deputy Defence Minister.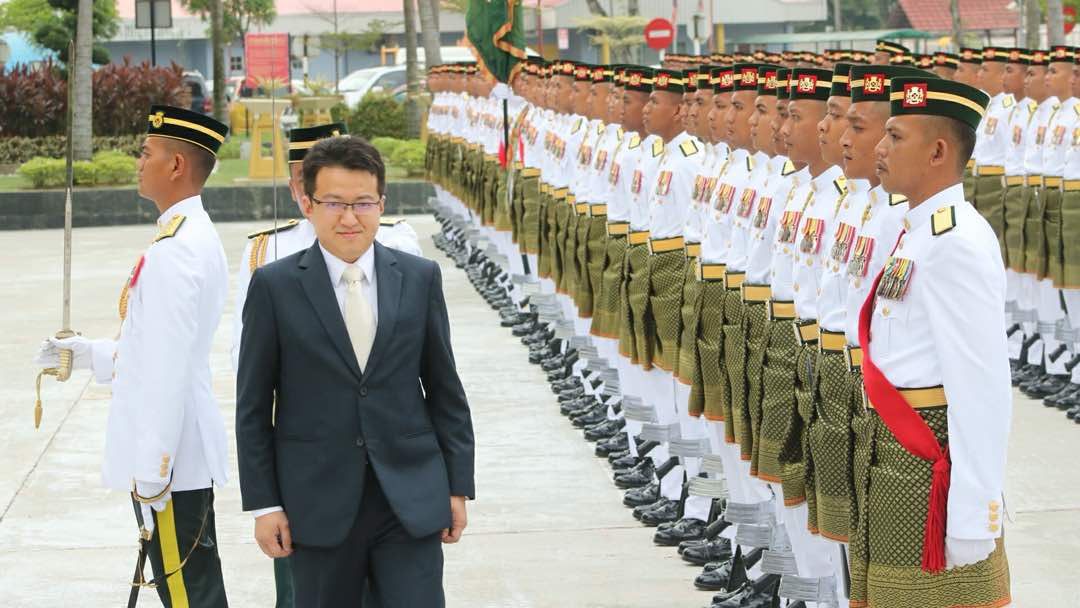 Timbalan Menteri Pertahanan, Liew Chin Tong melakukan
Pemeriksaan P
erbarisan Kawalan Kehormatan Utama di Kementerian Pertahanan
https://pbs.twimg.com/media/DiXATgAU8AAfXQs.jpg
The fact that Liew Chin Tong is chosen to become the deputy in charge of the powerful ministry speaks volumes about his valuable talent. He is like "Zhuge Liang (Kongming)" – a politician, military strategist, writer, engineer and inventor during the Three Kingdoms period – to Lim Kit Siang, the supremo of DAP (Democratic Action Party), a member of the current ruling coalition.
Liew Chin Tong, arguably the most brilliant strategist DAP has ever possessed, was the low-profiled young politician who inspired the opposition party leadership for the "blitzkrieg" on the state of Johor, the birthplace and last bastion of former ruling party UMNO, in the 2013 general election. Although Johor didn't collapse, the onslaught had left a huge unrepairable crack.
DAP won 4 parliamentary seats (from 1) and a whopping 13 state seats (from 4) in the 2013 general election. Five years later (2018), under Liew's leadership, the party won 5 parliamentary seats and 14 state seats. More importantly, his strategy in 2013 opened the floodgate for the rest of the components of Pakatan Harapan coalition to capture Johor this year.
It's not an exaggeration to say that had Liew Chin Tong not started the ball-rolling of cracking UMNO's nuts in Johor 5 years ago, even Mahathir would have huge problem rallying the Johoreans to overthrow Najib regime about 2 months ago. Actually, we had written an article (read here) about 3 years ago how UMNO could lose Johor state, but Najib and his boys were too arrogant to notice.
There's little doubt that should a fair and clean by-election is held in Ayer Hitam today, due to whatever reason, Mr. Liew should have little trouble defeating Mr. Wee. It would be foolish for Liew not to accept his appointment as Senator and Deputy Defence Minister just to entertain Wee's mocking and provocation, which clearly was a trap.
http://www.malaysia-chronicle.com/wp-content/uploads/2018/07/anwar_slipped_disc_op__full-85-620x348.jpg
At least Liew didn't cry like a baby after he lost the Ayer Hitam seat, unlike Wee. Close to 10 years ago in 2009, the nation was shocked and flabbergasted when Wee Ka Siong (then MCA Youth Chief) together with Chew Mei Fun (MCA Women Chief) burst into tears when both were dropped from MCA presidential council by the party's president – Ong Tee Keat.
The power-hungry Wee had even asked then vice president Liow Tiong Lai to lead a delegation of 9 MCA MPs to see the PM Najib Razak and threatened Najib that they would quit to join now-defunct opposition Pakatan Rakyat unless MCA President Ong Tee Keat was removed. Mr. Wee was perhaps the only MCA leader in the history of the party who had shamelessly cried after losing power.
Obviously, Wee Ka Siong was what Chinese would call a "national traitor", someone who willingly opened the gate and invite enemy into the kingdom. Interestingly, that was not the first time Wee had angered the Chinese with his drama stunt. In 2012, just before the 2013 general election, Wee cried wolf as he was chased out by the Chinese community during a rally.
Wee, the then MCA Youth Chief was not only booed, heckled and jeered by a crowd of 7,000 (some claimed 10,000) people but also narrowly missed a punch from an angry "Uncle" as Mr. Wee was leaving the event. Thanks to about 20 uniformed police and Rela personnel who formed a human wall around him, Wee Ka Siong only suffered "lightly hit on the face"
Shocked and saddened by the jeers and scuffles, not to mention the embarrassment, Wee Ka Siong said hooliganism was not part of a civilised society. Amazingly, despite being chased out by the same community that MCA claimed to be representing, the then Deputy Education Minister Wee had no idea what was about to hit his party a year later in 2013. - ft
PAS keluar dewan kerana...
Aku faham, kenapa ramai Ahli Parlimen PAS keluar dewan.. takda sebab apa pun.. tapi marah bukan main..
Maklum lah, bertapa panasnya hati, Sakitnya hati.. bila melihat Mat Sabu, Salehuddin Ayub, Mahfuz, Hanipa Maidin, Khalid Samad duduk disebelah barisan Kerajaaan, Angkat sumpah sebagai Menteri dan ahli dewan Rakyat..
https://scontent-kut2-1.xx.fbcdn.net/v/t1.0-9/37237350_1928835590509937_3223349440702054400_n.jpg?_nc_cat=0&oh=b4b1832bf4eec986c4ac6bdb85d54e5f&oe=5BD05E3C
Dulu depa kata, Amanah bakal berkubur ..itulah jawatan yang depa amat idam-idamkan dulu,
Cuma rencana Allah itu lebih baik dari perencanaan jahat mereka dengan Najib.
Tapi lama mana depa nak lari..
Bertabahlah duhai saudara ku.. Allah telah berkehendak kepada siapa yang dia kehendaki sebagai Kerajaan..- f/bk
Najib's account - political beneficiaries who 'got a cut' revealed...
http://www.malaysia-chronicle.com/wp-content/uploads/2018/07/anwar_slipped_disc_op__full-88-620x348.jpg
On July 2, the 1MDB special investigative task force announced that more than 400 bank accounts were frozen on suspicion of receiving funds allegedly originating from the state investment fund, amounting to RM1.1 billion.
These were alleged recipients of funds from the personal bank accounts of former premier Najib Abdul Razak. Part of the sum was used to support BN in the 2013 general election.
Malaysiakini, in its latest microsite, explores some of the transactions.
Since 2015, international reports have revealed various transactions involving Najib's bank accounts amid alleged attempts by the then BN government to suppress investigations into 1MDB.
The international reports highlighted at least four of Najib's bank accounts allegedly receiving funds purportedly misappropriated from 1MDB and SRC International.
In 2016, Australian-based ABC News also reported how some of the money from Najib's bank accounts was spent. It alleged that apart from political purposes, the funds were also used for vacations and to acquire cars and jewellery.
Malaysiakini's microsite focuses specifically on the political recipients involving one specific account.
It was into this account that US$681 million was deposited in 2013. The sum is colloquially referred to as "RM2.6 billion" based on the exchange rate when the deposits were first exposed by Sarawak Report and the Wall Street Journal in 2015.
Najib continues to maintain that the US$681 million was a donation from a Saudi royalty while the US Department of Justice, in its civil forfeiture suits, claimed that it originated from 1MDB.
Accounts involving SRC International Sdn Bhd are not covered in the microsite due to a gag order by the Kuala Lumpur High Court after Najib was charged with allegedly misappropriating RM42 million from the state-owned company. The former premier has denied the allegations.
In total, at least RM470 million went to various political entities through 102 transactions, excluding individuals, between April 2012 and August 2013.
Umno received the lion's share, at RM417.4 million or 88.8 percent of the funds. The next biggest recipients were MIC at RM20.55 million, and MCA at RM16.5 million.
The money was distributed to various party chapters, wings and even a party-owned library.
In terms of states, political entities in Selangor were the biggest beneficiary with RM60.25 million followed by Najib's home state of Pahang with RM37.73 million.
Other top beneficiaries were Perak (RM25.2 million), Johor (RM27.2 million) and Kedah (RM15.8 million).
However, the bulk of the funds went to political entities at the federal level with RM275.5 million.
Explore the transactions on Malaysiakini's microsite: "Nicked from 1MDB or Donation?: Political Hands in the Cookie Jar". Continue reading...
tumpang sekole...?
nasi kandaq kedai mamak, anak mami juai pesemboq, lepaih baca jangan dok syiok, kalu-kalu SB jengok kot dapoq...
19 July 2018
BN kena pulangkan dana terkait 1MDB..
Parti komponen Barisan Nasional (BN) seperti UMNO, MCA, MIC, Gerakan dan SUPP perlu memulangkan semula sejumlah RM470 juta yang diterima daripada dana 1MDB, kata tokoh veteran DAP Lim Kit Siang.
Kenyataan ini dibuat merujuk kepada laman mini terbitan Malaysiakini (baca di bawah) yang mendedahkan sekurang-kurangnya RM470 juta dana 1MDB mengalir keluar kepada pertubuhan politik melalui 102 transaksi, tidak termasuk individu antara bulan April 2012 dan Ogos 2013.
The compiled information is only on one of at least four Najib accounts where funds
linked to 1Malaysia Development Berhad (1MDB) or 1MDB former
subsidiary
SRC International Sdn Bhd were allegedly sent. Picture by Shafwan Zaidon
https://media.malaymail.com/uploads/articles/2018/2018-07/najib_razak_1807.JPG
"UMNO menerima sejumlah besar dana iaitu RM417.4 juta atau 88.8 peratus daripada jumlah itu. Penerima kedua terbesar pula ialah MIC iaitu RM20.55 juta dan MCA sebanyak RM16.5 juta," katanya dalam kenyataan.
Pendedahan laporan tersebut katanya telah diagih-agihkan kepada beberapa cabang parti termasuk perpustakaan milik parti.
"UMNO, MCA, MIC dan SUPP mempunyai Anggota Parlimen dan mereka perlu menjawab pendedahan oleh Malaysiakini itu semasa ucapan membahas titah diraja," katanya lagi. – Roketkini.com
tumpang sekole...?: BN kena pulangkan dana terkait 1MDB..
Wednesday, 18 July 2018
ZAHID HAMIDI MASIH TAK SEDAR DIRI....
Zahid...zahid....bilalah nak sedar diri?
Dan mengapa masih tidak mahu menerima realiti?
Jika benar legasi buruk Tun Mahathir Mohamad yang menjadi punca kekalahan BN, bagaimanakah beliau masih mampu mencipta kejayaan buat Pakatan Harapan dan berjaya menjadi Perdana Menteri buat kali kedua?
Kenapa rakyat tidak takut dan masih mempercayai Tun Mahathir untuk menyelamatkan negara kalau benar legasi yang ditinggalkannya terlalu buruk?
Sebagai Ketua Pembangkang, Zahid Hamidi seharusnya bercakap berdasarkan fakta dan realiti bahawa Najib Razak adalah beban paling utama bagi UMNO dan BN sehingga membawa kekalahan parti itu.
Janganlah merapu tak tentu hala. Fakta tetap fakta.
Tanpa Najib, Rosmah Mansor, Jho Low dan 1MDB, UMNO dan BN mungkin masih berkuasa lagi pada hari ini.
Apa yang Zahid Hamidi takut sangat untuk mengakui perkara itu? (ShahbudinHusin 18/07/2018)
Shahbudin dot com: ZAHID HAMIDI MASIH TAK SEDAR DIRI....
MENCONTENG UNTUK PERUBAHAN™
merentasi realiti ..bukan sekadar bawah tempurung media pengampu ...
Ahli parlimen PH buat perangai lama
Provokasi dan bertikam lidah sudah dijangka apabila sesi parlimen penggal ke 14 membuka tirai hari ini. Dari hari pertama semasa majlis angkat sumpah sudah kelihatan riak dari pembangkang untuk cuba menjadi 'juara' di dalam parlimen apabila mereka keluar dewan akibat protes terhadap prosuder perlantikan speaker dewan rakyat.
Walaupun hakikatnya tiada apa yang salah dari segi peraturan apabila jelas isu sebenar sudah dibongkarkan
Hari ini ahli parlimen sudah masuk 'bersilat' di dalam parlimen. Ditonton oleh semua lapisan masyarakat malah mungkin ada negara-negara yang berminat memperhatikannya. Sehingga ada ahli parlimen yang sudah diarahkan keluar dewan kerana melanggar peraturan mesyuarat dan ingkar arahan speaker.
Tertarik untuk memberi pendapat, sepatutnya ahli parlimen Pakatan Harapan lebih 'matang' di dalam menjawab provokasi UMNO dan PAS.
Sebagai contoh, jika ada hali parlimen bangun dan mohon mencelah. Sepatutnya jawab saya tidak izin dan buat penegasan tentang itu. Saya melihat ahli parlimen PH tidak menjawab 'tidak dibenarkan mencelah' tetapi meneruskan membaca perbahasan. Selagi tidak ada kata ' saya tidak benarkan' selagi itu ahli parlimen dari pembangkang akan terus meminta untuk mencelah dan akhirnya provokasi dan bertikam lidah akan berlaku.
Selepas ' saya tidak izinkan mencelah' dilafaz, tanggungjawab speaker untuk menentukan ahli parlimen yang ingin mencelah bersalah atau tidak dalam peraturan mesyuarat jika terus berdegil.
Ahli parlimen PH kena tunjuk contoh yang baik dalam soal mencelah kerana ada juga ahli parlimen dari PH yang mengamalkan sikap seperti dulu ketika mereka berada di pihak pembangkang. Ikut peraturan mesyuarat dan jangan terus 'menyalak' di dalam dewan. Bangun dan ikut peraturan mesyuarat walaupun ketika itu rakan mereka dari PH yang sedang berucap.
Sebenarnya rakyat nak lihat satu perbahasan yang matang dengan fakta dan angka. Kami bukan rakyat bodoh macam dulu. Kami akan bandingkan fakta dan angka. Kami akan melihat kebenaran. Tentang mendiang Karpal Singh, kami faham tentang situasi anak dia yang menyuarakan rasa 'kesal; terhadap insiden yang dulu. Rakyat sudah menghukum mereka melalui pilihanraya. Tidak perlu dibangkitkan lagi isu tersebut. Sepatutnya tidak perlu ikut emosi. Sekarang rakyat menilai sebaliknya di atas insiden hari ini.
Kalau kita layan orang gila, kita juga akan jadi gila ..
Tak kan ahli parlimen PH tak boleh jadi matang dan lebih berwibawa? Apakah ahli parlimen PH tidak faham tentang provokasi dan strategi pembangkang di dalam parlimen?
Menconteng Untuk Perubahan™ 18 Julai 2018 | 8.30 PM
Ahli parlimen PH buat perangai lama ~ Menconteng Untuk Perubahan™